This month, Minnetonka High School sophomore and Excelsior actor Nathan Turcotte has been cheering on his brother Mark Turcotte, who is starring in the holiday production of "The Christmas Carol" through Saturday, Dec. 29, on the Wurtele Thrust Stage at the Guthrie Theater. Nathan starred in the same production in 2016.
Mark, 11, grew up watching his older brother perform on stage. Nathan started acting in the fourth grade when he asked his parents if he could audition for the school's production "The Jungle Book Jr." His mother, Marlo Turcotte, thought he'd get a small role. He played the key role of Baloo.
Nathan would go on to star in "Oliver!" (2015) at the Pantages Theatre, "Jack and the Beanstalk" (2017) at the Old Log Theatre and "Mame" (2014), "Mary Poppins" (2018) and "Merrily We Roll Along" (2018) at Minnetonka Theatre. Last month, Nathan starred in Minnetonka Theatre's production of the musical "Bright Star" as Billy Cane, one of the leading characters.
"Seeing all the cool things my brother got to do on stage really inspired me to try acting," Mark Turcotte said, who is a fifth-grader at Minnewashta Elementary.
When he was 7 years old, Mark won a role as a gemstone in a production of "Aladdin" at a summer camp.
"After I tried it I knew the stage was somewhere I wanted to be," he said.
Last year, Mark Turcotte starred in Minnewashta Elementary's production "The Pirates of Penzance Jr." and "Joseph and the Amazing Technicolor Dreamcoat" at Minnetonka Theatre.
"It has been fun to have another person in the family to talk about theater with," Nathan said. "Right now Mark is having a lot of the same experiences I had and it feels a bit nostalgic."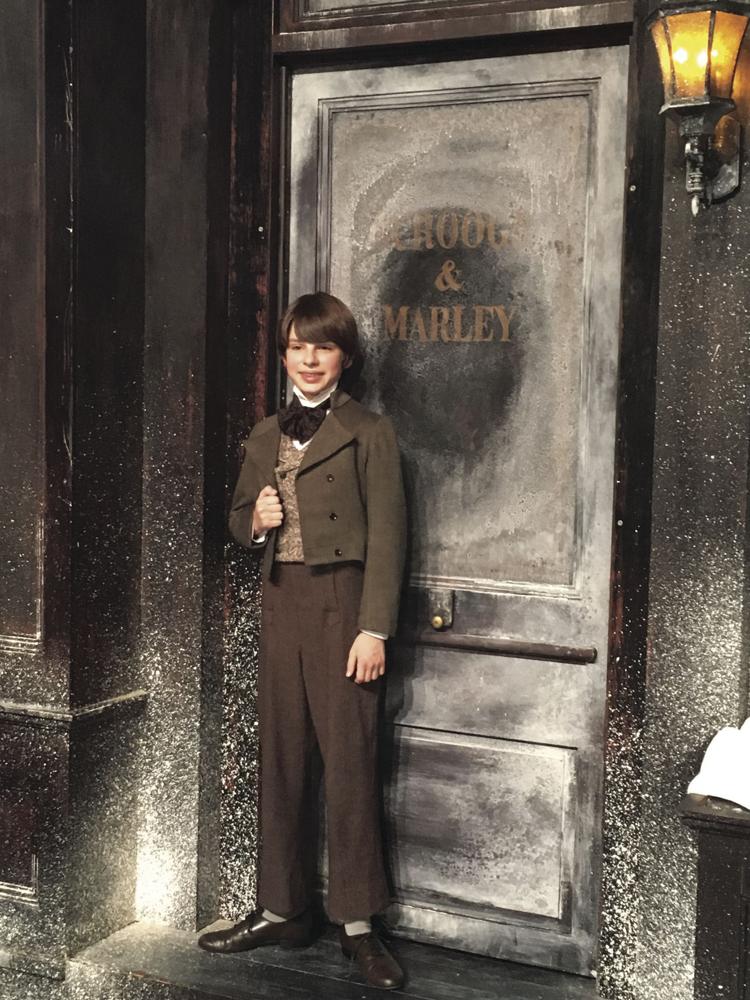 Their mom said she never expected to see her quiet and reserved sons become so interested in acting.
"They just light up on stage," she said. "It's such an amazing transformation to see."
"There's an energy I feel when I'm on stage and I feel a level of comfort that I've never felt anywhere else," Nathan Turcotte said. "It's an incredible feeling."
In 2016, both brothers auditioned for a role in the annual holiday production of Charles Dickens' "A Christmas Carol" at the Guthrie Theater. Nathan Turcotte ended up winning the role of a young Ebenezer Scrooge, while Mark Turcotte did not receive a part.
Mark Turcotte said he was disappointed, but took the family motto to heart that, "There's always another show."
Two years later, Mark Turcotte tried out again for "A Christmas Carol" and won the part of Ignorance.
"It's cool doing 'A Christmas Carol' a couple of years after seeing my brother do it," Mark Turcotte said. "It's different though because they change the production every year, so it's exciting doing something so new."
Mark Turcotte said he has enjoyed making new friends during the production and he got to fulfill his dream of riding the stage elevator at the Guthrie.
"I've liked being able to do things I never thought I'd be able to do," he said. "It's so cool!"
"It has been interesting to see Mark develop as an actor," Nathan Turcotte said. "I'm very proud of him."
"Seeing your kids up on the Guthrie stage is nothing like I ever imagined, and to get the chance to see both of them is incredible," Marlo Turcotte said.
The boys said that they encourage young actors and actresses to never give up on their dreams.
"The advice I've always gotten is to keep trying because even going to an audition you learn a lot about acting," Nathan said. "The more you go, the more opportunities and chances you have to just reach out and learn new things."
"Try your best and never give up," Mark added.
To learn more about "A Christmas Carol," visit goo.gl/rj8ucm or call the Guthrie Theater's box office number at 612-377-2224.
Follow the Sun Sailor on Facebook at facebook.com/mnsunsailor.