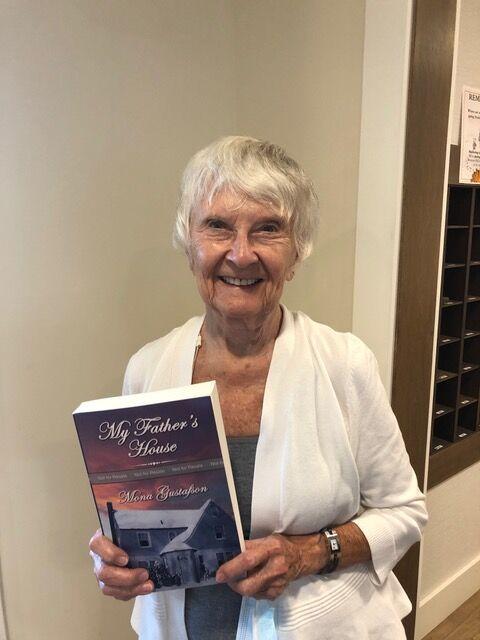 Mona Gustafson Affinito, 91, is a resident of the Waters of Excelsior. While some people spent their time bored in quarantine due to the COVID-19 pandemic, she was busy publishing two books.
Gustafson Affinito has written books on forgiveness as a psychologist and a book on the fictional life story of the biblical Job's wife. Since COVID-19 began, she has published "My Father's House" and "This Sucks! I Want to Live."
Gustafson Affinito felt the urge to write "My Father's House," which is the story of her family's life in the form of a novel. She had spent years researching the book. Her sister was worried that she wouldn't portray their father well, but according to Gustafson Affinito, that would be difficult to do because he was a very special man.
"I did my best to write like a novel and yet accurately portray them," Gustafson Affinito said.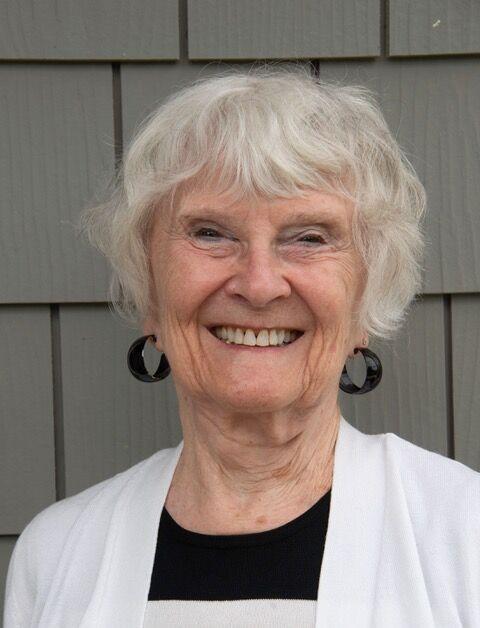 Residents of the Waters senior facility read "My Father's House" for a book club. Some people said that they aren't Swedish, but it felt like it was their family, Gustafson Affinito said. The book has the flavor of what it was like for a family to live through World Wars I and II and the flu epidemic, she said.
Gustafson Affinito hopes that people might gain an appreciation of a different time and understand history not as something to be memorized in a book, but as something that's experienced by people.
Gustafson Affinito also edited "This Sucks! I Want to Live" during the time in isolation. The book is a culmination of Facebook entries from Nick Spooner, a limo driver she built a friendship with before he died of brain cancer in March 2020.
Spooner overcame many hardships, including addictions and living with scoliosis. Gustafson Affinito was able to track down Spooner's sister, who wrote a piece at the end of the book and stated that he was transgender.
The book is about the process of a man knowing he is dying of brain cancer, the denial and how he handles the situation. The fact that he is transgender adds a whole different dimension to the book, Gustafson Affinito said. The book is an attitude changer, she added.
Gustafson Affinito hopes readers will gain an appreciation of people who make it through difficult lives and for people with non-traditional lives.
According to Gustafson Affinito, being quarantined was wonderful. She spent a lot of her time editing the books. "My Father's House" was close to 800 pages, which she edited to about 460 pages. She especially enjoyed the first part of quarantine, when residents were in their apartments, she said. The only negative thing is that she wasn't able to have a proper book launch.
Jane Morgan, 81, is also a resident of the Waters of Excelsior. She and her partner, Bonnie Marsh, live across the hall from Gustafson Affinito. Amid COVID-19, the three women had daily happy hours and talk about life, their history and families.
Gustafson Affinito would share about her book writing and editing process. Gustafson Affinito asked Morgan to write a blurb for the beginning of "This Sucks! I Want to Live."
Through reading the book, Morgan thought Spooner demonstrated the power to create and recreate a beautiful life for himself. His acceptance of his life circumstances made that possible, she said. As a person ages, they either accept things or have an internal struggle, she said, adding that she wants a peaceful life, so she works towards acceptance.
The book left Morgan with unsettling questions about how she might react to her own death. She wonders whether her Zen-like beliefs will keep her from falling into despair as her body makes its journey into death.
Morgan would encourage others to read the book because it's a beautiful experience to get to know Spooner through his Facebook entries. People will see how resilient, resourceful and earthy he is, she said. He had a traumatic childhood and teens, gender issues in the 1970s and then brain cancer.
"It's a hero's journey and when they're real-life people, those stories are worth reading," she said.
Gustafson Affinito has a beautiful heart and she came to know and love Spooner, Morgan said. She wanted to give back to him and this book is a commemoration of her friend's life.
Those interested in purchasing Gustafson Affinito's books can find them on Amazon or by ordering them through a book shop.