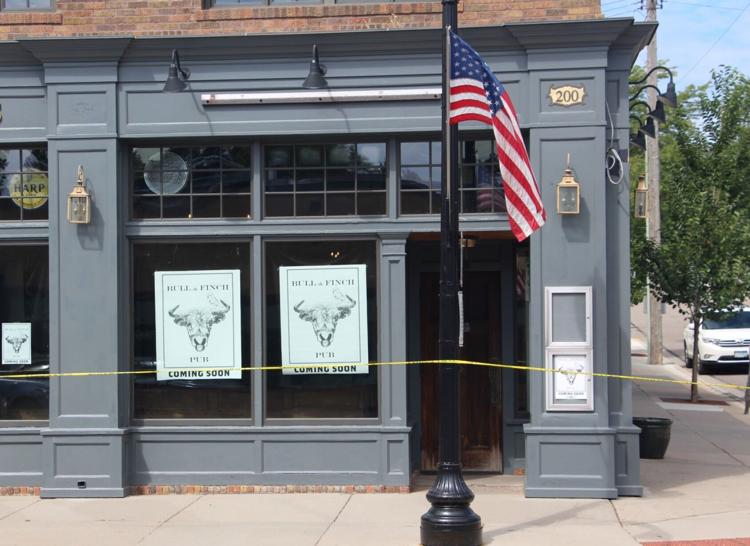 Partners Zach Brown and Victor Claffey have joked that they want to save at least one Irish pub. The two worked together for the past five years at Claddagh Irish Pub in Maple Grove, which is closed. They also knew Jake O'Connor's in Excelsior was sitting vacant.
The two loved the Excelsior pub space from the moment they saw it and thought it was beautiful, said Claffey, who is originally from Ireland and came to the U.S. in 2015. The space has a natural pub feel, he added.
They came up with the idea for the Bull and Finch Gastropub. Claffey likes classic pub names such as the fox and hound. It's a proper pub name, Claffey said. The gastropub has no affiliation with the Bull and Finch Pub in Boston, Massachusetts, made famous by the sitcom Cheers.
The owner-operated gastropub will open in early October at 200 Water St. in Excelsior. The pub won't look much different from what patrons remember of Jake O'Connor's, but the space will be updated.
Room for the old and new
The intention is to keep the structure and atmosphere, but brighten it up, Claffey said. They took out the stained glass on the front windows to let in daylight, redid the flooring and put in new furniture.
"We would like to bring an Irish pub into the market that is a bit more current," he said.
What's on the menu?
Being a bit more current goes for the food too. A lot of techniques for Irish pubs are old, Claffey said, adding he'd like to implement new cooking techniques being used in Europe to bring it forward and into 2020.
The menu will feature pub classics such as fish and chips, Scotch eggs and shepherd's pie, but with a modern twist, according to Brown, who grew up in the restaurant industry and has been a chef for years.
They want to show people that they don't have to have a dry shepherd's pie, that it can be flavorful and like nothing diners have had before, he added.
One technique many European gastropubs implement is using craft cocktail-like ingredients in the food, Brown said. An example from their proposed menu is a Moscow mule pickle. The pickle has flavor profiles from the cocktail, which is then implemented into a burger or sandwich, he said.
The pub will feature a selection of craft beer that will be rotated for a consistent change in selection. It will also have classic cocktails with a modern twist. The bar downstairs will be a whiskey cellar bar.
Irish pubs are homey and inviting places, Brown said, adding when people come to one they want to relax and enjoy themselves. The Bull and Finch would be a perfect place for events such as baby showers and rehearsal dinners, Claffey said.
The partners are happy with their choice of Excelsior for the location for their new gastropub. When they are outside painting or doing projects, people come up to show support or ask questions, Brown said. The Excelsior City Council and the community as a whole have been extremely welcoming, he added.
For more information, find The Bull and Finch Gastropub on Facebook.
Follow the Sun Sailor on Facebook at facebook.com/mnsunsailor.