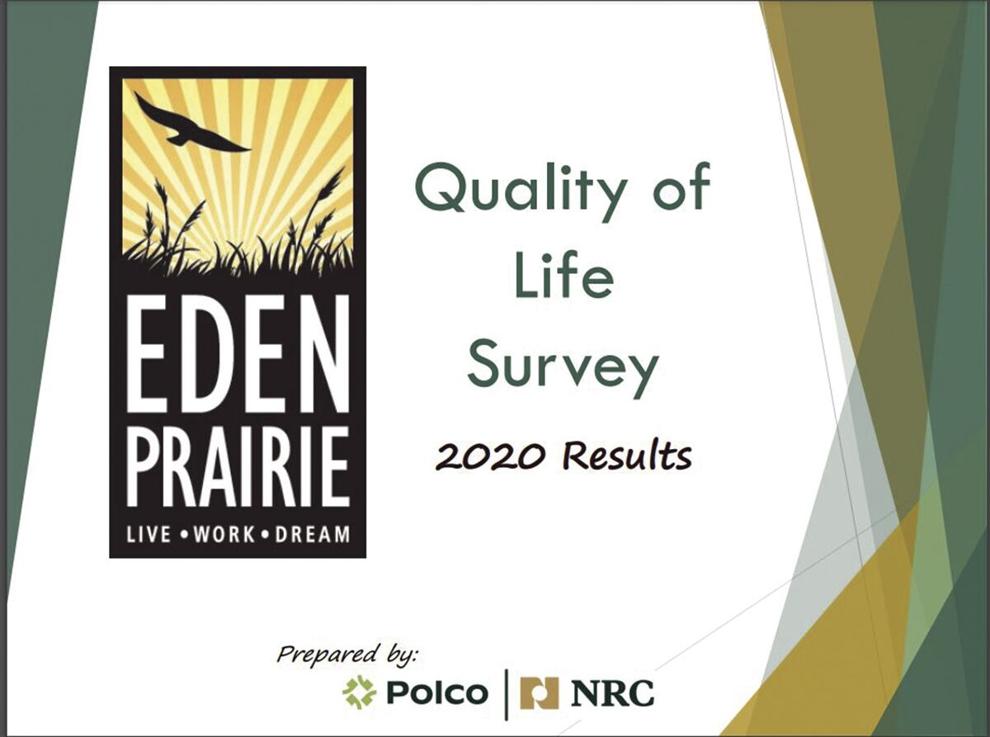 Annual survey lays groundwork for budget and policy development
Eden Prairie residents continue to have a high opinion of their municipality's services and amenities.
That's what was revealed in the most recent Quality of Life Survey findings, presented to the city council at its early April meeting.
From the results of the survey conducted in 2020, residents continue to find Eden Prairie a highly desirable place to live and raise a family, and while a small percentage see concerns with what a perceived rise in crime, the survey also shows that residents value their parks, open spaces and natural environment.
City services are also highly regarded, as are public transportation and light rail.
Polco/National Research Center Senior Program Analyst Jade Arocha provided the presentation of the 2020 survey to the council.
In explaining how the survey was completed and describing its methods, Arocha said it was originally sent via mail to 2,000 residents, 510 of which completed and returned the form. An additional 859 responded to the survey after it was offered online.
Arocha said the survey had several key findings, the first of which was that Eden Prairie continues to be a highly desirable place to live and raise a family.
Arocha said 93% of residents think Eden Prairie has an excellent or good quality of life – higher than the benchmark comparisons and similar to responses in past years.
Of those responding, 93% feel the city is an excellent or good place to raise children, while 89% rated the city's overall education opportunities as good or excellent.
The second key finding showed that residents view safety-related issues as a positive in the city, though there were a small percentage who expressed concerns about crime-related issues.
Arocha said the overall feeling of safety was clear – 92% think Eden Prairie has an excellent or good overall feeling of safety.
Residents were asked to rate a number of issues they feel could be problems in the community.
Among those issues of concern are:
• Traffic and speeding - 34%
• Drugs, which is lower than the 2018 survey - 17%
• Stop sign violations - 22%
• Vandalism and property crime - 29%
Another key finding highlights community parks, recreation and natural environment as a valued community asset. In fact, 94% of residents think Eden Prairie has an excellent or good overall natural environment.
Highly rated characteristics are: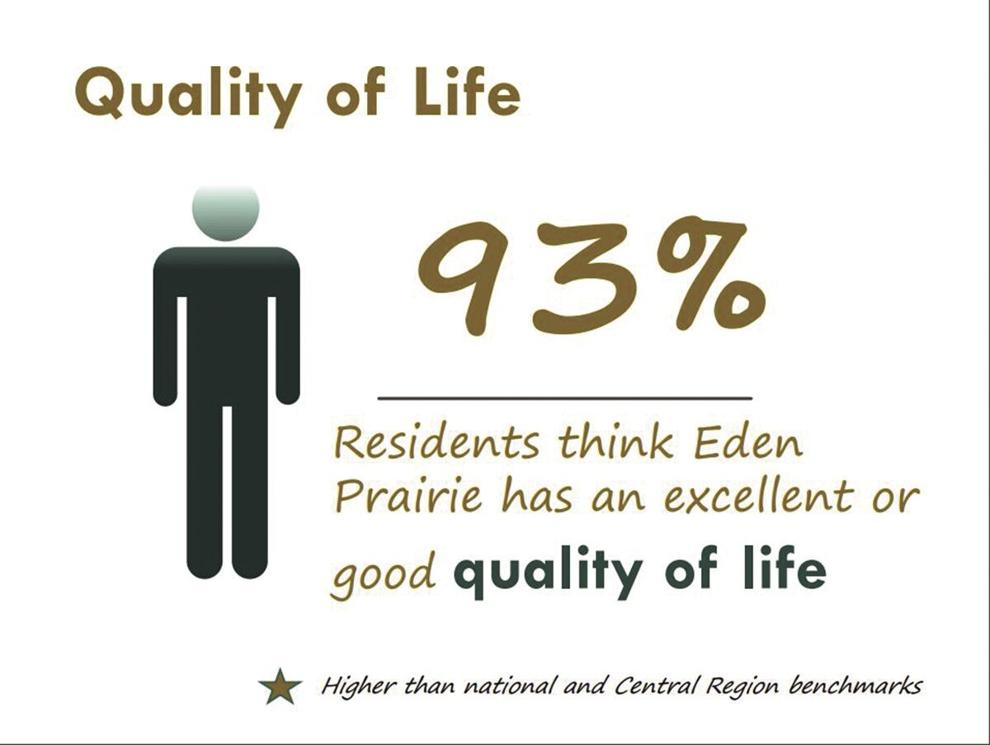 • Overall appearance of the city - 93%
• Paths and walking trails - 92%
• Fitness opportunities - 92%
• Recreational opportunities - 90%
The fourth key finding focused on city services – 92% think overall quality of services was excellent or good.
• Fire department response time - 98%
• Hennepin Healthcare EMS response time - 95%
• Trail maintenance - 93%
• Overall customer service by Eden Prairie employees - 92%
Following the presentation, Mayor Ron Case said the council was given an in-depth presentation of the survey results at a work session just prior to the regular city council meeting, and had a chance to ask questions at that time.
Councilmember Kathy Nelson said, "I really appreciate all the employees that interact so well with the community. They have a high level of service and responsiveness to the community and it's one of the best things to help people live here. They do feel like they can come into city hall, talk, figure out their problem and go home happy."
Case said, "After 25 years on the City Council and taking vote after vote to spend the taxpayers' money appropriately with the guidance of our taxpayers, it's nice to see that the results of our decision-making have been validated and confirmed by the people of Eden Prairie. These surveys show where more than 90% appreciate what we've done in terms of a stellar fire and police departments and state-of-the-art park system. It's nice to see it validated in this survey."
City Manager Rick Getschow concluded the session by tying the results of the survey to the development of specific city goals and policies.
"If you remember, during the many public meetings we have on our budget, it reflects back on (the survey) ... this is a big component of how we put together our city-wide work plan, city goals and our budget. This is one important piece of feedback that we get that starts that two-year process of building a budget," he said.