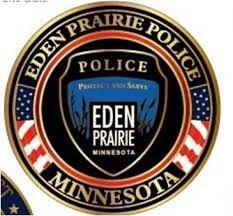 Candidates have until the end of January to apply
The Eden Prairie Police Department is seeking applicants for at least one current opening, possibly two.
The department will also be accepting applications to establish a working list from which to draw should other openings arise through resignations or retirements.
Department Lt. Jennifer Ficcadenti said, "First we will fill immediate hires, then we will establish a list through early fall 2022 for additional hires as they come up. We may start a new hiring process this summer if the list is exhausted to prepare for future retirements or unexpected openings."
In the meantime, filling the currently open positions is the priority, Ficcadenti said.
She said the timeline would have at least one, if not two positions filled. They would be sworn in April or May of 2022.
Candidates will have until 4 p.m. on the last day of January to apply online on the city's website.
"We will review applications on Feb. 3, and the candidates that move on to first interviews will be notified by Feb. 9," Ficcadenti said.
The first round of interviews have tentatively been scheduled for Feb. 14-16.
Those interviews will be with a panel of police officers, sergeants, and a representative from human resources. The initial interview generally lasts about 30 minutes.
"If candidates move on to a second interview they will be notified by Feb. 18," Ficcadenti said. "The second round of interviews are approximately 45 minutes and will be with a panel of lieutenants and human resources over Feb. 22 and 23. If candidates move on from that interview they will be invited to meet with the police chief the week of Feb. 28 and the background process will be initiated."
The final piece of the hiring process involves background checking, which according to Ficcadenti, takes about four to six weeks to complete.
"Once approved, the candidate will need to pass a pre-employment physical exam as well as a psychological evaluation," she said.
Once the background checking is completed, a formal offer could be extended by the end of April or early May.
Ficcadenti said the current pay range starts at $31.71 per hour and rises to $48.48 per hour. Where a new officer begins on the salary ladder depends upon experience and qualifications.
"Candidates with six-plus years of broad police officer experience may start at step four ($44.74 per hour). Officers move up to the next 'step' each year, until they reach the top step (five). Annual base adjustments increase the entire step range and typically occur in January," she said.
According to the city's 2020 annual report, the department responded to 40,564 calls for service, which was down from 50,870 in 2019. There were no homicides, but there were two fatal crashes in 2020.
In all, there were nearly 150 staff and volunteers working within the police department in 2020.
The call for candidate applications occurs, according to Ficcadenti, every couple of years, or when the needs arise.
Candidates with questions are encouraged to reach out to Sgt. Henke via email at rhenke@edenprairie.org or by calling 952-949-6258.