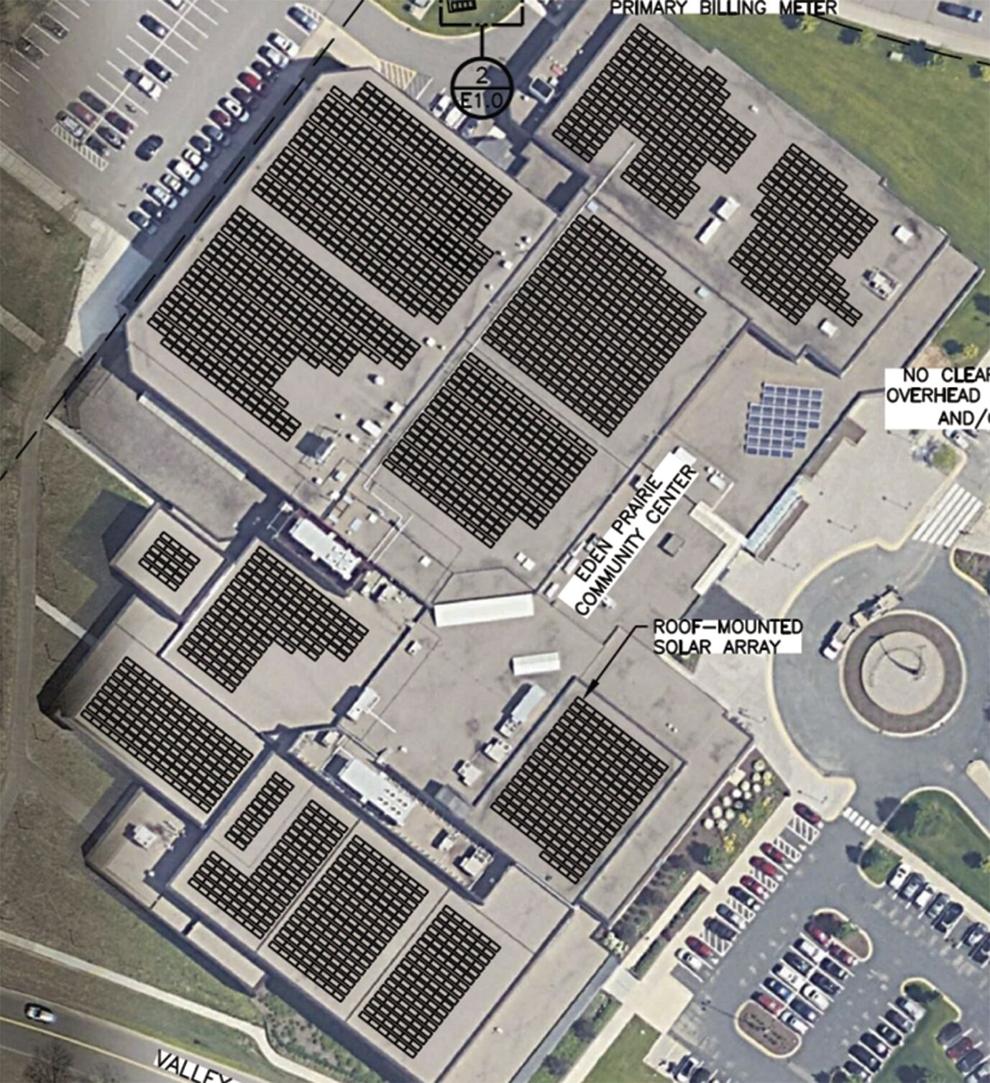 City residents encouraged to sign on and save energy dollars
The city of Eden Prairie is partnering with Cooperative Energy Futures to construct a solar garden on the roof of the Eden Prairie Community Center, an energy source that will be available to residents via subscription.
To explain the options of the program to residents, city Sustainability Coordinator Jennifer Hassebroek hosted Timothy Denherder-Thomas, Cooperative Energy Futures co-founder and general manager, for an online webinar in June, and for an in-person presentation Aug. 4.
In all, Hassebroek said about 50 people attended the live online and in-person presentations and about 100 watched the video online following the live presentation.
"This is the second residential community solar project in Eden Prairie – Pax Christi Church has one in service already – so we anticipate that there are some residents who are already familiar with how community solar works," Hassebroek stated in an email following the in-person presentation.
Hassebroek, in opening the June online presentation, said the program is being made "available to those who are otherwise unable to participate due to cost, ownership or other barriers, and it supports the city's climate action plan goal of achieving carbon neutrality in the community by 2050."
During both presentations, Denherder-Thomas described his organization as a community-owned clean energy cooperative that has served members across Minnesota since 2009.
He said the Community Center was chosen for the solar photovoltaic panels because it's a city-owned facility sunny location.
"Households can subscribe to enough solar to cover up to 120% of your annual electric usage," Denherder-Thomas said. "Each subscriber's utility bill is credited with the electricity created by their portion of the solar garden."
The state Legislature in 2013 passed a bill that requires Xcel Energy to participate in these types of programs.
"You still receive an electric bill and pay Xcel Energy for energy used, but now the energy company is also paying the customer for the clean energy produced ... from the solar garden," Denherder-Thomas said.
He said this program requires Xcel Energy to credit community solar garden subscribers on their bill. Then solar subscribers make payments to a community solar garden company, in this case Cooperative Energy Futures.
The savings per year for the average user is somewhere between $60 and $100. So, not only will subscribers see smaller energy bills, but they will be joining the effort to reduce the city's overall carbon footprint.
Residents could contract to have solar panels placed on their property, but Denherder-Thomas called that a costly option, especially for renters or those with low incomes. One of the primary goals of this specific programs is to include those types of residents.
The community solar program, such as the one being offered in Eden Prairie, is open to any resident served by Xcel Energy.
Proponents of the community solar effort describe the following advantages:
• Residents do not need to have direct solar access.
• There are no physical changes to the resident's home.
• Participants pay each month without upfront costs.
• There are no debt obligations.
For on-site solar, the residents must own their own building, have good sun exposure, have panels wired to a meter, and be able to pay for the panels.
However, one of the advantages in installing one's own system is eligibility for significant tax credits.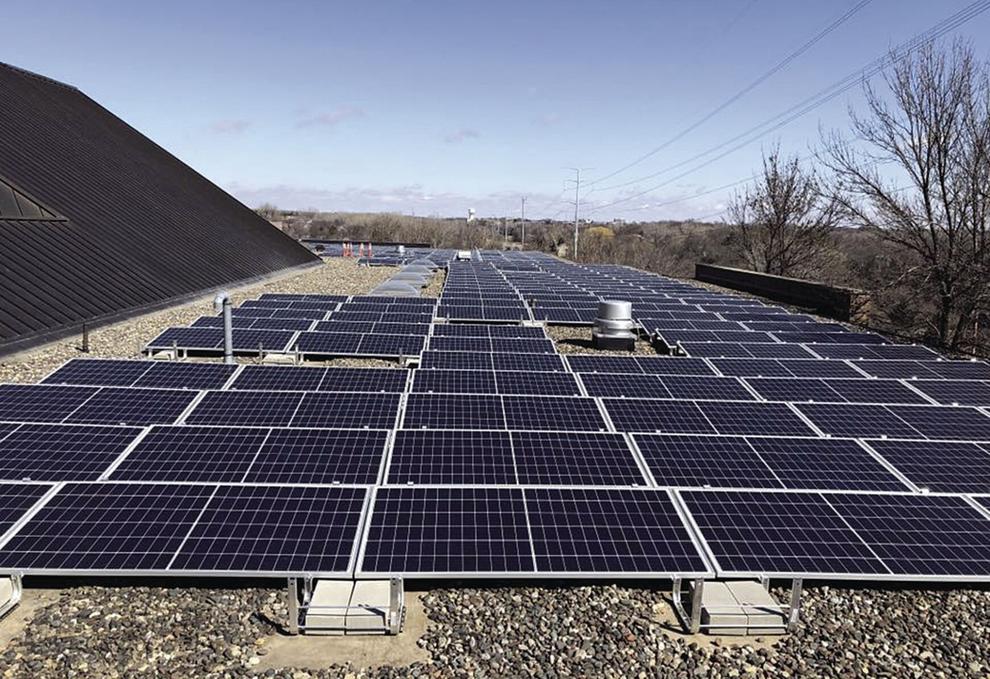 A goal of Eden Prairie's community solar project to make the power source accessible to everyday people.Denherder-Thomas said that 85% of community solar projects developed are being utilized by corporate or institutional subscribers. Less than 15% of these projects are being offered to residents, he added.
"There's some big equity and access barriers here that we, as a cooperative, are really setting out to address," Denherder-Thomas said.
He said they plan to accomplish their goals by offering the program to the entire community, most notably renters or those who are considered low-income.
Not only does it provide an inclusive platform, but it also will help build community wealth through the creation of jobs, business development, and the promoting of clean energy across all economic sectors, according to Denherder-Thomas.
The success of clean energy hinges as a "key choice" that must be made by individuals and communities, he said.
"We're sending our energy dollars to large utilities that are organized as monopolies, meaning we really don't have a choice about where those energy dollars go; we don't have the power to choose a different alternative," he said.
The choice to produce and use clean energy is "also a choice to bring ownership and control back to our communities, to groups of people working together to make our energy local."
When constructed, the project will be about 1 megawatt, where about 1.2 million kWh/year will be produced.
It's being made available to about 150 Eden Prairie residents, with 25% reserved for low-income individuals, renters and other marginalized communities.
Denherder-Thomas said subscriptions are now being accepted and that construction will begin when about 60% of subscriptions are filled. He said the plan is for construction to begin this fall, with the system being operational by spring of 2022.
"We're targeting getting subscriptions filled over the next few months," he said.
"People on the wait list will be contacted to have them to sign off on allowing Xcel to release their electric use history so that Cooperative Energy Futures can size their subscription based on use," Hassebroek said. "CEF will then contact them with a proposed subscription which they can either accept or decline. We have no reason to think we won't be operational next year."
Denherder-Thomas explained, "Most of our subscribers and their experience with community solar, is they don't pay anything upfront, except $25 to become a CEF member, and then every month they pay Cooperative Energy Futures an amount that is lower than the discount received on the Excel Energy bill. There's an immediate savings."
The life expectancy for the solar garden is 25 years, after which several options could be considered. By that time Denherder-Thomas said, the technology could be completely different and a new solar garden program could be considered.
He said it would be difficult to envision what the program's future might look like at the end of 25 years, and said all options would be considered as that 25-year deadline approaches.
Solar energy is emerging as an important piece in the country's energy grid, but there is still much growth ahead, Denherder-Thomas said. "This is the first step in a much longer process of creating an energy system that works for us and is a system rooted in community, rooted in building community wealth," he said.