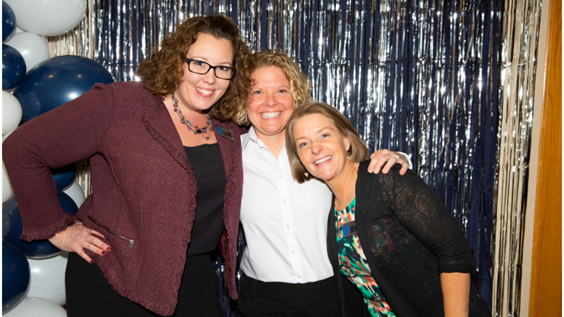 Center eyes late spring for return to in-person services
For more than 20 years, Youth Grief Services and Camp Erin, a summer camp for youth, have been providing essential services through Fairview Health to those grieving the loss of those closest to them.
In early December, Brighter Days Grief Center in Eden Prairie acquired Youth Grief Services from Fairview Health, a move that Brighter Days founder Carolyn Kinzel said will allow clients to realize a broadening array of support.
"The desire to launch a youth program has been in the works since Brighter Days' inception in 2017," Kinzel said. "It was a part of our five-year business plan. The Fairview Health acquisition was proposed to us in November, so while that was not planned, we certainly feel like it is a perfect fit and we are honored to be trusted by Fairview Health to acquire the 20-plus-year program."
As part of the acquisition, Brighter Days will absorb three full-time employees to maintain continuity of the program.
In addition, the six-week grief support series and youth grief camps will be retained and free grief and trauma support, monthly groups, peer-based activities and events and support for anticipatory grief will be added, Kinzel said.
A young adult program for those aged 18-25 will be added.
"The young adult program is a really significant program for us to launch because there is such a great need for this population," Kinzel said. "This age group is often overlooked because they no longer fit into the youth category, but they are not ready to go into the adult group with people that are the same age as their parents, for instance. They have specific needs and specific experiences that need to be addressed in a space that allows them to be with others that understand."
In addition to peer-based groups and events, therapy groups will be designed to "connect them to each other," Kinzel said. Because this age group is either in school or working, Kinzel said the offering of both virtual and in-person services will help accommodate their schedules.
She described Brighter Days' holistic approach and mission, saying, "Every family member deserves unique support, in a manner that is most comfortable for them, so they can focus on their own grief rather than carrying everyone else's."
Brighter Days is the only family-focused grief center serving residents across the state.
References to Brighter Days come from more than 60 partners across the state, including hospitals, hospices, churches, schools, police and fire and other nonprofits.
"Anyone, however, can call to become active in our programs; they do not need to be referred by a practitioner. If they are grieving the terminal diagnosis or death of a loved one, no matter their age, we would love to help them," Kinzel said.
The COVID-19 pandemic has forced Brighter Days to pivot to a virtual model, implementing 25 closed Facebook groups and private Zoom groups.
"In many ways, the virtual component has been a positive change since we serve the state of Minnesota and not everyone can get to us," Kinzel said.
"The virtual option allows more people to take advantage of our groups without having to leave their home. We will keep this part of our programming because we understand that whether a pandemic, bad weather or logistics, people still deserve support."
She added, "The private Facebook pages have been a wonderful way for people to stay connected in a more casual setting. We have found some of the groups to be growing quite significantly and some taking off a little slower. In general, our goal was to encourage connection rather than isolation, whether through virtual support groups, one-on-one Zoom sessions or closed Facebook groups. Of course, there are many people that are not on Facebook, so it is not an option for everyone but it does provide yet one more outlet."
That doesn't mean Brighter Days personnel isn't looking forward to going back to in-person services. Plans are underway to provide those in-person sessions again, hopefully by late spring.
Plans also call for moving into a larger facility "that will provide the additional space to accommodate the recent expansion in staff and programming," Kinzel said.
Brighter Days has planned for months to move into a larger facility. While still working to find a location, an announcement won't come until that work is complete, Kinzel said.
"This new location will be our new home while we work on our capital campaign for the future build," Kinzel said.
Serving youth individually is an important aspect of counseling, but Kinzel said connecting individuals is also an important element of their mission.
"We want grieving individuals, especially children, to have choices; it isn't just about grief counseling. It's about making connections to other kids, creating new memories and being surrounded by a community that truly understands."