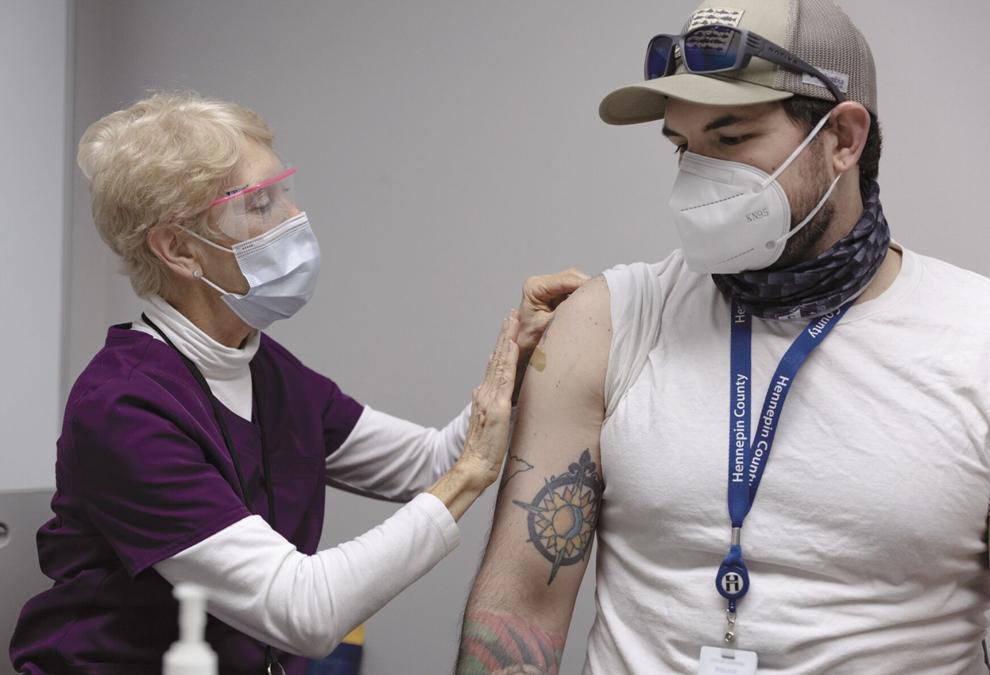 Majority plan to get the vaccine, but some have reservations
Seventy-five percent of Eden Prairie residents responding to a recent survey focused on the COVID-19 vaccine said they will receive the dose as soon as it's available.
That was illustrated in a survey the city offered through POLCO, a third-party vendor the municipality frequently utilizes in surveying residents on a number of timely issues. About 2,400 people responded.
"This survey was generated by our vendor to help us gain insights into resident opinions and feelings about COVID-19 vaccinations," said Katie Bengston, Eden Prairie's senior communications coordinator.
City officials have been watching the results, which were released in a Jan. 26 report.
Mayor Ron Case said, "I'm optimistic that everyone will enthusiastically want to be vaccinated. Hopefully, the flood of information coming at us daily from federal, state, and county sources, not to mention news organizations and social media, will convince people that it is in their best interests and the interests of society as a whole to get people vaccinated."
But not all respondents have been so positive.
Twelve percent said they would not get the vaccine, while another 5% said they would get the vaccine, but wouldn't be comfortable receiving it for months or up to a year.
At the time the survey results were released, 3% of respondents had already received their first dose.
For those deciding not to receive the vaccine, the reasons varied.
Following are some of the reasons that respondents gave for not planning to get vaccinated:
• 313 were concerned about the side effects.
• 230 said they wanted to see what happens to others.
• 170 checked "other reasons."
• 160 said they generally don't trust vaccines.
• 55 had already tested positive, so they didn't think they needed the vaccine.
• 30 felt the process had been rushed.
• 20 were concerned whether the vaccine is effective.
The survey also asked respondents to indicate how they might be convinced to receive the vaccine.
These respondents said they could be convinced if:
• There is testing on large numbers of people (225).
• Side effects proved to be minor (185).
• The trials were proven to be adequate and not rushed (179).
• The vaccine is proven effective for at least 5 years (122).
• The vaccine was free or offered at no cost (110).
• The vaccine was developed in America (50).
• Friends and family were getting vaccinated (40).
• Political figures and celebrities chose to get vaccinated (21).
In addition, 21 said they would receive the doses if an employer recommended it; 61 said they would do so if the employer required it.
One hundred said that if their action leads to herd immunity, they would get vaccinated, while 92 said that if it would keep them from social and family events and activities, then they would be vaccinated.
Forty-two said that with an incentive, such as a government stimulus check or tax credits, they might be convinced.
Since Eden Prairie doesn't have a city health department, the task falls to Hennepin County.
Lori Imsdahl, Hennepin County Public Health communications specialist, said the county has not completed a survey about the vaccine, but the department continues its efforts to educate residents about it as information becomes available.
"Hennepin County is sharing information about the vaccine to counter misinformation and decrease vaccine hesitancy," Imsdahl said.
"For example, we have answers to common vaccine questions we're hearing from the community online, including translated versions."
As of late last week, nearly 600,000 Minnesotans had received at least one vaccine dose and just over 177,000 had completed a course of two shots.
Imsdahl said the state continues vaccinating those qualifying for the first round of doses.
"Right now we're vaccinating groups in phase 1A, including first responders, long-term care staff and residents, health care workers, people experiencing homelessness, and K-12 school staff."
In addition to asking respondents to speak for themselves, the survey also included questions about children in the community.
Of those responding, 49% had children under the age of 18 living in their household, while 51% did not.
Of those with children, 71% said they would either "very likely" or "somewhat likely" have their children vaccinated.
Twenty-five percent said it was "somewhat unlikely" or "very unlikely" their children would be vaccinated.
There was also a question about the government's role in the distribution of the vaccine:
• 50% said the government should encourage vaccinations but also require them as needed to create herd immunity.
• 36% said the government should encourage vaccinations but not require them.
• 12% said the government should have no role in encouraging vaccinations.
• 2% needed more information.
To learn more about the survey, including the demographics of respondents, visit trimurl.co/RL6VCv.
Bengston said the point of the survey was to identify gaps in information.
"It is our hope that we will gain insights as to what misinformation or lack of information may exist in our community, or among various populations we serve," she said. "Once we have that information, we can better partner with the county and better serve our residents."