Armstrong High's performance in athletics in 2020 reflected school pride and individual brilliance along with team success.
The big story off the field was a chance in leadership in the athletic department. Patti Weldon retired as activities director at the end of the 2019-20 school year. Taking her place for 2020-21 is Larry Tate, a longtime advocate and coach for youth sports in District 281.
The team highlight of 2020 was a Section 6AA championship for the Armstrong boys cross country team. History was made Oct. 14 at Gale Woods Farm in Minnetrista when the Falcons edged Eden Prairie, 49-50, for the title. Beating Lake powers Eden Prairie, Edina, Wayzata and Minnetonka shocked cross country fans from those schools. Armstrong did it with balance and placed four runners among the top ten.
Armstrong High's football team, coached by Jack Negen, was rebuilding this season after going 9-1 in 2019. With new quarterback Jamen Malone at the helm, the Falcons once again had a winning record (4-2) and tied Spring Lake Park for the Suburban Blue District championship.
Each year, the Sun sports editors list the Athletes of the Year. Here are our selections for 2020.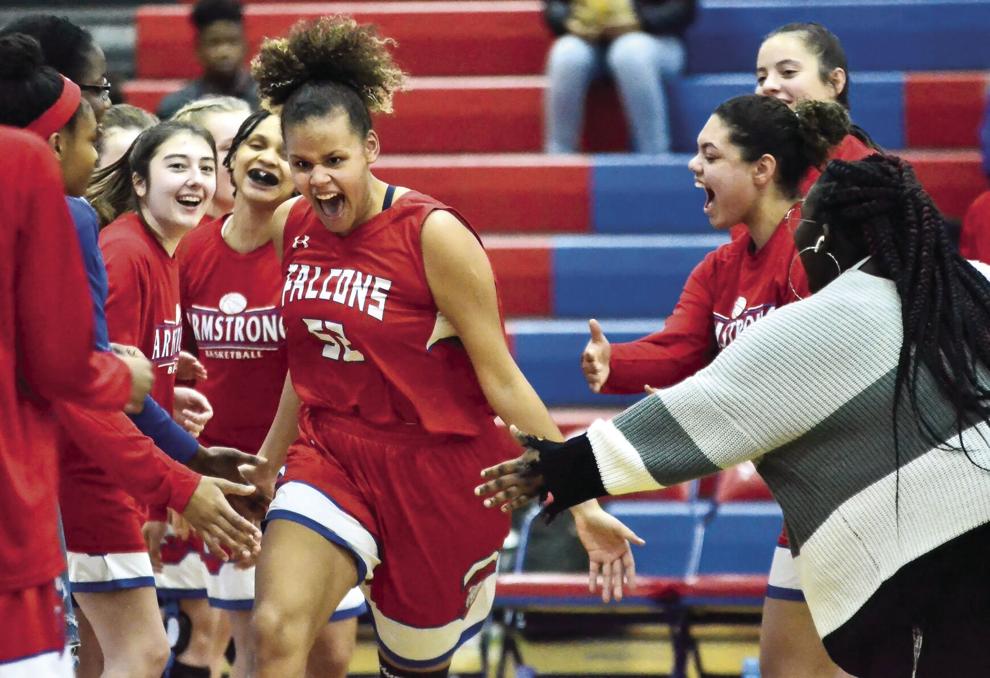 The Armstrong/Cooper skater, Ben Anderson, finished his high school hockey career with more than 100 points. He helped the Wings to a 13-12-1 record for 2019-20.
This winter, Armstrong's Roger Anderson returns as one of the state's premier Nordic skiers. In the State Meet at Giants Ridge in 2020, he finished second when Henry Snider of Mounds Park Academy nipped him at the finish line.
Senior leadership was essential in Armstrong High's win at the Section 6AA Boys Cross Country Meet. Bartness provided it by finishing ninth at Gale Woods Farm with a 5K time of 16:36.37.
Armstrong/Cooper's girls hockey goalie held the Wings in almost every game in 2019-20 with a 3.62 goals-against average and a .905 save percentage. She returns to the net this season.
As one of Armstrong's best all-around athletes, Adam Biewen helped the basketball team to a 19-8 record with his offensive and defensive skills. "Adam is our most flexible in terms of guarding different positions and scoring in different ways," Falcons head coach Jon Bryant said at the end of the season.
Armstrong's football quarterback closed his high school sports career on the basketball court in March. Jake Breitbach led the Falcon boys to a 19-8 hoops record by averaging 14.6 points per game and making the All-Northwest Suburban Conference squad. "Jake is our leading scorer and a great ballplayer," Falcon head coach Jon Bryant said.
Noah Breker's reward for a season of hard work was a seventh-place finish in the 2020 Section 6AA Boys Cross Country Meet at Gale Woods Farm. His 5K time was 16:34.77.
The Armstrong High swimming star, Zoe Bresnahan qualified for state in the 200 and 500 freestyles and the 400 free relay. She repeated as an All-State and all-conference choice.
The rugged forward finished his Armstrong/Cooper Wings boys hockey career with more than 100 points in leading the team to a 13-12-1 mark in 2019-20.
Armstrong High boys track sprinter, Ezekiel Clark, is bound for Minnesota State University, Mankato this fall. Since there was no state Class AA high school meet in 2020, Clark will try to make up for it in 2021. His personal records are 10.95 in the 100-meter dash and 22.38 in the 200.
The 6-foot middle hitter for Armstrong girls volleyball has a scholarship to play for Minnesota State University, Mankato next season. She showed a wide array of skills in 2020 with 442 kills, 227 digs and 55 service aces.
The ninth-grade tennis player from Armstrong, Peyton Erickson, played well at first singles in leading her team to the Section 5AA consolation title. She was named all-conference.
The Armstrong volleyball setter, Rylie Frey, has a Division I volleyball scholarship at the University of Texas-El Paso. Frey had 1,746 set assists and 522 digs in three seasons with the Falcons.
The Armstrong senior made his last high school cross country race a good one. Owen Hansmann took tenth place in the Section 6AA Meet at Gale Woods Farm with a 5K time of 16:56.97
A strong, physical 6-4 forward for the Armstrong boys basketball team, Iyawe was second in the team in scoring at 14.4 per game. "He is a post player who got better at playing out on the floor this season," coach Jon Bryant said.
Armstrong High's football team finished 4-2 and shared the Suburban Blue District title with Spring Lake Park with Caleb Jones as the leading rusher.
The Armstrong swimmer qualified for state in the 100 freestyle, 100 breaststroke and 400 free relay and earned All-Northwest Suburban and All-State honors.
The Armstrong High senior has landed a gymnastics scholarship to compete for the University of Minnesota next season. Since there is no high school boys gymnastics program in Minnesota, Kolesnikov honed his skills in club gymnastics with Mini-Hops
Armstrong High Alpine skier Jenny Krey represented her school in the State Meet at Giants Ridge in Biwabik. She placed 50th overall to close out her senior year.
The senior linebacker, Cade Kuempel, led the Armstrong High football defensive unit during a 4-2 season in 2020. He sparked a 47-21 win over Hopkins with a fumble return for a touchdown.
Armstrong High's two-year volleyball captain, Libby Mattila, will continue her career at the University of St. Thomas. The Tommies will switch from NCAA Division III to Division I for 2021-22. "Libby is so competitive and well-rounded that she will be a great addition to the foundation of our team," St. Thomas head coach Trahn Pham said.
Sophomore Jamen Malone replaced graduated starting quarterback Jake Breitbach for the Armstrong football team. He led the Falcons to a co-championship in the Suburban Blue District and an overall record of 4-2.
The Armstrong girls soccer team's Maddie McAlister will continue her career at the University of Wisconsin-Superior next fall.
Armstrong's junior defensive back and kick returner, Jordan McClom, was a factor in every game during the 2020 season. In his best game, a 47-21 win over Hopkins, McClom returned the opening kick-off 75 yards for a touchdown and later scored on a 52-yard interception return.
Junior center Savannah McGowan is the top returning player for the Armstrong girls basketball team in 2021. During the 2019-20 season, she scored 304 points and gathered in 229 rebounds.
Left-handed pitcher and first baseman Christian Mundt is so far the only Armstrong High baseball player to earn a college opportunity for next season. He will play NCAA Division II ball at Northern State University in South Dakota.
The Armstrong High basketball guard and football wide receiver had a big year in both sports in 2020. He was chosen the all-district football team.
As the only All-Northwest Suburban Conference boys swimmer from Armstrong, O'Brien swam a best time of 23.21 in the 50-yard freestyle. The Falcons placed fourth in the Section 5AA team standings.
James Ohm was Armstrong's most successful wrestler hands-down in 2019-20. He won the Section 5AAA heavyweight title with a 4-3 decision over Wayzata's Jac Carver and a 2-1 decision over St. Michael-Albertville's Owen Barthel. Ohm finished the season 22-15 overall.
Sophomore Alex Omodt keyed Armstrong's win in the Section 6AA Boys Cross Country Meet by placing fifth individually with a 5K time of 16:30.79.
The Armstrong Nordic skiing team sent three girls to the State Nordic Skiing Meet at Giants Ridge. Sophomore Sophia Pung was the Falcons' top finisher with a time of 37:21.4.
In his junior year (2019-20) Armstrong/Cooper boys hockey goalie Owen Reeve made 543 saves while compiling a 13-12-1 mark.
After winning the Athena Award as the most outstanding senior female athlete at her school, Armstrong's Sierra Smith was also named Section 5AA Swimmer of the Year. She is now on the team at Division I University of Missouri.
Goalkeeper Sydney Smith was the standout soccer player for Armstrong High as a full-time starter in 2020.
The former Armstrong basketball player, a 6-8 junior forward, is a starter for Indiana University this season. Race Thompson scored in double figures in four of the Hoosiers' first nine games this season.
Back for his senior season on the hockey rink in 2020-21, Armstrong's Noah Weisjahn was one of the top scorers in the Northwest Suburban Conference last season with 36 points on 14 goals and 22 assists.