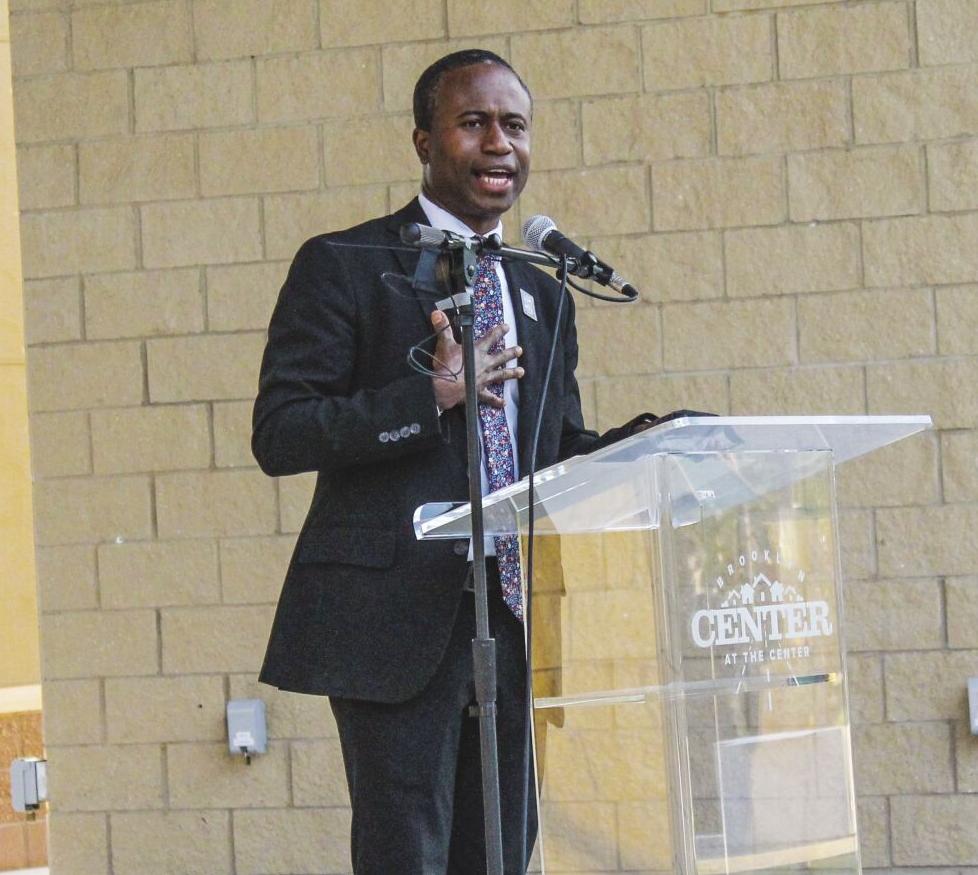 Brooklyn Center hosted an information session on its plans to redesign the city's public safety departments Sept. 9 at Centennial Park.
"We did something unique – we passed what is arguably the most transformative set of public safety policies anywhere in the country," Mayor Mike Elliott said.
The session, billed as a town hall, did not feature a question-and-answer session as typically seen in a town hall setting. Rather, Elliott provided attendees with an update on the status of the Daunte Wright and Kobe Dimock-Heisler Community Safety and Violence Prevention Act.
The city then collected question cards from attendees with the intention of posting answers to the city's website.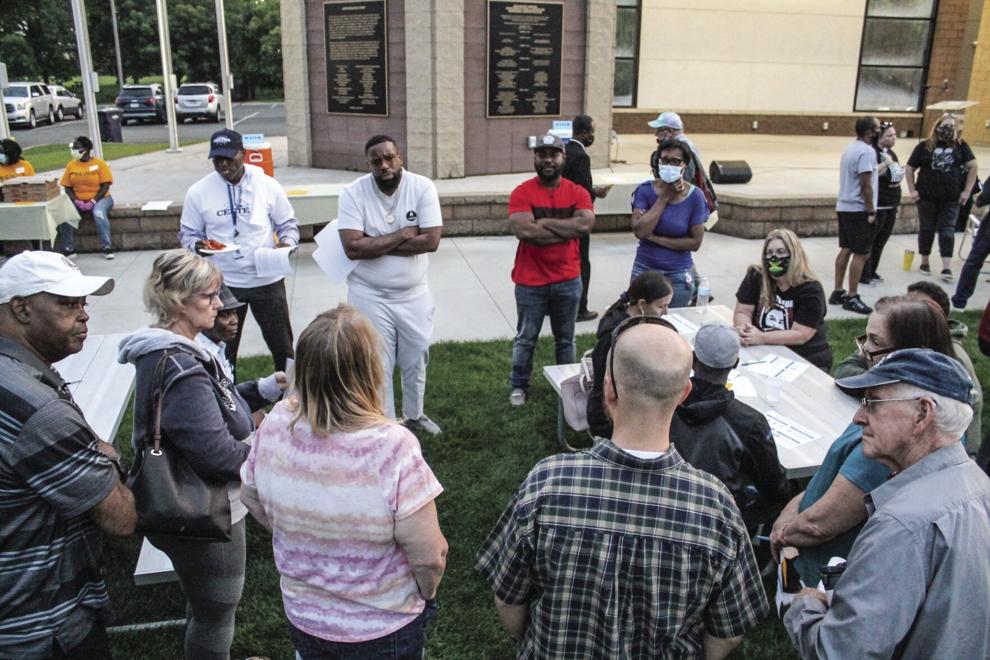 After the officer-involved killing of Daunte Wright in April, the council moved ahead with plans to create a new, unarmed public safety division that will respond to low-level traffic violations and mental health incidents.
"We believe this resolution needs to be fully implemented next year, by next year," he said.
The city also plans to ban custodial arrests for low-level, non-felony offenses in traffic stops and enact a cite and summons policy, Elliott said.
"We have already started making progress with this work," he said. "We are just about complete with our cite and summons policy."
An implementation committee, chaired by the mayor, is planned to oversee the creation of this new department. The city continues to accept applications for the implementation committee.
City staff members distributed applications for the implementation committee throughout the meeting.
"If you're interested in helping us build this public safety vision, take an application, fill it out and get involved, and serve on a committee or a subcommittee," Elliott said.
Soon, the city will have the assistance of two full-time executive fellows with FUSE Corps, Elliott said. FUSE Corps is a national nonprofit that advances racial equity work through an executive fellowship program.
One executive fellow will be a researcher, collecting data related to the city's existing public safety work, while another will serve as a community engagement program administrator.
"That person is going to be critical in helping to make sure that all of you, community, are continuing to be engaged in the work that we're doing," Elliott said.
These two workers will come in addition to the full-time project coordinator position approved by the City Council in August.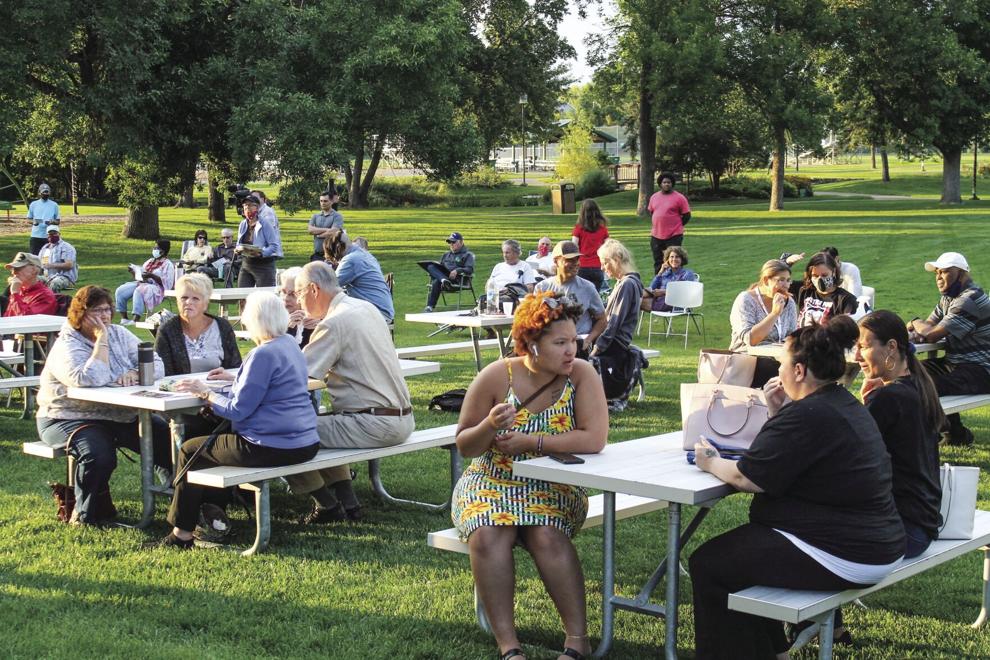 The event was co-hosted by the Barbershop and Black Congregation Cooperative, the American Civil Liberties Union of Minnesota and Council on American Islamic Relations Minnesota branch. Members of each organization addressed the crowd of approximately 50 attendees.
"This is a beautiful sight to see a multi-racial base here who are interested in what we need to deliver to Brooklyn Center," said Brian Fullman, lead organizer with the Barbershop and Black Congregation Cooperative. The organization is a part of Isaiah, a coalition of faith communities working on racial and economic justice in Minnesota. The organization is based out of St. Paul.
"We won't roll out or implement any kind of department of public safety without you all, so if you all do not participate, we will be stagnant in our development and what we're trying to deliver," Fullman said. "Brooklyn Center has the opportunity to model and raise indirect tension and adaptation to other cities who need to actually roll out a new department of public safety."
Ismael Dore, organizer with the ACLU-MN, and Zaynab Mohamed, community advocacy manager for CAIR-MN, spoke in favor of moving the resolution work forward.
Brooklyn Center School Boardmember John Solomon and Brooklyn Center City Councilmember April Graves also spoke during the event.
"I think it's important that we come out and get a real focus and grasp on this resolution and kind of get away from, you know, just a lot of the chatter between that back and forth" about disliking the police, said Solomon, a former police officer and an Air Force veteran. "I think people just want to see some changes."
Graves and Elliott were the only members of the council that attended the meeting.
"This isn't an easy time to be alive or easy work to do," Graves said. "Some of the conversations that we've had as a council have been really difficult. But that's not surprising because these aren't easy issues to address. I'm not going to say that we have it all figured out. We don't. But we are taking some chances, we're taking some risks, and we're willing to make some mistakes so that we can actually do better. If we don't try to do better, we never will."
The community needs to be willing to listen to people they don't agree with to keep the work moving forward, Graves added.
With members of the Barbershop and Black Congregation Cooperative acting as facilitators, the crowd broke into groups and discussed their reasons for attending the meeting, or their opinions on how to move forward.