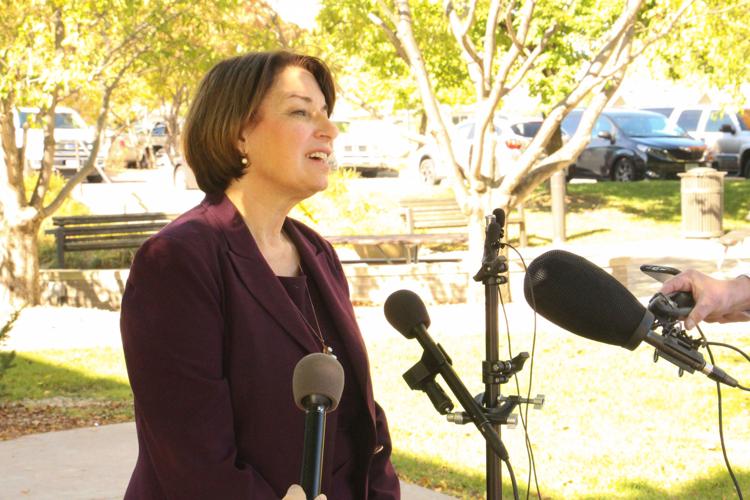 U.S. Senator Amy Klobuchar and Secretary of State Steve Simon hosted an Oct. 8 press conference to speak about the need for election security at Golden Valley City Hall.
They were joined by local officials, including Rep. Mike Freiberg (DFL-Golden Valley, District 45B) and Rep. Ryan Winkler (DFL-Golden Valley, District 46A), Hennepin County Elections Manager Ginny Gelms and Golden Valley Mayor Shep Harris.
Election security is of particular interest for the senator and presidential hopeful: Klobuchar is the ranking member of the Senate Rules Committee and has authored recent bills to greater strengthen state and national security.
Overall, she said the Simon was doing a "great job" to keep elections safe and accurate in Minnesota, but other states have lagged.
"We're not going to relegate the whole Mueller report, but it was very clear in that report that Russia invaded our election," said Klobuchar. "As many of the president's intelligence directors and others have made clear, [hackers] were actually emboldened by that, and we believe are continuing to work to invade our elections in 2020."
Klobuchar added that the scope of the 2016 hack is still being discovered, including the recent confirmation that individual voter files were exposed in Illinois.
Simon agreed that Minnesota needed a federal partner and a long-term fix to better secure elections, noting the state was not the weakest link in the election security chain but was targeted in 2016.
"I think we have to be mindful of what the intelligence authorities have told us repeatedly, loudly, and unanimously, which is that we who oversee elections should expect more attempted attacks," Simon said.
Minnesota recently secured $6.6 million in federal grant funding, which it will use to "redo, record, and resecure" the 15-year-old system that stores voter registration information, and hire a cyber-navigator who will work in outreach to municipal election administrators.
National efforts
Klobuchar explained the most immediate goals to secure future elections was to upgrade the 10-plus-year-old electronic voting systems in 40 states; reduce the number of states that use no or only partial paper ballots (eight states are currently slated to do so in 2020); and introduce more aggressive audits to track potential hacking.
States without paper ballots include New Jersey and Louisiana. In the event of a hack, Klobuchar said it would be impossible to salvage results without paper ballots.
She characterized her recent attempts to get a bill passed as repeatedly shut down by Senate Majority Leader Mitch McConnell and the White House. That bill had required backup paper balloting and audits for a state to receive any amount of federal money. When the requirements were removed, the bill passed, Klobuchar believed because McConnell's resistance to the bill became public. As a result, $380 million was secured for various election security measures across the state.
However, Klobuchar wants future legislation to have those requirements to ensure that benefiting states are "making the changes we need."
Response to Trump rally
At the closing of the press conference, Klobuchar met with media to respond to questions about the Thursday rally planned by President Donald Trump. Klobuchar maintained that the president was "always welcome to our state."
"Nothing would surprise me, what he says in that rally, and we'll have to prepare for it," she said.
Klobuchar continued: "You know what I wish he would do? Maybe he goes to one of our closed down ethanol plants in Minnesota or in Iowa, or maybe he goes to meet with some of our soybean farmers as soybeans are mounting up in their bins while he's in the middle of a trade war."