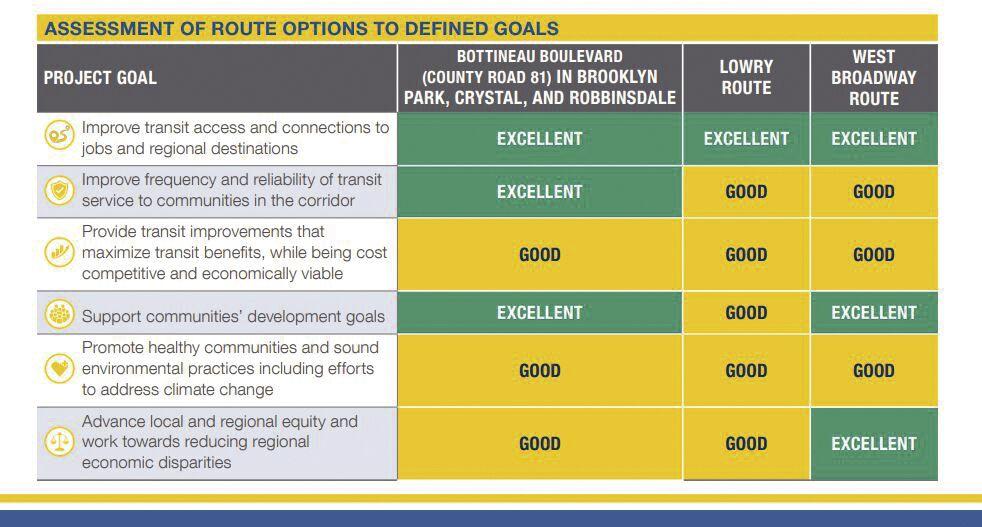 The Bottineau Blue Line Light Rail project office recently released a draft route report, which provides technical evaluation for the proposed line and describes the next steps in designating the official route.
The report finds both the Lowry Avenue and West Broadway routes to be viable options, but gives the West Broadway route stronger marks for support of community development goals and regional equity work.
Public comment on the report is open through Jan. 25, 2022. The project office expects to gather public feedback, then bring forward a final evaluation and route recommendation in spring 2022.
"Sometimes a neighborhood group or community stakeholder wants to give pretty detailed comments, but it could even be very simple," said Sophia Ginnis, outreach manager, during a Dec. 17 corridor management committee meeting.
The line is slated to connect downtown Minneapolis with the northwest suburbs, with the final stop near Brooklyn Park's Target North Campus.
The previously designed route used Burlington Northern Santa Fe right-of-way to co-locate the light rail line within the freight rail corridor that parallels County Road 81. In 2018, BNSF refused to negotiate with the project.
Steps to redesign the line without BNSF right-of-way have been in motion since August 2020.
The portions of the line previously planned for Crystal, Robbinsdale and Minneapolis have changed, with the Crystal and Robbinsdale segment expected to run on County Road 81, and the Minneapolis segment following either West Broadway or Lowry Avenue.
Much of the Brooklyn Park portion of the line, which is planned to run north-south on West Broadway, has not been changed.
The report evaluates route options using a three-tiered measurement system.
Routes were given a grade of "poor," "good" or "excellent" on their ability to meet project goals.
A "poor" rating would not meet project goals, while a "good" rating would meet goals and provide benefits in the community. An "excellent" rating provides "unique characteristics and/or has the potential to deliver exemplary positive benefits," the report states.
All proposed routes were given a "good" or "excellent" rating in all measured categories.
"We have some really good options to move forward with," Ginnis said. "This is a really good project that we're puling together."
Both the Lowry and West Broadway routes were given "excellent" marks for improving transit access and connections to jobs and regional destinations. The Lowry route was awarded "good" ratings for the remaining five project goals. The West Broadway route was given "excellent" marks in its support of development goals and regional equity work.
"This corridor coming up West Broadway does serve the heart of the West Broadway business district," said Dan Soler, senior program administrator with Hennepin County. "There's pockets along there where we'd be building along previously improved things."
Potential designs for the West Broadway route would help limit impacts to existing properties when compared with the Lowry route, according to Soler. "It's highly valued by the community, it's a significant asset and a significant place to provide an area which historically has had limited investment," he said.
The Lowry route would yield potential for wealth building, and would require the county to address issues such as parking along Lowry and Washington Avenue, Soler said.
The County Road 81 route was given an "excellent" rating in three goal areas: improve transit access and connections to jobs or regional destinations, improve frequency and reliability of transit service to communities in the corridor, and support community development goals.
Crystal Mayor Jim Adams said the report does not contain feedback the city gave to the project office. Crystal officials did not feel they were adequately heard in the development of the old route, he said.
"That kind of concerns me," he said. "We've been asking for this (during) this whole last phase. … Patience, you know, is kind of running out."
Adams mentioned pedestrian connections at Bass Lake Road as an aspect of the project he did not see represented in the report.
Soler said the report is mainly a guide for the route, but will not likely address design aspects within the corridor. Project staff will bring more-specific design considerations before the council at a later date, he said.
The project office will be holding in-person meetings and virtual meetings to gather feedback on the report in January. All in-person meetings will be hosted from 5-7 p.m.
Meetings will be hosted Jan. 4 at North Hennepin Community College in Brooklyn Park, Jan. 5 at Crystal City Hall, Jan. 11 at Elim Lutheran Church in Robbinsdale, and Jan. 12 at North Commons Recreation Center Gym in Minneapolis.
Virtual meetings will be hosted from noon to 1:30 p.m. Jan. 7 and from 5:30-7 p.m. Jan. 13. Links to the meetings are available at tinyurl.com/258nyrc6.