Leaders and clients of New Hope nonprofit Can Do Canines, an organization that trains service dogs for people with life-threatening medical conditions, and members of the Minnesota legislature including Sen. Ann Rest (DFL-New Hope), gathered March 7 at the State Capitol to advocate for more protection for service animals and their owners.
The Minnesota Senate Judiciary and Public Safety Finance and Policy Committee considered a bill that would prevent pet owners from passing off untrained pets as service animals.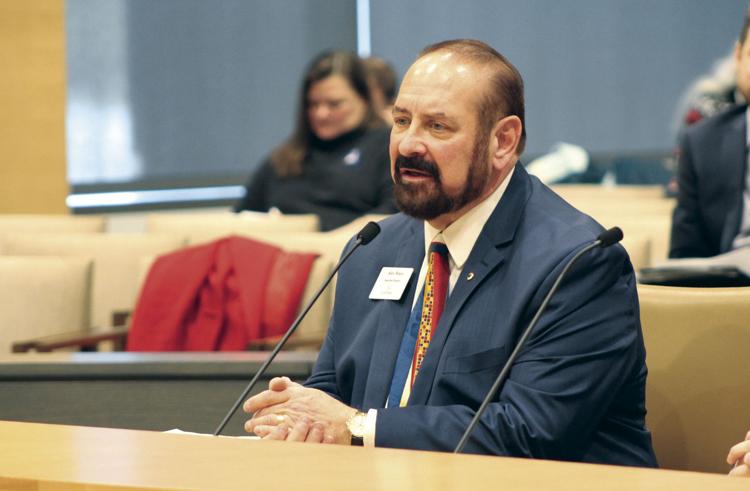 Can Do Canines Executive Director Alan Peters and service dog recipients Terri Krake and Beth Kantor testified at the hearing on the importance of pressing charges against those who try to pass off their pet as medically necessary.
"Falsifying your dog as a service dog is a crime," Krake said. "In recent years we have seen an influx of people ordering capes, putting them on their pets and passing them for service animals."
Krake, a Minneapolis resident who suffers from seizures, uses the help of Brody, a black Labrador retriever trained by Can Do Canine as a seizure assist and mobility dog. Krake said she runs into fake service dogs in public almost daily and it affects her ability to navigate public spaces.
"I've seen a dog urinate on an end cap at Target," she said. "Our dogs don't do that. They're well trained. What happens is, when a business owner sees a dog that is poorly behaved, they'll stop and question me."
The Americans with Disabilities Act states that business owners can question a service dog owner with two questions: if the dog is a service animal and what tasks they're trained to do for the owner.
The problem, Krake said, is that not many business owners know that information. As a consequence, they're afraid of being sued so they let any animal walk through their doors, regardless if it's trained or not. She explained that in other instances, dogs will bark or lunge at Brody, preventing him from being able to focus and do his job properly. One dog even bit Brody. Now, when Krake encounters animals that show aggression toward Brody, she finds alternative routes through public spaces to avoid the animals. That sometimes makes trips that should take 10 minutes into half hour-long outings.
"We believe that people think that taking their dogs into public places is cute," said Peters. "They think, 'People with disabilities do it, why can't I do it too?' The reality is, pretending that you're disabled and pretending that your dog is a service dog has far-reaching consequences for people who actually have disabilities. It's not a victimless crime."
The bill would give law enforcement authority to press charges if they discover a dog that is not a service animal in a business. The first offense would be a petty misdemeanor with a $100 fine. Subsequent infractions would result in a misdemeanor charge.
Plymouth resident Beth Kantor suffers from multiple sclerosis and requires the help of mobility assist dog, Dazzle, a purebred collie. During her testimony, Kantor shared a story of a recent encounter with a fake service animal at Costco.
"I was trying to bag my groceries and the dog was barking at people," she said. "When the dog saw Dazzle it began lunging at her and Dazzle hid behind me. All the while I'm just trying to keep my balance and stand upright. The people who do this know they're breaking the law. There's no legal backing for us in these types of situations. I know people love their dogs and want to bring them wherever they go, but I have to bring her with me. She saves my life. Medically, I need her. They're stopping her from doing her job and that infringes on my livelihood. I don't want to go back to my life before Dazzle. I don't want to go back to laying in bed, staring at the ceiling fan and not being able to move again. I need help. This bill would provide that."
Much of the confusion around enforcing any new state law is, in part, because there is no government licensing of service animals.
Peters said the legislation will, at least, spark conversation about what measures should be taken to protect service animals and their owners. Another factor that may contribute to the confusion, stems from different federal laws governing which service animals are allowed where. And owners of restaurants and other businesses who want to prohibit illegitimate assistance animals may not fully understand their rights.
The bill would not apply to airlines, as the airlines have their own regulations. Passengers have tried to pass anything from peacocks and turkeys to snakes, spiders and squirrels as emotional support animals on planes.
The Senate version of the bill was approved by the committee.
"We believe passing untrained pets off as service animals is immoral," Peters said. "It's not legal. It's not proper. It's not ethical. It negatively impacts our clients and the reputation of service animals everywhere. This bill is one step in the right direction."
Follow the Sun Post on Facebook at facebook/mnsunpost.