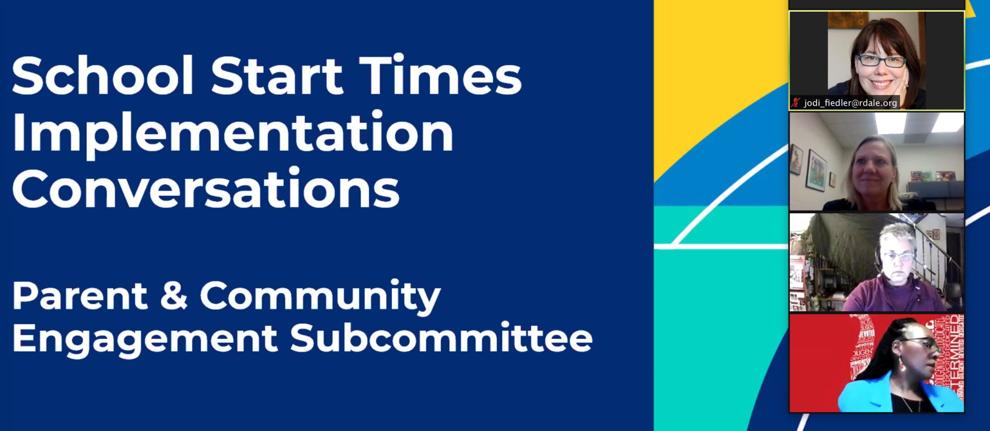 The Robbinsdale School Start Time Parent and Community Engagement Subcommittee met virtually March 23. The committee will present feedback on school start times to district leaders who will present their recommendation to the Robbinsdale School Board at the Tuesday, April 6, work session. The board may vote on implementation as early as the Monday, April 19, board meeting.
In December, the School Board approved changing school start times in the district. In general, elementary schools would start at 7:45 a.m., high schools would start at 8:35 a.m. and middle schools would start at 9:20 a.m. The board is currently determining when the change will be implemented.
Points from previous meetings
Heather Hanson, principal of the School of Engineering and Arts in Golden Valley, presented information that stood out at previous meetings.
Community members questioned whether there would be enough child care to meet the needs of families, would it be affordable and would there be enough staff members. Community members also shared that many families don't qualify for child care assistance programs and some Robbinsdale staff members will be paying more due to later start times, Hanson said.
Community members brought up concerns about students walking or waiting in the dark at bus stops, older siblings no longer being able to provide care for siblings, the availability of transportation for elementary after-school activities, planning for fall sports, limitations of after-school practices, extracurriculars and jobs.
Hanson said that many district families will not be prepared for the school start time change in the fall. Some families commented that this is just another thing piled on them. Community members want the district to ensure that the change is driven by research-based evidence.
Lowell Holtz, the district's director of operations and safety, said that the district could improve transportation route efficiency by having a three-tier system. If one bus goes to all three levels that saves the district money, he said, adding it reduces the number of buses and drivers. District officials believe the change can reduce 10 to 11 regular route buses, with an estimated saving of $500,000.
Greg Hein, executive director of finance, said district officials didn't set out with a goal to reduce cost but they have the opportunity to do so, in the face of declining enrollment and COVID-19 exacerbating the issue. It's not a matter of packing more children on each bus, he said, but rather making sure each bus is fully utilized during each of the three tiers.
Tamuriel Grace, director of achievement and integration-career and college readiness, shared information on students' perspectives.
A middle school committee with representation from all the middle schools and a high school committee that had representation from Cooper, Armstrong and Highview, which included student council, met to discuss school start times.
Some students said they are OK with the change but have concerns regarding the impact it will have on their work and other responsibilities. Students said that later school start times would be beneficial to open enrollment students because they wouldn't have to get up as early to catch their buses, noting that some open enrollment students don't live in the best neighborhoods, where it can be unsafe to be out walking.
Students said that some challenges would be getting out of school late and having to ride the bus later in the evening, not being home to watch their younger siblings and that the change would impact their time to do homework, participate in athletics, PSEO and after-school jobs.
Jackson shared that students want to know if the district will work with them on time management to help in the transition with school start time changes and the impacts. The students believe the district should be responsible for assisting them with this adjustment, Jackson said.
Students recommended that the 2021-22 school year be a planning year with middle and high school student councils assisting the district's planning process. Students said that having a consistent year between COVID-19 and making more changes will be positive for student mental health. Students said they would like to see implementation in the 2022-23 school year.
Amy O'Hern, the district's executive director of human resources, shared information about staffing in regard to the start time change. She noted some of the challenges would be scheduling issues for staff with multiple assignments across buildings, the potential and unknown COVID-19 impacts on enrollment, staffing and what distance learning needs there will be going forward.
"There are going to be challenges and there are going to be great things that come out of whatever scenario is rolled out," O'Hern said.
One community member asked whether it is a concern that families might leave the district due to how the start time change is handled.
Shirrie Jackson, principal of Robbinsdale Middle School, said they want to keep all Robbinsdale students in the district whenever possible.
Kristine Wehrkamp, the executive director of community education and activities director supervisor, said for Adventure Club's school-aged care, implementation of the start time change in the 2022-23 school year would give more time for planning and addressing staffing concerns.
According to Wehrkamp, with the earlier start times, more families may need more afternoon care, which requires shifting schedules and additional staff members. If that increase in afternoon enrollment did occur, they'd have to work closely with principals to address space concerns, she said.
At the end of the meeting, participants were split into breakout groups to discuss. When the meeting reconvened, participants shared that the family impact of child care is a big issue, they want more information about the science behind the change, that the School Board should listen to students and to be aware of what groups of people will be disproportionately impacted by the change.