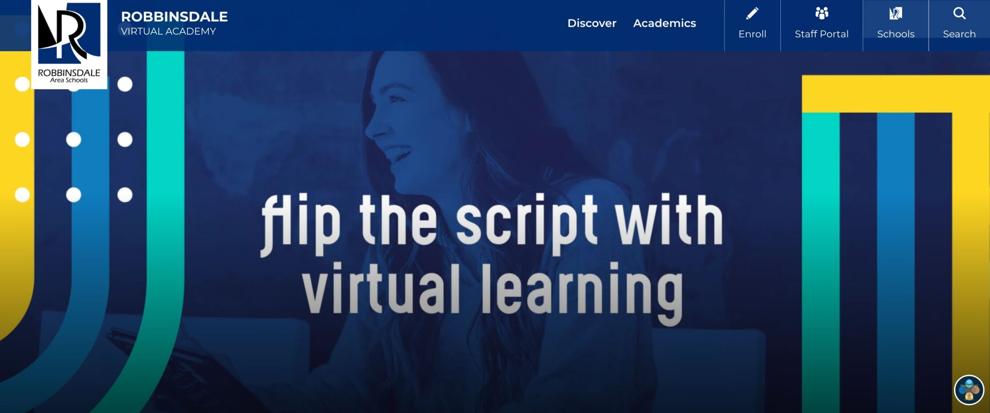 Next fall, Robbinsdale Virtual Academy will serve students in grades K-12. The academy previously included grades 6-12, until the Robbinsdale Area Schools Board voted in March to expand the academy's offerings.
The virtual academy offers courses specifically created to benefit students through an online platform, said Toni Boyden, the Robbinsdale Virtual Academy principal for 6-12 grade students. Technology platforms allow for online discussion groups, sharing educational videos, articles and assignments. Teachers are able to build relationships through the technology, Boyden said.
The virtual academy works with the district's equity policy, Boyden said. Every student has individual needs that are met in different ways. Some students might want to continue in an online format because of its flexibility or due to mental health, chemical, academic or family issues, she said.
"As part of the equity promise, we want to make sure that all students are being educated to their full potential and this is another venue to educate them," Boyden said.
Enrollment for the academy launched May 25. The academy will offer continual enrollment. If challenges come up during the school year and students need to enroll in online school, district officials don't want to put up any barriers, Boyden said.
The virtual academy builds connections in multiple ways. One way that's it's been successful is offering advisors for students. The advisor helps students to set goals, builds a relationship with student's family and helps them meet with teachers if they need help.
"They can fill in the blanks where maybe there's gaps in their learning," Boyden said. "That advisor will be ... a main person that they can rely on."
The academy supports students by having a subject area teacher available through the school day so students can contact them and receive immediate help. On Wednesdays, students can be transported to schools to receive one-on-one help. Students can also meet with teachers online and during their office hours.
Another key to success is providing timely feedback. Within 24 hours, teachers provide feedback on assignments so students know it's being read and they're getting corrections, revisions or comments, Boyden said.
Virtual academy staff members want to make sure peer-to-peer connection occurs and ensure that students have those opportunities, Boyden said. Those opportunities include field trips so students came come together and meet each other or meet for lunch with the principal.
This year, the COVID-19 pandemic prevented these connecting activities from happening. Boyden hopes that in the coming year, the virtual academy can build those interactions.
"So that when you're having these class discussions, you have that bond with some students. It creates less isolation, even though it's an online platform," Boyden said.
The curriculum and standards in the virtual academy are aligned with the other schools in the district, Boyden said. Some schools buy curriculum that is already written. It's not differentiated from what a school might excel at, she said. However, Robbinsdale teachers create their own curriculum with their expertise.
Robbinsdale wants to support and educate the students in its community, Boyden said. The district doesn't want families to look to other districts to meet their needs, rather it wants to keep its community together.
"It takes a village to educate students and we want ... that village to be all of our families, our students, our staff, not just some," Boyden said.
The virtual academy also offers credit recovery, a way for students to make up for a credit they didn't obtain in a class. Students can do this through meeting with a teacher in a Google Meet or by meeting in person. By making up the credit, students are able to stay on track for graduation.
"There's no judgment. We're here to support these students and we want them to achieve and be the best that they can be," Boyden said.