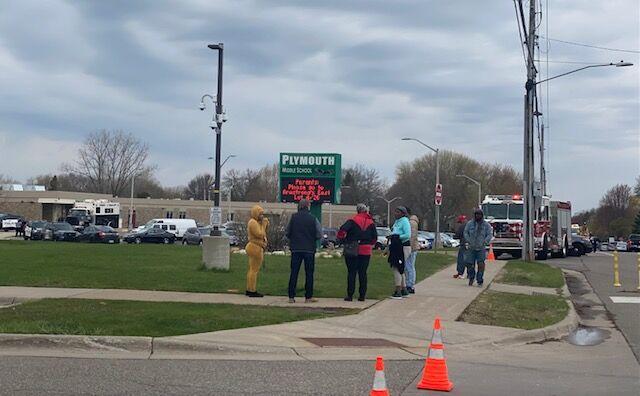 On April 26, a Plymouth Middle School student was taken into custody after firing multiple gunshots into the school's hallway ceiling around 8:44 a.m., shortly before the first hour of classes began.
No one was injured, according to Plymouth Police, though a number of people, including students, witnessed the incident. The school went into lockdown and students were later reunited with their families at Armstrong High School.
Kim Royston, an assistant principal at the middle school, was the first building administrator to arrive where the incident occurred but didn't disarm the student.
"Yesterday was one of the most difficult days of my career as an educator," Royston said. "Everything happened so quickly, that I didn't have time to think about what I would do. I saw the gun, I instructed him to drop it and ran to the spot where the shots had been fired. I'm so thankful that no one was hurt."
According to Plymouth Police, school staff and the school resource officer responded to the incident. By the time they encountered the student, the student was unarmed and compliant.
The incident is still under investigation by district officials and Plymouth Police.
"We know this was a scary and traumatic event for everyone at Plymouth Middle School, and across the district," said Interim Superintendent Stephanie Burrage in a message to families. "Please know that each district school has a support team that includes school counselors, school psychologists, social workers and others who are available to work with students as they cope with the things they're feeling and experiencing due to this incident."
The district is working on plans to support students, but has not finalized those plans. The district will share the information with families once it is available.
Info: rdale.org
Follow the Sun Sailor on Facebook at facebook.com/mnsunsailor.