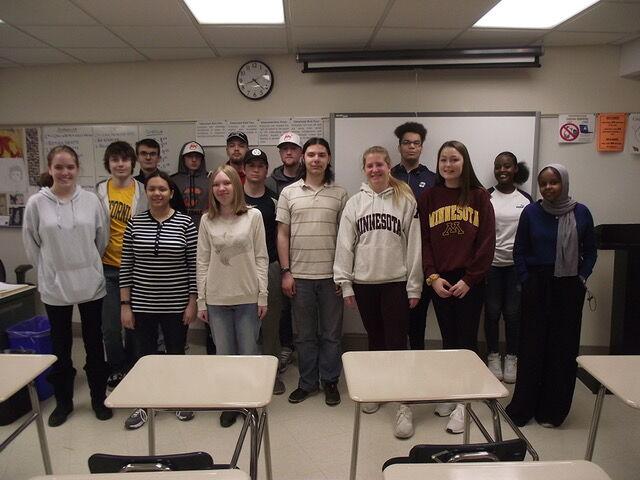 Despite the challenges of classes going virtual during the COVID-19 pandemic, the Robbinsdale Cooper High School's school newspaper, The Quill, won two awards for the nine issues published during the 2019-20 school year.
The paper won an International Second Place Award from the Quill and Scroll Society. Included was an excellent rating for writing and editing and an excellent rating for general practices.
The paper also won an All-State Silver Award from the Journalism Educators of Minnesota for excellence in writing, editing, photography and design of a high school newspaper.
Eric Zuccola has been teaching Cooper's co-curricular journalism class for 22 years and is the advisor for The Quill.
The class typically consists of juniors and seniors with about 20 students. Recruiting students for the class usually takes a while, he said. Because the newspaper is a co-curricular activity, students who can't make the class work in their schedule can contribute pieces and write freelance.
Registration for the class took place right before the beginning of the COVID-19 pandemic. More students signed up for the class than in prior years. Twenty students signed up and freelancers put them over that number.
Putting out the paper last spring was a scramble, but this year the students been able to do more planning, making the process smoother, he said.
The students were working on the sixth issue in March when they had to transition to virtual classes. Fortunately, they were used to sharing files electronically so already had those systems in place.
Challenges of virtual classes
It's an adjustment not being able to see each other face to face, Zuccola said. In many cases, students don't have a journalism background. When working together in-person, it takes about one or two articles to get down the basics of news writing. With virtual classes, it's about two or three articles, he said.
The newsroom had to get creative to find artwork, since no one was physically at school. In their final issues of last year, the students had teachers volunteering to take selfies of themselves working to add visual elements to stories.
One of the best moments of this school year was when the first issue was released, he said. It's disappointing not to publish a physical paper this year but they decided to go full color in the digital issue because printing costs aren't a factor. Students were excited to see their work in color, he added.
Max Rekela-Jasper is a senior and the current editor-in-chief. This is his first year working on The Quill.
Initially, he was looking forward to getting the full journalism experience, going around the building, notepad in hand to interview staff members and students. Knowing the class would be remote, he had low expectations, however, they produced a good paper, he said.
By speaking with staff members and students, he learns about what's happening at Cooper and can relay the information to others.
Profiles on student-athletes are some of his favorite pieces. Not only does he learn about their opinions and how they're adapting during COVID-19, but also how the sports are being adapted according to COVID-19 guidelines.
Davis Ruppert-Kan is a senior and the former editor-in-chief. He was initially interested in joining the class because Zuccola is an inspiration and encouraged his writing in a film studies class he took during his sophomore year. This year, he writes freelance for The Quill.
The work that stands out to Ruppert-Kan is two reviews of his favorite movie, "Synecdoche, New York." One review he wrote at the beginning of last year, the other at the end. The second review was to see if he improved in his skills or his thoughts on the movie changed, he said.
Ruppert-Kan is an artist at heart, rather than a journalist, he said. He is interested in art, film and television reviews, as well as national and international news. He said the class has helped him further his art analysis skills and develop critical thinking.
He appreciates that Zuccola is lenient about the subjects students can write about. He thinks that distance learning allows him more freedom and instills a sense of responsibility and time management.
"Working on a newspaper and being involved in journalism allows students to have a voice," he said.
Students can use their own voice, but also be a voice for others. That hasn't changed and in some ways, it's even more important, Zuccola said.
There is a feeling of isolation when people aren't physically around each other. Even though interviews are virtual, it allows students to stay connected and hopefully produce stories that classmates and staff members can connect to, he added.
It's no shock to say journalism has been in the cross-hairs of criticism, he said. When young people start working in classes related to journalism and communications and continue to do so, they find out those presumptions of bias or fake news are unfounded.
If someone has journalism training, they are trained to do quite the opposite, which is to seek the truth. Hopefully, over time, we can restore faith in journalism as an enterprise and a way of establishing truth, he said.
In his years of teaching, there have never been attempts by the district or school administration to limit the types of stories written by students. Zuccola appreciates working in a district that's supportive of the journalism program and have the program recognized with awards.
"With the proper support, even a small school with a small paper can experience success," he said.