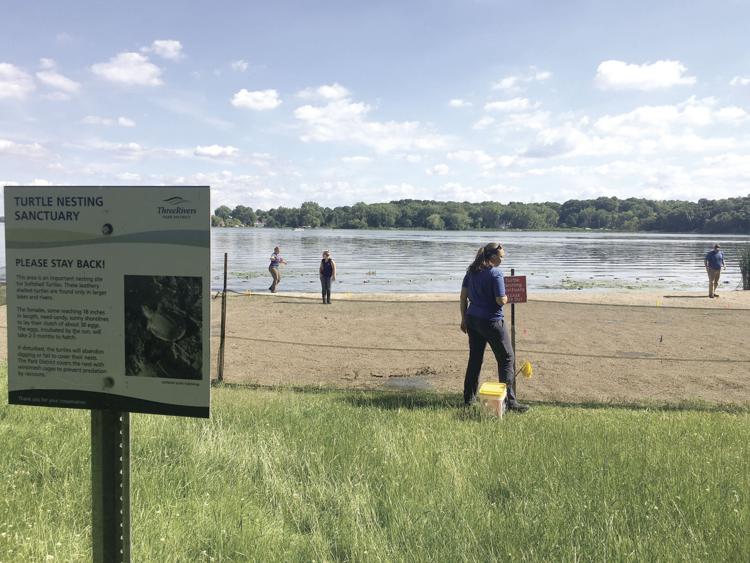 Beachcombers at French Regional Park on Medicine Lake in Plymouth are likely to take notice of an enclosed area alongside the shoreline but are advised by Three Rivers Park staff members to keep their distance as to not spook the nesting turtles.
The nesting sanctuary was installed in 2009 when additional sand was brought in to the west of the swimming beach area at French Regional Park.
A temporary fence is installed to keep people away from the area so female turtles can come ashore with less intrusion from the public. Volunteers and staff members monitor the beach to locate nests and add protective cages to deter predators.
To date, there are a total of 29 nests at the turtle nesting sanctuary. While there is likely a mix of turtle species, including painted and snapping turtles, the goal of the sanctuary is targeted at spiny softshell turtles. These are large turtles that prefer nesting midday on sunny warm days, therefore, their nesting coincides with high human beach activity, explained Angela Grill, a wildlife biologist for the park district. Grill added an individual female will often make multiple attempts to come ashore before she is successful.
No other parks in the Three Rivers system have this type of sanctuary, mostly because this species of turtle is only found in larger bodies of water and rivers, Grill explained.
"We do our best to document the number of nests but many nests are missed due to rain events or other reasons out of our control, at best we have rough estimates of how many nests are laid," she said.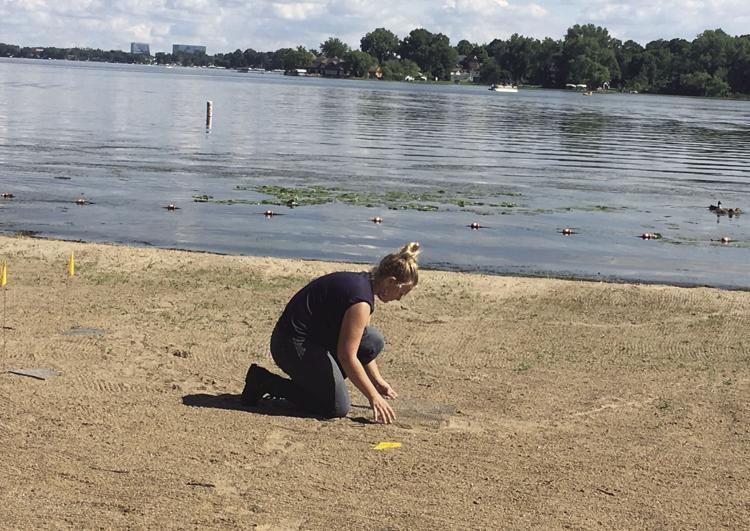 The number of nests seems to remain steady and typically around 30 to 40 nests are discovered each year in the sanctuary.
"Last year for 2018, we had a total of 27 protected nests but we discovered additional nests either from predators digging them up or emergence holes in August from hatchlings to bring a grand total of nests to 37," she said. "Again we cannot possibly find, detect and protect them all, but we do our best."
They do not monitor the number of hatchlings.
There are many factors that led to the decision of this intensive management for the turtles, including development and extensive use of riprap for erosion control along the lakeshore of Medicine Lake, which makes the shorelines no longer suitable for turtle nesting, Grill explained. "Predation can be high in the park with wildlife such as raccoons and foxes, and screened enclosures prevent predation, but allow hatchlings to exit," Grill said.
If the turtles were left with only the swim beach area used by the public, the nests would be lost due to raking and recreation.
"While education was not the original focus, high visibility to a very interested public has made interpretation necessary and successful," she said.
Follow the Sun Sailor on Facebook at facebook.com/mnsunsailor.