Minnesotans take great pride in our abundant natural resources. Whether we are fishing in a crystal clear lake, taking the pontoon along the shore near the cabin, or bicycling on one of the state's expansive and scenic trails, we appreciate the beauty and bounties of this state.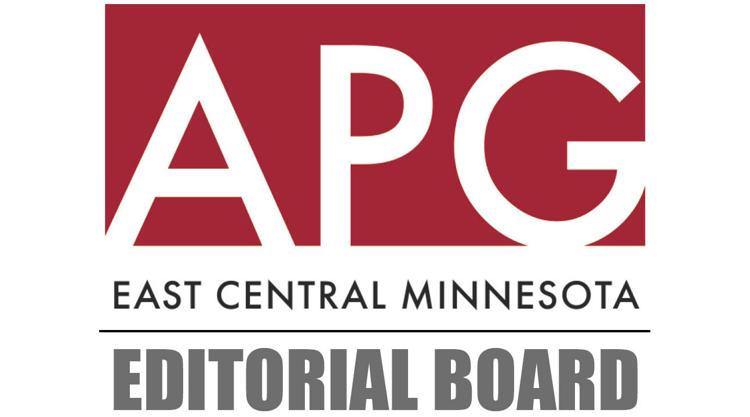 Protecting those resources is a high priority. We are concerned climate change is occurring and will continue to have an impact on Minnesota. We joke warmer winters won't be so bad, but every change can have a significant and negative effect on our water, air, wildlife and natural settings. We fear we will see distinct changes in the next decade or two, which will damage our quality of life.
While we understand why expanded pipelines are being sought, we feel any pipeline replacement or expansion must meet the strictest of safety measures. Property rights of Indigenous residents and low-income neighborhoods must be respected.
We are concerned expansion of copper and nickel mining in northern Minnesota will have a negative impact on the Boundary Waters and the St. Louis River, even when meeting current state standards. We doubt mining can proceed without permanently damaging our watersheds. While we are concerned mining cannot be completed safely, we have compassion for communities that rely on these as job creators. We need to help those regions foster alternative employment opportunities.
When it comes to the Green New Deal, we feel it is impractical to expect our nation to be carbon free by 2035, but we endorse the goal of reducing our dependence on fossil fuels and continuing to develop alternative forms of energy.
U.S. Senate
Democratic Sen. Tina Smith said climate change is a major challenge, requiring broad thinking and bold action. We can expand battery storage research, offer tax credits for wind and solar, and aim for zero carbon emissions in the electrical sector, and in a way that protects jobs and offers new opportunities, she said.
It is an existential threat to our state, she said, saying the changes are evident to farmers, the tourism industry and forestry.
Pipeline issues are challenging and complicated. We need to allow science and data to lead us, and be consistent in decision-making, she said. It is important to respect tribal governments when routing pipelines, as is fairness to communities of color.
She said we must follow science and data when it comes to mining precious metals. She has deep concern for the Twin Metals mine near the Boundary Waters but does not oppose the PolyMet mine.
She does not support the Green New Deal, but promotes a broad coalition to make progress toward a clean energy future.
Efforts to establish a teleconference interview with Smith's opponent, Republican Jason Lewis, were unsuccessful. In a recent debate in Duluth, Lewis said the U.S. has led the way in lowering carbon emissions. However, he said we cannot allow employment to suffer for proposals like the Green New Deal, which he does not support. He said the Twin Metals and PolyMet mines, along with the Line 3 pipeline, should go forward. These projects will provide thousands of jobs and help renew northern Minnesota's economy, he said.
3rd Congressional District
Third District incumbent U.S. Rep. Dean Phillips and Republican opponent Kendall Qualls agreed climate change is a big concern for today and future generations. Both agreed protecting precious resources such as the Boundary Waters is essential and neither gave full support to the Green New Deal.
Phillips said climate change is a threat to our environment and national security. Migrating to a clean energy economy, reducing the dependence on oil, can help preserve the earth.
Qualls encouraged new technology to address climate issues. He cited Elon Musk's SpaceX rockets that return to earth and are reused as an example of technology at its best.
Qualls said safety is the number one priority when routing pipelines and we need to study the safety record of the company building it.
Phillips said the aging Line 3 pipeline is a threat to the communities it runs through. It would be better to replace it with a new, safer line, and dismantle it when it is no longer necessary.
Both candidates were cautious regarding copper-nickel mining in northern Minnesota. Qualls said the pristine waters of northern Minnesota are priceless. He was concerned the Chilean company building Twin Metals has agreed to source copper to China, a potential national security threat.
Phillips said while we need necessary metals for our tech devices and automobiles, he has studied the copper sulfide process and has significant concerns that it can be done safely.
Phillips supports some aspects of the Green New Deal, such as reducing fossil fuel dependency and ensuring everyone earns enough to support their family.
Qualls said fossil fuels are not the enemy; we want the environment to be safe and clean but we need to be prudent.
5th Congressional District
Climate change should be a concern of every American, says Lacy Johnson, Republican challenger in the 5th District. He supports reducing carbon emissions that negatively impact the environment, but does not support the Green New Deal, calling it too extreme and too expensive.
Johnson is running against incumbent Democrat Ilhan Omar. Efforts to establish a teleconference interview with Omar were unsuccessful.
Addressing climate change issues is a global problem, Johnson said. Countries around the globe need to work together and all options, including expanding use of natural gas and nuclear power, should be on the table.
In dealing with pipeline expansion or copper-nickel mining in northern Minnesota, it is vital to consider the necessary tradeoffs between the environment and economic development. He advocates bringing all stakeholders together, getting the facts and data, setting goals and making decisions. Leaders need to study these tradeoffs and make the best decisions possible that are in the best interest of the community, he said.
Engagement and collaboration with all stakeholders was a consistent theme in Johnson's responses with editorial board representatives.
 According to her website, Omar supports a green economy, achieving 100% renewable energy and shifting away from fossil fuels. She opposes the Line 3 pipeline and the PolyMet and Twin Metals mines. She also promotes creating zero-waste communities and investing in areas that have been harmed by environmental racism.
Clean air and water, fertile farmland, thriving forests and open prairies are prized possessions and this Editorial Board firmly believes in fostering these wonders for generations to come.
An opinion of the Adams Publishing Group – East Central Minnesota Editorial Board. Reactions welcome: Send to editorial.board@apgecm.com.