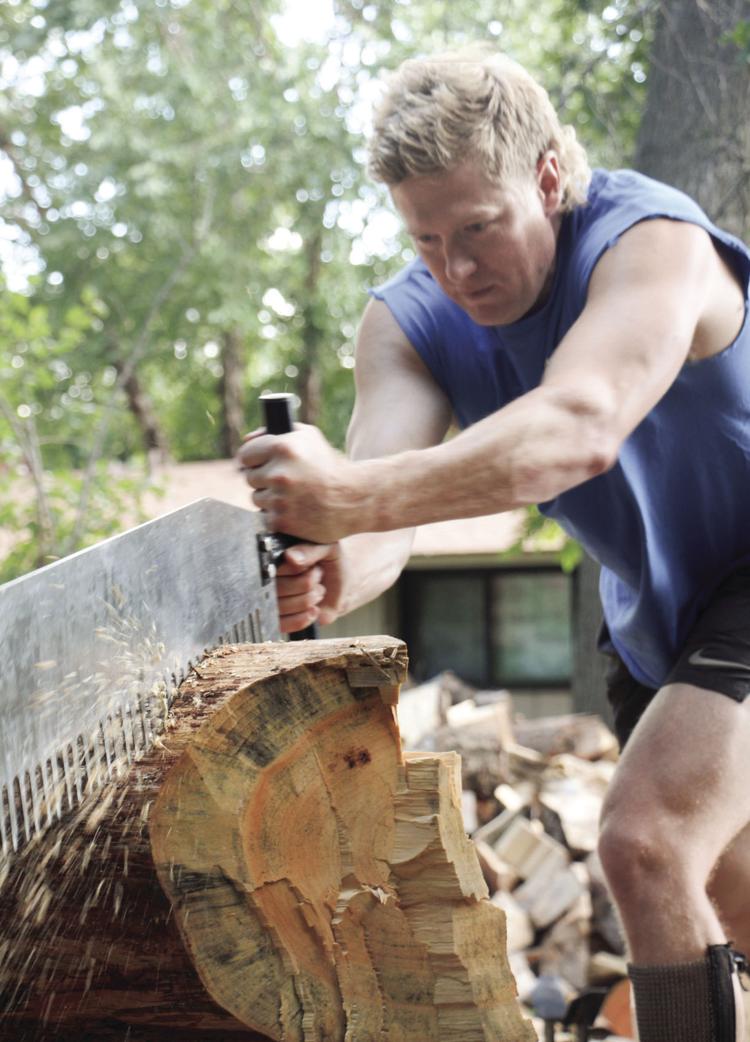 This November, Golden Valley's own Cassidy Scheer will take an ax to the rugged lumber of the Czech Republic. This summer, Scheer won the Stihl Timbersports U.S. Men's Championship. He beat the second-place finisher by a single point and unseated a six-time champion who was disqualified in the last round. Prague is the next arena where Scheer will defend his title, representing the U.S. in the World Championships.
Most afternoons, Scheer can be found in his backyard, blaring music and spraying woodchips from practice logs. The property lines of his home are entrenched in neatly chopped wood. Come winter, the piles will dwindle as Scheer warms his home with a wood-fired stove.
He said he allots himself 5 minutes every evening to browse the free section of Craigslist for fallen trees or unwanted lumber. He's more likely to pounce on the promise of pine or aspen, which he describes as "the crème de la crème" of competition wood, but he can't always be that picky.
"I'll pretty much chop anything if it's the right diameter and I can get it in the right length," he said with a shrug. "I mostly end up with cottonwood."
Lumberjack sports lineage
Scheer grew up in Hayward, Wisconsin, the home of the Lumberjack World Championships. The show is one among many "world championships" across the United States but still stakes a large claim. Scheer said it's the largest standalone lumberjack sports competition in North America on the grounds of size, competitor pool, and prize money. His father, Fred Scheer, is a four-time champion of the competition. The extended Scheer family holds another 20 or so titles in log rolling, speed climbing and boom rolling.
It was not exactly a question of whether Fred Scheer's son would be exposed to lumberjack sports or not. Cassidy Scheer said he knew the basics of log rolling by age 4. He remembers biking to log rolling school in the summer. Right next to the school was Fred Scheer's Lumberjack Show, where out-of-towners could see a ticketed mock lumberjack competition.
By the time Scheer was 15, he was taking part in his dad's show. He had a solid showman's knowledge of the four main areas of lumber sports: chopping, sawing, tree climbing and log rolling. Today, the show has additional facilities in the Minocqua and Wisconsin Dells areas.
Cassidy Scheer's best events were the family specialties, log rolling and speed climbing, which by the early 2000s had garnered him a top-three world ranking and 10 world titles, respectively.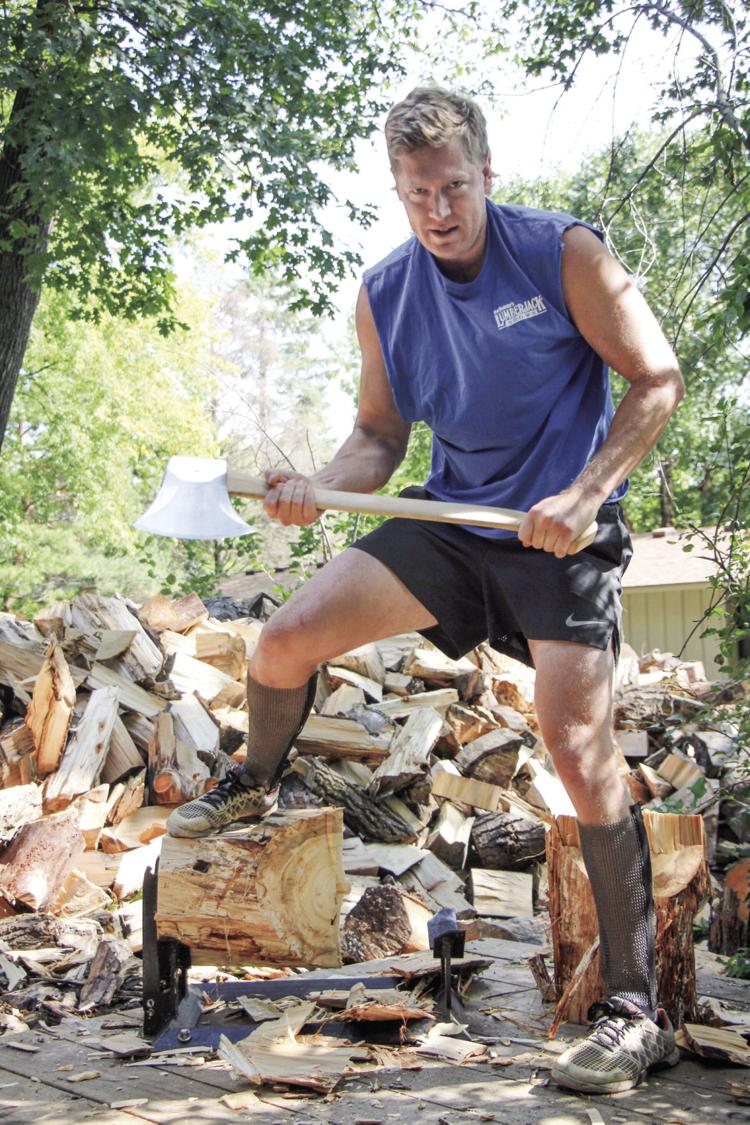 A skills about-face
Scheer is a relative newcomer to the Stihl Timbersports competition. To date, he has competed in it three times and finished eighth in 2017, sixth in 2018 and first this year.
Scheer explained that lumber sports vary regionally, just as the nature of a real lumber worker's job is dependent on geography. His native Wisconsin impressed log-rolling onto him, but the skill was heavily Midwestern. Closer to the Northeast and mid-Atlantic United States is where the bulk of his competition is native to, and there, log rolling and tree climbing are decidedly second-rate to chopping and sawing.
To truly step into the ring of competition, Scheer had to start over, focusing more on his "rookie" events until they were his strongest. It's how he was able to become the U.S. champion of a competition that features sawing and chopping exclusively.
Scheer said the world competition will be tough, especially from those from Australia and New Zealand, each a "hotbed of wood chopping." He has maintained a mullet all season as a playful nod to the stronghold the hairstyle still has in Australian wood chopping culture.
He said he doesn't ever get too conscious about his "mulletude" in everyday life because of the trend among Minnesota hockey players to keep longer tresses. He currently splits his time as a real estate investor and show manager for one of his father's lumber sports shows in Wisconsin Dells, and reports that no one seems to mind.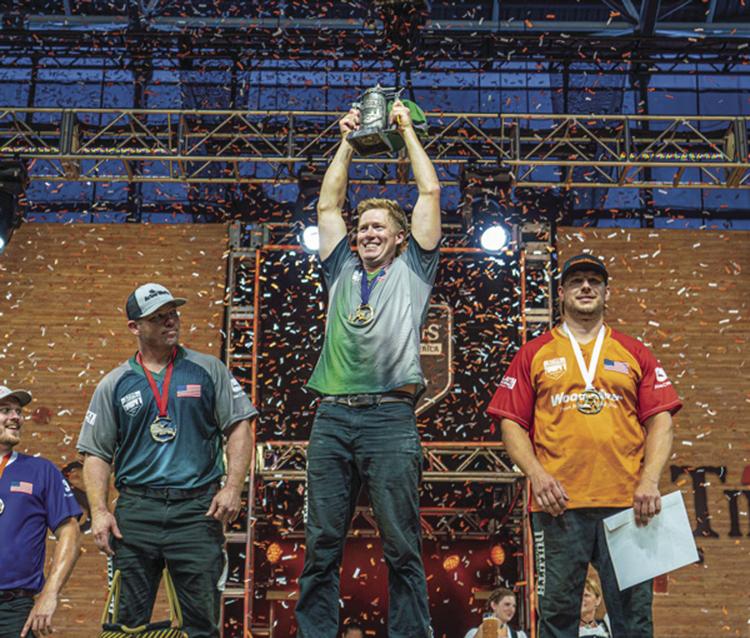 Honest opponents
Scheer said stiff competition or not, there is no ill will among competitors, as the sport doesn't leave much room for in-fighting.
"It's too small, so you can't afford to make enemies," he said.
The camaraderie can extend into competition. Scheer said he got a few helpful tips assessing wood from the six-time U.S. Stihl champion, Matt Coger before Scheer unseated Coger as champion.
"I'd straight up asked him 'What do you think of this block?' And he's such a nice guy, he'll tell me exactly what he thinks," Scheer said. "You have to be mindful to not abuse that. He's within his rights to say 'Back off, learn how to read your own wood,' but because of people like that I feel obliged to be truthful whenever someone asks me."
Leading up to competition time, Scheer plans to devote 12-15 hours a week to training and prepping his collection of axes and saws. He uses safety equipment like a chain-mail covering on his shins to make potential injuries as gore-free as possible. His worst injury happened when he was 15 and involved an ax, his foot and 45 stitches. He knows of other competitors who refuse to use the safety equipment, claiming if the ax is swung right in the first place, an injury won't happen.
Scheer was invited to an August taping of "Live with Kelly and Ryan," and show cohosts Kelly Ripa and Ryan Seacrest were decked out head to toe in protective equipment. Scheer told his stitches story to gasps, but after his woodchopping demonstrations were complete, everyone still had their toes.
As long as he has his body parts, Scheer doesn't see any reason to quit anytime soon, as many lumberjack athletes stay in the sport well into their mid-40s. At 38, he very well may be hitting his stride.
"I like that what I get out of the sport is what I put into it," he said.