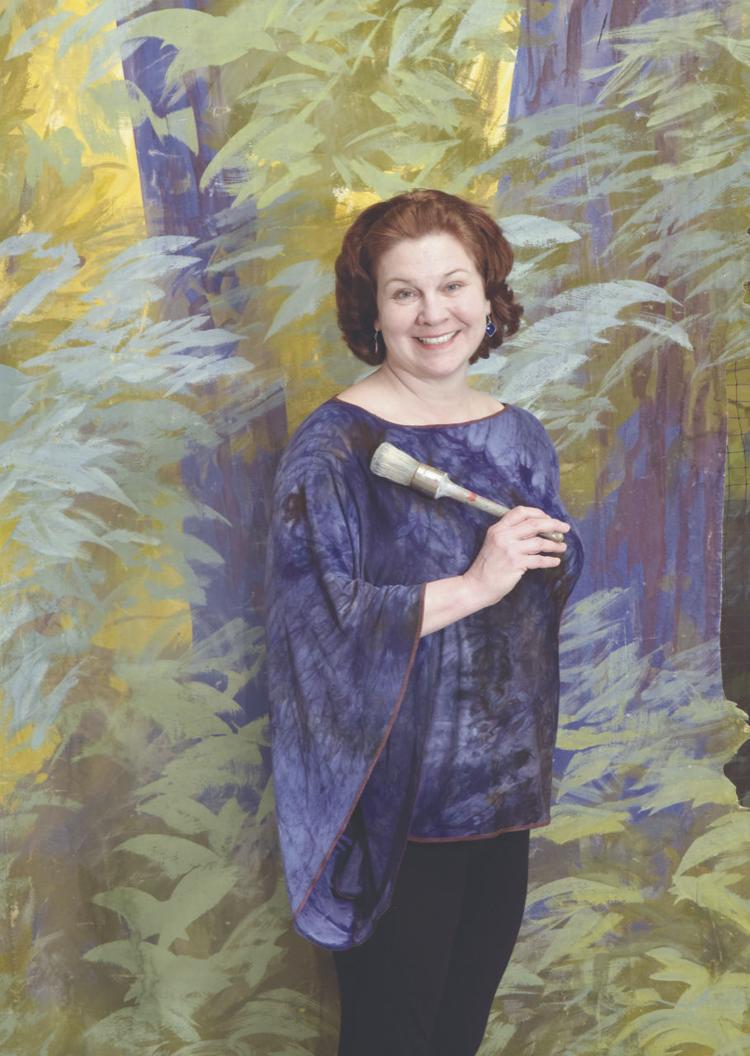 When she was appearing in plays and taking part in other creative outlets at Robbinsdale Cooper High School, Wendy Waszut-Barrett couldn't have guessed the path her life would take.
She continued her studies at the University of Minnesota, expecting to concentrate on acting, directing and dance.
"Within the first year, I took a class on set design from Prof. Lance Brockman," Wendy said. "He suggested that I take scene painting. Three months later, I worked at Sesame Street Live."
When a research program grant was awarded to the University of Minnesota in 1989-90, Wendy was tapped to process the first of two scenery collections for the theater. It involved categorizing and indexing the work of Thomas Gibbs Moses (1873-1934).
"I was 19 at the time," she said. "It was so out of anything I had planned. I started with a card catalog and a typewriter. Up until then, I had been waitressing at the Embers and a Chinese restaurant."
She credits Brockman, who taught historical screen painting, with setting her on the path she has followed ever since. "I found I could pay the bills by painting," she said.
"Lance is a national expert, and he took an interest in me," Wendy said. "He's still a dear friend."
A resident of Crystal, Wendy has earned a master's degree and a doctorate in theatre history, design and scenic art, and currently works as a scenic artist, designer and historical consultant, specializing in nineteenth-century through present-day painting techniques and materials. Waszut-Barrett's primary focus is painted scenes. She specializes in the evaluation, restoration, and replication of painted scenes for opera houses, vaudeville theaters, ethnic halls and Masonic stages.
"Scottish Rite has the largest collection of historical backdrops in the world," Wendy said. "There are about 20,000 historical backdrops in those facilities, still as they were installed."
As Masonic membership has declined, theaters built between 1890 and 1930 have closed, she said. "Contents are auctioned or thrown out, but the scenery is so important," Wendy said. "It's a treasure trove of primary research. I have never stopped researching it. It has shaped the landscape of the American theater. It's really quite impressive."
In addition to working as an artist, Waszut-Barrett also writes about lost-techniques of the trade. Teaming up with Jo Whaley, an internationally-recognized photographer, Wendy published a large, glossy coffee table-type book of text and pictures, titled "The Santa Fe Scottish Rite Temple: Freemasonry, Architecture and Theatre" (Museum of New Mexico Press, 2018).
"The whole experience working with her was completely worth it," Wendy said. "It was like finding an older sister. I would do it again in a heartbeat."
She posts daily articles about scenic artists and theatre history to her blog www.drypigment.net. "An international group of us share information about the stage and scenery," she said.
Wendy also teaches individual and group art classes to students of all ages, in all mediums. "That's what keeps me sharp," Wendy said. "I always learn from my students."
In 2017, she created a company, Historic Stage Services, billed online as the only one of its kind in North America, advertising that its team specializes in historic stages and how to make them work for today's needs. With Wendy as president of the company, Historic Stage Services can evaluate, restore, replicate, or replace historical stage machinery, draperies, lighting, and painted scenery, while balancing historic elements and modern technology.
"People who own historic opera houses and theaters are not provided with all the options," Wendy said. "They are told the venues need to be new to be safe. Most people who run historic theaters don't have theater experience. They have no understanding or training. They trust vendors who say it needs to be new."
According to her company's website, its artists and technicians "are trained, practiced and experienced in the materials and methods of the nineteenth and twentieth century theatre … (with) decades of experience working with everything behind the curtain line: painted scenery, stage machinery, counterweight systems, draperies and curtains, and lighting systems."
Her team hires other technicians and professionals specializing in historic theaters on a per-project basis.
When she's doing restoration work, Wendy travels by ground because she transports all her own paints and materials. She relies on volunteers at each site to assist her. "We involve the community, and we create a studio on site," she said.
In June, Wendy attended an international theatre conference in Prague, connecting with international colleagues who experience similar challenges. "It was really fun," she said. "We've all encountered similar issues in preserving theater history. There is a network of support."
The trip included a trade show in Berlin, "Stage|Set|Scene," and a visit to a scenic restoration project in Belgium.
Earlier in the summer, she taught a session on how to research historic theaters and cinemas, at the League of Historic American Theatres national conference in Philadelphia.
She markets her services online, and through daily posts.
"I've always liked what I do," Wendy said. "I fell into it really early. I wouldn't have been into it without the training I received in Robbinsdale District 281. We had a phenomenal program at Cooper High School, with Frank Plut and Julie Rask. That prompted me to consider theater."
"The Robbinsdale School System directed me to theater," Wendy said. "Lance Brockman directed me to scenic art."
Wendy's husband, Andrew, who also has a doctorate degree, is a musical artist. He teaches voice, trombone, trumpet and piano lessons at a studio behind their home, as well as performing with the Twin Cities PopUp Choir. He formerly conducted and sang internationally.
The couple has two children: Isabelle, 22; and Aaron, 12.