After a three-year hiatus, Off-Broadway Musical Theatre is back in New Hope with their summer production "The 25th Annual Putnam County Spelling Bee."
Shows begin at 8 p.m. and run for three weekends, July 22-24, July 29-31, and Aug. 5-7, at the Civic Center Park Performance Center, 4401 Xylon Ave. N. There is a $4 suggested donation that is used to pay for next year's production.
The musical comedy follows a group of precocious-yet-awkward children competing in a regional spelling bee. In its 2005 Broadway run, the musical nabbed two Tony Awards and six nominations. Off-Broadway Musical Theatre also opted to continue its tradition of casting adult to fill the roles of middle-school age children.
Director Jeff Anderson said viewers would be impressed by the range of talent in this production's cast.
Meet the cast
Jenny Reierson-Naumann plays Logainne Schwartzandgrunenierre, an anxious child who feels pressured by her fathers to succeed. At 36, she had a fun time revisiting what it was like to be 11 years old.
"Logan has so much anxiety, she forgets to breathe, so she does all this yoga, which doesn't really do much good," said Reierson-Naumann. "She is also very politically charged, and thinks that they should change the legal voting age to 11 so she can vote."
This is Reierson-Naumann's fifth Off-Broadway production. She caught the acting bug from her husband as an adult, and was thrilled when theater groups began announcing auditions again. She specifically wanted to be in an outdoor production this year, so people would feel comfortable attending.
Also in the cast are Tanya and Chris Laumann, a couple from Golden Valley. Both have been involved in music, dance and theater world since they were children.
Chris Laumann, a 17-year choir director at Valley View Middle School in Bloomington, said he's seen a lot of parallels with the characters in the show and the quirky personalities he's met as a teacher.
"But they're so fun," Chris Laumann said. "They're trying to figure out who they are, but they still want to be a kid most of the time, but they aren't acknowledged as a kid ... there's so many pieces to it."
Tanya Laumann is especially excited to perform in the show, as it's been 15 years since she stepped onto the stage.
"We talked recently about how we broke out of COVID and auditioned for this show. Our kids are finally getting old enough where we can actually go out and do things at night," Tanya said with a laugh.
The two are members of the ensemble, often singing and dancing in the show's musical numbers. They also got the opportunity to create their own characters, and perform as them in the songs.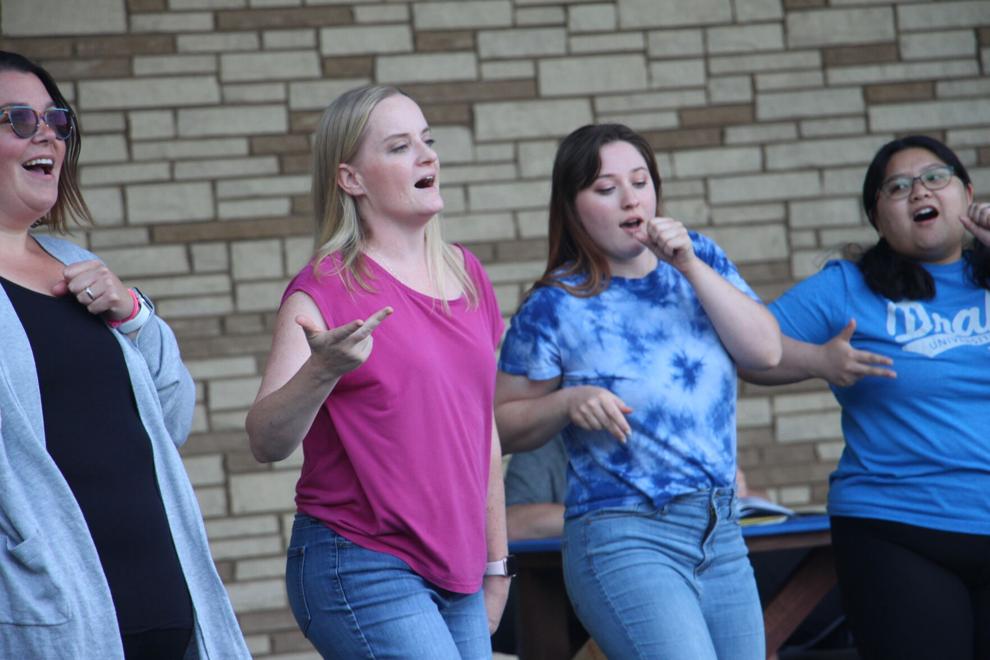 Not in the 'castle' anymore
Off-Broadway's previous home, a towering theater affectionately called "the castle," was demolished in April 2019 as the park was being reconstructed. It had been used by the organization for a three-weekend, outdoor production every summer since 1983.
The possibility of a reopening in 2020 was first made uncertain due to reconstruction schedules, and then quashed with the pandemic.
Off-Broadway Board Member Connie Lillibridge said the largest difference between the "castle" and the new performance center is seating. Instead of dedicated seating, the venue has grassy tiers. Lillibridge recommended that viewers bring lawn chairs and blankets to sit on to view the performance.
The Laumann's were surprised by how many people in the area knew about Off-Broadway.
"All of our neighbors have been to their productions," said Tanya. They've fielded a lot of questions about the new space and have enjoyed others' excitement at the prospect of seeing live theater again. Especially one like "Putnam County," which is jam-packed with jokes and hijinks.
"Even if you're not a theater person, this is one of those shows you're going to love because there's so much humor in it," Reierson-Naumann said.
She said there's an early moment in rehearsal where she lets herself break character and enjoy the absurd humor in the show, otherwise she'd be fighting laughter the entire time.
"The 25th Annual Putnam County Spelling Bee" is open to all ages, with some adult humor. The production was made possible through a partnership with the City of New Hope Parks and Recreation Department.