On a Tuesday, there's a handful of people wandering among the shelves at Hot Comics in New Hope. The weekends have a little more foot traffic from families looking for something to do while digesting a hearty meal from Fat Nat's next door, but Wednesdays are when the little shop comes alive.
"It's kind of like a sober bar, people come here and hang out," said Joe Courtney, the shop's store manager. Wednesday is the first day that comic book collectors can purchase the week's new releases and they generally prefer not to dawdle.
"Everyone's so addicted to their books, so they come here every week. It's in their schedule," said Courtney. "If something comes up and they can't make a Wednesday, they usually call and let us know even though their products are held."
After Halloween, Wednesdays at Hot Comics might be a little different. The store is moving five miles east to 4400 Osseo Rd., Minneapolis, after an established residency in the Winnetka Commons mall dating back to the 1990s.
The store would like to stay in the mall, but the cost of rent on the renewed lease was going to be a "significant percentage" higher than the current cost, which Courtney hinted was "already astronomical."
The new building is a garage built in the 1950s, tucked away near the border of north Minneapolis, Brooklyn Center and Robbinsdale. It's much smaller than the current location, but when it's fleshed out, Courtney said it will be "the most unique comic store in probably the five-state area." Store management won't have to worry about rising rent, as they purchased the garage.
A pop-culture watercooler
Courtney's biggest challenge is getting his clientele to follow him to the new location.
"Everybody knows where we're at now," he said. "When we moved two doors down [the mall] five years ago, we'd see people go up to the old spot, tug on the locked door, look at the sign that says we've moved down two doors, and then start the walk back to their car."
For those who collect, their hometown comic store is often a point of pride. If the vibes are right, it can become even more than that: a place to meet people with a similar fanaticism for popular culture. Comic books lend themselves directly to plots in blockbuster movies and are often a visual iteration of a book that came before it. Because of that, comics maintain the solid foothold in popular culture they've enjoyed for decades.
Courtney said even during the pandemic, there are about 70 new comic releases every week, down from about 100 pre-COVID. There was a two-week span when the only North American comics distributor, Diamond, halted distribution. Hot Comics was also shut down due to the state executive order, "so it kind of worked out for us," said Courtney.
There was some head-turning a few months later when DC Comics announced that they would be leaving their agreement with Diamond, breaking the monopoly the company had on the North American market. It's been a headache for comic shops because DC Comics are in high demand. Batman, Superman and Wonderwoman are all DC characters.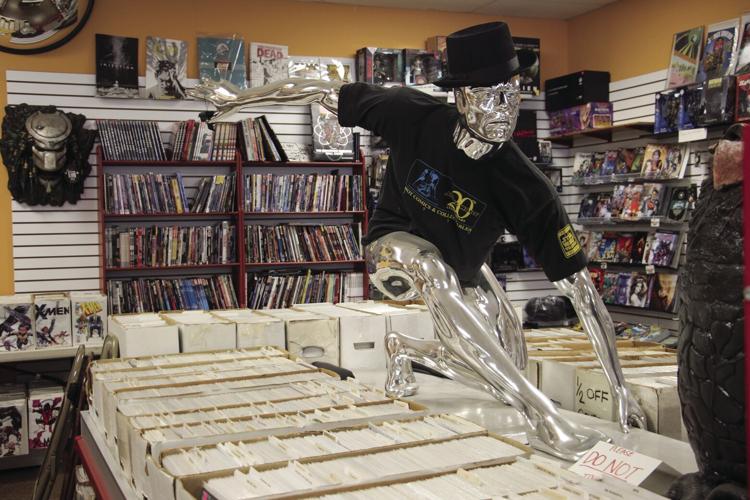 Comics here to stay
While a collector's relationship to his or her hometown store can be strong, it is often simultaneously delicate, even tenuous. Disagreement with staff or ordering mishaps can turn collectors away in a hurry. It makes communicating the move to longtime customers, some of whom have become attached to the store despite being several cities away, even more important.
The move is exciting and closer to Courtney's home near Victory Memorial Parkway, but he wishes the move could have been made on the store's own terms.
"It's disheartening," Courtney said of the skyrocketing rent prices in the area. "We're losing a lot of the unique things that makes this kind of a cool suburb. We've been here for so long, it's going to be sad being gone."
As for comic books? Courtney says regardless of the challenges to local comic book stores, the books themselves aren't going anywhere.
"They need stories to farm their movies," he said. "Warner Brothers owns DC. If they quit making Batman comics, the next Batman movie won't have a whole lot to go off of."