No matter how many times visitors see it, the Canadian Pacific Holiday Train is something to behold: a line of train cars rolls into an otherwise nondescript railroad crossing, bejeweled with hundreds of thousands of glittering LED lights. Shortly after its arrival, a boxcar door opens to reveal a fully outfitted band and a festive holiday concert ensues.
For the last four years, mid-December crowds have packed the railroad crossing at Golden Hills Drive in Golden Valley and the Lake Street and Library Lane crossing in St. Louis Park to view the spectacle. Those are just two of 187 stops covered by two trains meandering through the United States and Canada.
This year the train tour has been derailed due to the COVID-19 pandemic. The train will remain in its depot for the winter season, in an effort to keep would-be visitors from contracting the coronavirus.
Despite the cancellation, Canadian Pacific representatives hope to continue the train's central mission: drawing attention to local food banks. The railway has promised to donate to communities along its network and host a virtual concert to replace the outdoor program.
"COVID-19 has created many challenges for communities across our network and has only increased the need at local food banks and food shelves," said CP President and Chief Executive Officer Keith Creel. "It is our honor to continue to donate to communities across our network this year, even if the train itself will not run. The spirit of the Holiday Train program and the Christmas spirit will carry on this year through our virtual concert. "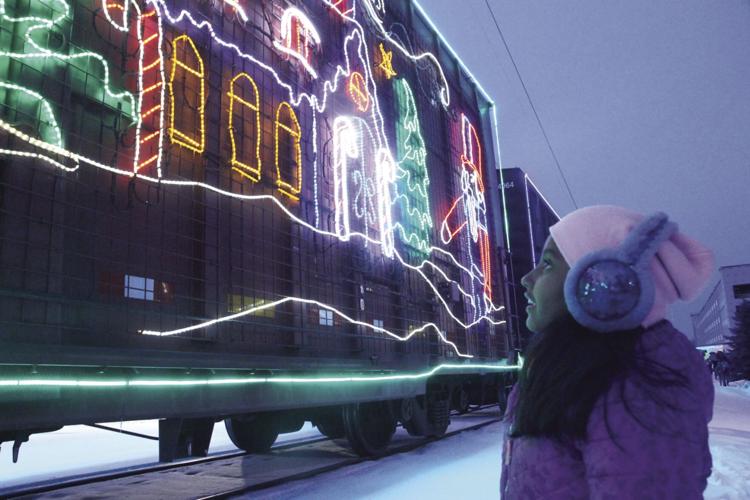 PRISM anticipates 'great need'
The holiday train tradition began in 1999. In its first 21 years, the train has raised $17.8 million and collected 4.8 million pounds of food for local food banks in communities along Canadian Pacific's network. Visitors to the train are asked to bring a monetary, toy or nonperishable food donation. The Golden Valley stop raised donations for PRISM and STEP benefited from donations at the St. Louis Park stop.
STEP Director Derek Reise said the St. Louis Park stop yielded up to $25,000 per year, $7,000 of which was donated by the Canadian Pacific.
Brianna Miller, PRISM's advancement director, said that the event typically brought several hundred pounds of food and several thousand dollars.
On an average year, the absence of the holiday train wouldn't cripple the organization's holiday programming, but this year is anything but average.
"Before COVID, we were serving about 800 families a month – two years ago it was 650 – but at the beginning of the pandemic it was 1,200," Miller said. "The train event contributed greatly then, and now we anticipate an even greater need."
PRISM, which serves residents in New Hope, Golden Valley, Robbinsdale, Crystal and Plymouth, still plans to host a toy drive and holiday meal giveaway in addition to its regular services this season. Miller said to be successful in those programs, PRISM is actively seeking other sources of funding. It's been a difficult year for the organization, which just returned to business Nov. 9 after going offline for weeks to contain a COVID outbreak among its staff members.
Reise and Miller confirmed that Canadian Pacific had reached out to both food banks to arrange a donation in place of the event.
The company intends to restart the program in 2021.
"We will have the Holiday Train rolling again spreading Christmas cheer as soon as it's safe to do so," Creel said.
Reise said the train had quickly become a popular event in St. Louis Park.
"We look forward to welcoming the train back in 2021 when we expect public gatherings to be safer," he said.
Reise also encouraged individuals to view the virtual holiday train event 7 p.m. Saturday, Dec. 12, at cpr.ca/holidaytrain. Participants may donate to Feeding America or their local hunger agency, such as STEP, PRISM or ICA, which serves Hopkins and Minnetonka.