Rebecca Thomley said her greatest strength and greatest weakness is her determination. Getting volunteers to the site of a natural disaster using typical modes of transportation, as it turns out, is not that easy. Right now, she's trying to get a team to the Bahamas, a goal that has taken every opportunity to take a tangential nose dive into some unforeseen problem.
"I always know there's a way to figure it out. We made a commitment to go and to serve and it is my job to figure out how," she said. "I work full-time with other organizations to allow me to do this work. Every aspect of it is a gift."
Headwaters Relief is a disaster relief nonprofit that the founder, Thomley, estimates has a pool of 2,500 volunteers. It is a natural-disaster response nonprofit created to coordinate aid in the aftermath of Hurricane Katrina and has continued to respond to similar emergencies in domestically and abroad.
Thomley is also the CEO of Golden Valley-based Orion Associates, a company that aids social services nonprofits and for-profit companies.
People are drawn to her dogged mentality. This year, Shamim Sarif was finishing her fourth novel, a young adult thriller called "The Athena Protocol," and decided to give all of her affiliate fees to Thomley's cause.
That amount depends on the success of the book. Thomley said she has been honored to be connected to Sarif, her partner and her team.
"I'm fortunate to get to know them," she said.
Finding new sources of revenue is difficult, especially for Headwaters, which puts all donations to aid. Thomley said there are 1.5 full-time jobs in her organization and those salaries are all paid through grant programs. When volunteers are taking flights out to help, they are often doing so at their own expense, and they try to drive when traveling domestically.
Books from books
Sarif is a screenwriter and film director as well as an author and has spoken at TED, INK in India and DLD in Munich, Germany. She is a member of BAFTA and the Academy of Motion Picture Arts and Sciences.
"The Athena Protocol" centers on an all-female organization that combats injustice against women and children around the world. The proceeds will go toward educating communities about the risks of human trafficking.
Sarif initially pledged the donation from pre-book sales and has since expanded to book sales through the end of the year.
Thomley said the plan is to turn that money into more books. She said natural disaster relief can mean many things: immediate health needs, food, shelter rebuilding and mental health assistance. That last one remains taboo in many of the places that experience disasters and especially in developing countries.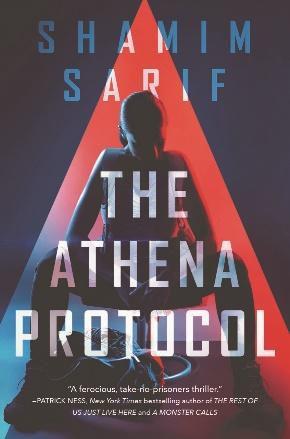 "They're not try put themselves in therapy, they're focused on food and water," she said.
The organization found that the same could not be said about the children.
"Children play a pivotal role in helping communities rebuild," she said. "People unite around the care of children – and it doesn't matter if you have a child or not. People are made to care for their most vulnerable."
Parents and teachers were given picture books, made by Headwaters, that follow a child going through difficulty. In the book, the child admits to having stomachaches, seeing once-beautiful things broken, which Thomley said normalizes those feelings. The child also shows ways to cope and remain resilient.
"As you process how to support the children, then in essence you've supported the adult," said Thomley.
To date, the organization has made five books, each focusing on a specific crisis. For the Ebola outbreak, the group penned "When the Great Sickness Came," and for the Philippines' typhoon Yolanda, "When the Strong Winds Blow."
A sixth has been created for a general audience in crisis and will be translated into any language. As Thomley sees it, regardless of the type of crisis, the symptoms of trauma and anxiety don't change.
"The body responds the same way," she said.
Headwaters has plans for a book on human trafficking, with volunteer writers, artists, and the like, and another in development for girls getting their menstrual period for the first time, a major player in the high drop-out rate of teens in developing countries. The only unfunded portion that remains is printing costs, which she hopes will be covered by "The Athena Protocol."
"Some have made commitments knowing this is happening," Thomley said. "We're incredibly grateful. And the book is really quite good."