The New Hope Police Department celebrated the service of its fluffiest officer in the best way possible: some free leash time around the office, lots of petting and several pup-friendly cupcakes.
K-9 Kody and his handler, Officer Miguel Robles, worked their final shift together Feb. 9. The German Shepherd worked for the police department for eight of his nine years, formally joining the department in 2013 after a year of training. Kody was deployed more than 1,200 times to locate missing or vulnerable persons, sniff out narcotics or articles of evidence and find and apprehend suspects.
City officials, fellow officers and those close to the duo congratulated the two in a small ceremony at the department when their final shift was over. Chief Tim Hoyt commended Kody's "incredible" record.
"We appreciate everything that Kody has done for us and our family. He has been just that: a huge part of our police department family," said Hoyt.
In their career, the K-9-officer duo received several Regional Case of the Quarter and one National Case of the Quarter recognitions from the United States Police Canine Association.
Hoyt thanked Robles for the work and training to be a K-9 handler, and Robles' wife and children for "housing our partner."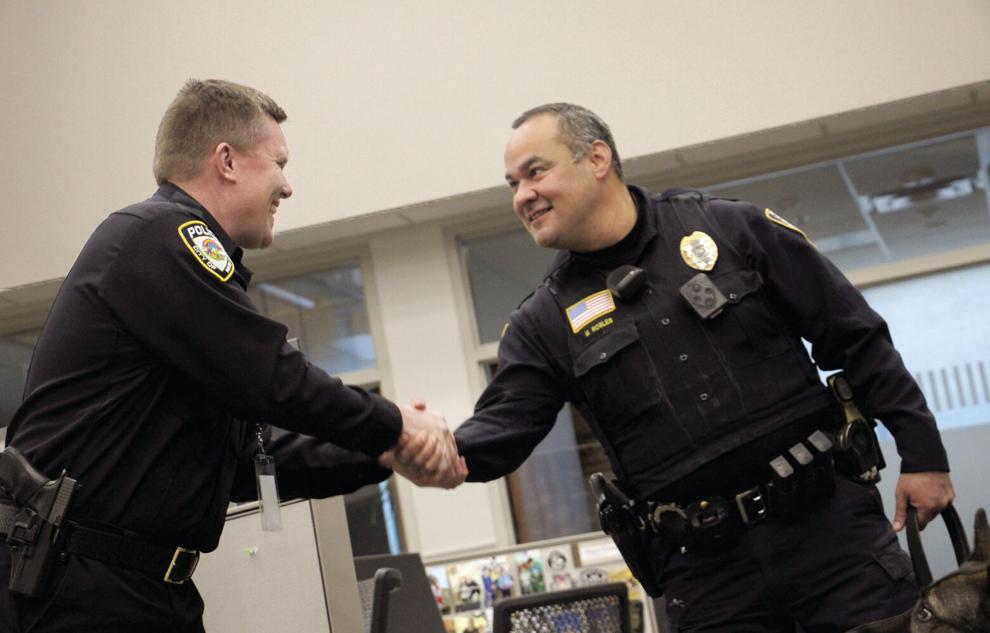 "A lot of people don't understand how much time you put in with our dogs," Hoyt said to Robles. He presented Robles with a framed professional drawing of Kody.
Before the speakers began, Kody trotted around the room, personally greeting guests. When the pupcakes were brought out, Kody quickly stopped his roaming.
Hoyt explained that treats were a tradition in the K-9 unit.
"Sometimes when the dogs go above and beyond their duty – they have a find of an article, or evidence that we're looking for, or some bad guys that sometimes they have to find for us – the K-9s get together and the dog gets the treats," said Hoyt. "So, for his official last treat ... This is from his partners here at the PD."
Mayor Kathi Hemken thanked the duo at the ceremony, and joked that she had been assured Kody had eaten and wouldn't think of her as "lunch." She asked Robles what it would be like the first day Kody didn't go to work with him, and he joked back that "he didn't know yet."
Kody will spend his retirement with the Robles family. Meanwhile, Robles will begin training with a new K-9 puppy, which arrived recently. Robles said the dog's name will be finalized soon.
"It's been challenging, it's been fun," said Robles of his partnership with Kody.
The New Hope Police Department has another active K-9 partnership. Officer Erick Dyer and K-9 Dex, a Belgian Malinois, have worked together since 2017.