Robbinsdale artist and activist Patti Paulson said a do-it-yourself sign idea has been in the back of her head for the better part of a year. She, along with her daughter, Nexus Trueself, has been busy gathering discarded signs from candidates of past elections, cutting the signs into new forms and splashing on a fresh cost of paint. Each sign will remain blank until a new owner comes to claim it.
Paulson, Trueself and the signs will debut their community art project, Sign O' the Times, at Robbinsdale Whiz Bang Days 10 a.m. to 4 p.m. Saturday, July 13, at Robbin Gallery. Other workshops will take place later this summer in Golden Valley and Crystal.
The two received a grant for the project via Cultivate Bottineau, a campaign sponsored by the McKnight Foundation, Hennepin County Bottineau Community Works and Springboard for the Arts. The campaign has an annual call for artists, who live or work in the cities along the coming Bottineau Light Rail Transit line, to make projects to "activate spaces, build connections, celebrate diversity, and promote opportunity through local artist-led creative placemaking projects."
"It's a way to get people excited about what's happening with the light rail," Paulson said.
Bottineau corridor cities include Robbinsdale, Crystal, Brooklyn Park, Minneapolis and Golden Valley.
Paulson said her project proposal and 14 others were chosen for this season's rendition of Cultivate Bottineau.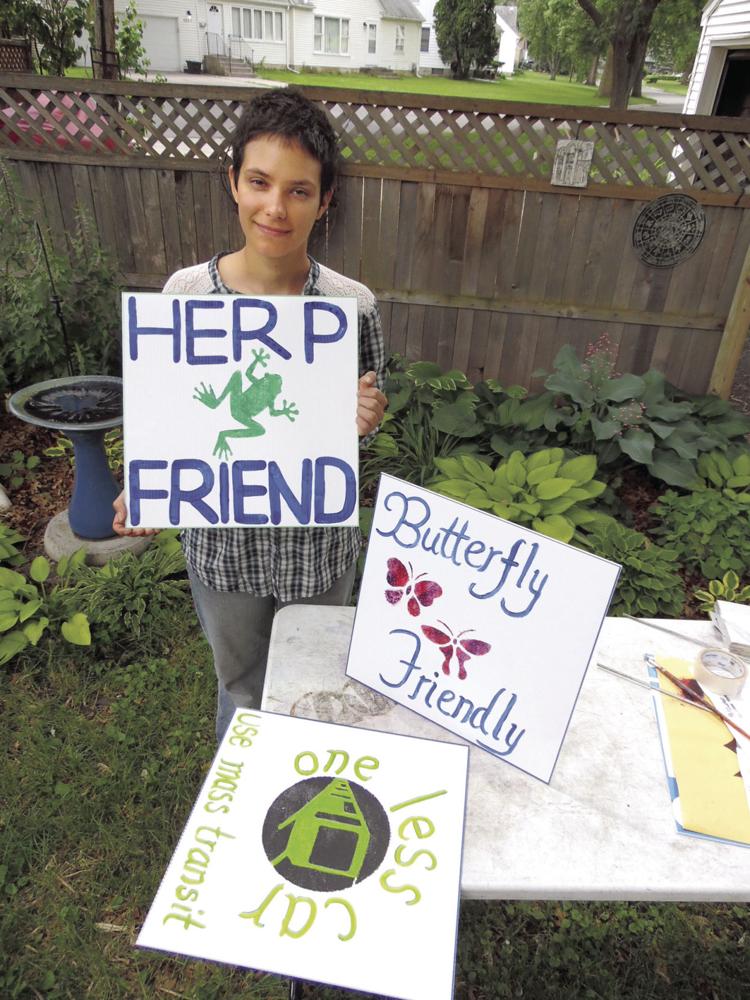 "The idea is that people will create fresh signs for a new 'campaign' for the environment," Paulson said. That could mean themes of welcoming the light rail, biking or walking, the use of pollinator gardens, recycling or picking up trash.
Visitors to the make-and-take events will be able to choose what they want on their sign, whether it's one of the free-hand stencils made by the artists or a personal saying they can paint on themselves (or the artists, if they ask nicely). Participants will be encouraged to take the signs home and place them on their front lawns for all to see.
Paulson said she saw a connection between the incoming light rail and her passion for environmental sustainability. A more accessible light rail will mean fewer cars on the road and is compounded by the planned pedestrian and bike lane accessibility improvements near stations.
Paulson is an active organic gardener and certified master composter/recycler through Hennepin County. Every week, she hauls some of her plants to the end of her driveway and places them near a little sign that reads "free plants."
As a result, she has garnered a small following of visitors who return the pots and even exchange a few plants of their own for her plants. Paulson has appreciated the mutual understanding that these neighbors have for her commitment to reducing waste.
Artists often struggle with waste, as new materials are ideal and at times, necessary to complete a project. However, Paulson and Trueself have made this project using as many repurposed materials as possible. This includes the paint, which was salvaged from the Hennepin County Hazardous Waste Disposal site in Brooklyn Park and the ReStore in New Brighton, a used furnishing store operated by Habitat for Humanity.
Though the sessions will only run for a handful of hours this summer, Paulson and Trueself hope to have sourced and prepped 600 signs by fall. From there, the signs will take on a new life in yards along the light rail corridor.
"It's about more than just the creation of these signs. The messages will continue on in the lives of these residents and their communities," Paulson said. "The cities involved in the light rail project want their community to come together to do something like this. It's a creative way to participate in a project with real meaning."