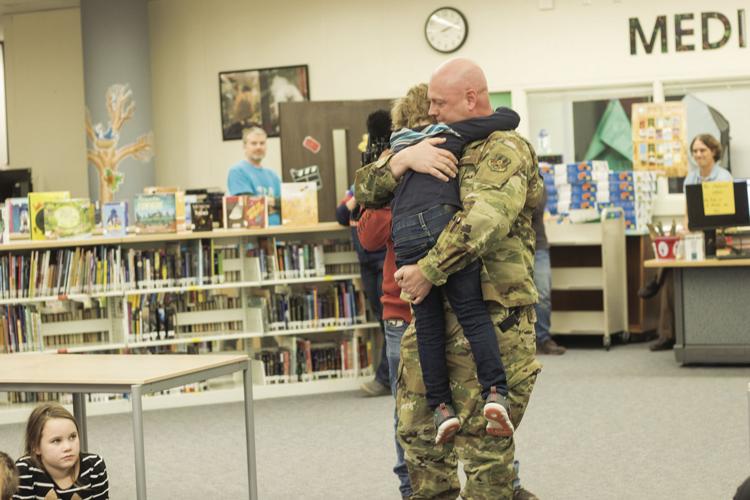 It was an emotional Wednesday afternoon for parents Teresa and Dave Peterson, who planned a big surprise for their son, Orion, to celebrate Dave's return from a deployment in the Middle East.
Dave, back from a six and a half month deployment in the Arabian Gulf for the U.S. Air Force, stepped into the Golden Valley School of Engineering and Arts Media Center while Orion's class was in the middle of guided reading time. Jan. 15 was the first time the father and son were in the same room together since July.
This winter had been difficult for the family, as they celebrated the holiday season without their family patriarch. Dave managed to message or videochat his wife and three sons once or twice a week, working around a demanding schedule and time zones on nearly opposite sides of the world. The father and son had also gotten pretty competitive over an online video game that they played together when they could.
Orion said the family often didn't know when they'd be able to talk until shortly before.
"It was tough," said Dave. "Real tough."
This is the second time Dave has completed a deployment in his 27-year career, but the first time it hadn't been "quite so far," said Dave, and the family had been able to visit him.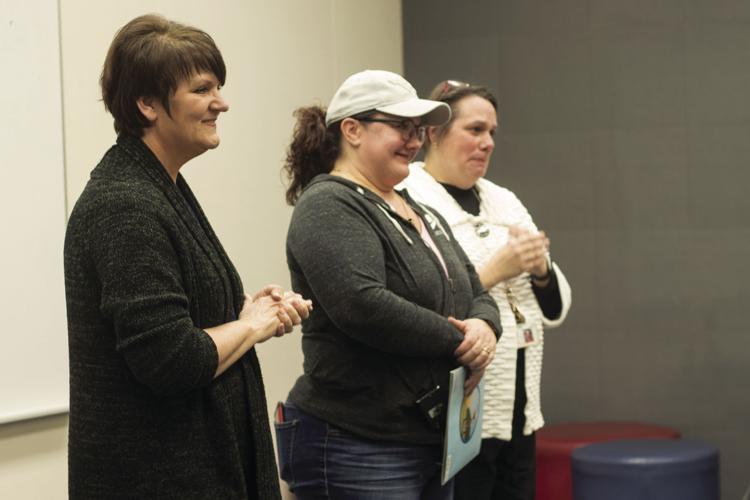 Pulling off the reunion
The surprise was planned meticulously by the school administrators and the Petersons. Teresa, who provides education support at Meadow Lake Elementary in New Hope, read "Peanut Butter & Cupcake" to the class under the guise of kicking off I Love to Read Month. That alone was a surprise to Orion, who had no idea his mother was in the building.
Orion's first-grade teacher Tobi Kreifels had read a book on veterans to the students that morning and explained that Orion's father had been serving overseas, keeping "our country safe."
Kreifels said Teresa was chosen to read because it was important "to thank those families of the people who serve, too."
As Peterson was reading, first-grade teachers silently filed into the library, careful to not catch the attention of the class. Principal Heather Hanson said that, after learning of the surprise, many teachers had arranged to be in the room to support the family.
Finally, the reading was finished. As Teresa closed the book, Administrator Kelley DeLaCruz stepped forward to explain that all throughout February, guest readers would be coming in to share their favorite books with the class.
"As a matter of fact, I think we have another guest for you that might come in February," said DeLaCruz with a mischievous smile. The members of the class craned their necks around to see Dave, and Orion was quickly out of his seat and in his dad's outstretched arms.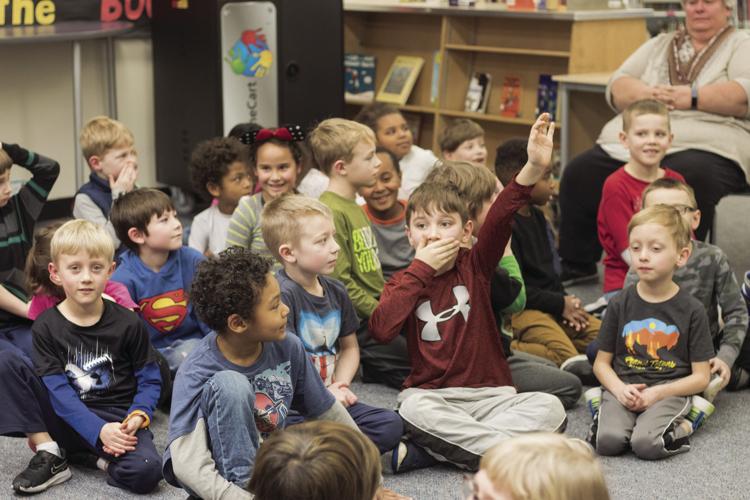 Now that dad's back...
Orion said the first thing he wanted to do with his dad was to go to McDonald's and play "the laundry game," which he said was a "fun way to put away laundry."
Teresa, who had kept the news of her husband's return since the previous day, said it didn't feel real until she got to the airport.
"I went to a meeting, I worked, and then I was talking to my sub, so it wasn't registering," she said. "And then I go up to the Special Services Desk [at MSP] and she's like 'What can I help you with?' and I said 'I need– to– my husband...' And I couldn't talk anymore."
Orion's brother Ben, a sophomore at the University of Wisconsin-Stout in Menomonie, drove to Minnesota that morning to be present for the surprise. Later that evening, the family surprised their third son, Eli, a senior at Osseo High School.
"It feels great," said Dave of his return to the states. "I sure missed him [Orion]. I missed being away from this family, and appreciate the sacrifices they made to support my career and service."