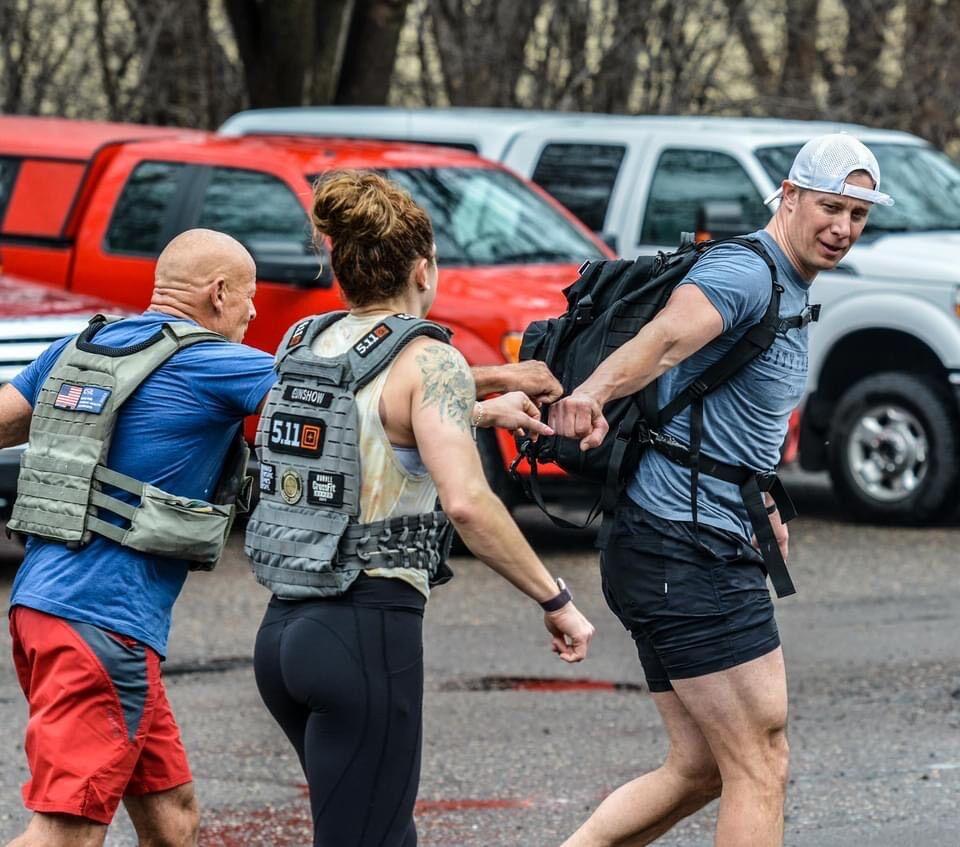 Heart disease is the leading cause of death in the United States; one person dies of it approximately every 36 seconds. A significant number of these deaths are due to heart attack, which happens to 805,000 people annually. These attacks can happen anywhere, anytime, something that the athletes at CrossFit City of Lakes personally know to be true.
In May 2021, Kyle Lindstrom, a member of the Golden Valley gym, was beginning a high-intensity group workout when he collapsed.
Gym owner and coach Jason Johnson has always likened his membership to a full-fledged, caring community, and can think of no greater example of it in action than in the response to this incident. Staff and members immediately sprung into action.
"There was 20 people in the class, and everybody fell into a role," Johnson said.
Members Bethany Brunsell and Simon Ackerman began to render aid to Lindstrom. Lindstrom was in good hands, as Brunsell is an assistant chief at the Golden Valley Fire Department, and Ackerman is a pharmacist that specializes in heart disease.
Staff prepared the automated external defibrillator as the two performed CPR. A few members called 911 and went outside to flag down first responders since the gym is in the industrial park area on Decatur Avenue. Some made calls to family members and to Johnson, who was doing work from home at the time. Another group steered Lindstrom's wife, Lindsey, out of the gym and into a quieter area in an attempt to keep her calm. She was participating in the class with her husband, and was also very pregnant.
"She was due any day," Johnson said.
In the six minutes it took for Johnson to get to the gym, Lindstrom regained some consciousness. He waved slightly as he was loaded into an ambulance and he was carted off to a hospital. Johnson was told later that when Lindstrom came to at the hospital, he thought he might be there because Lindsey had given birth.
They were both back at the hospital one week later to welcome their son, Hank.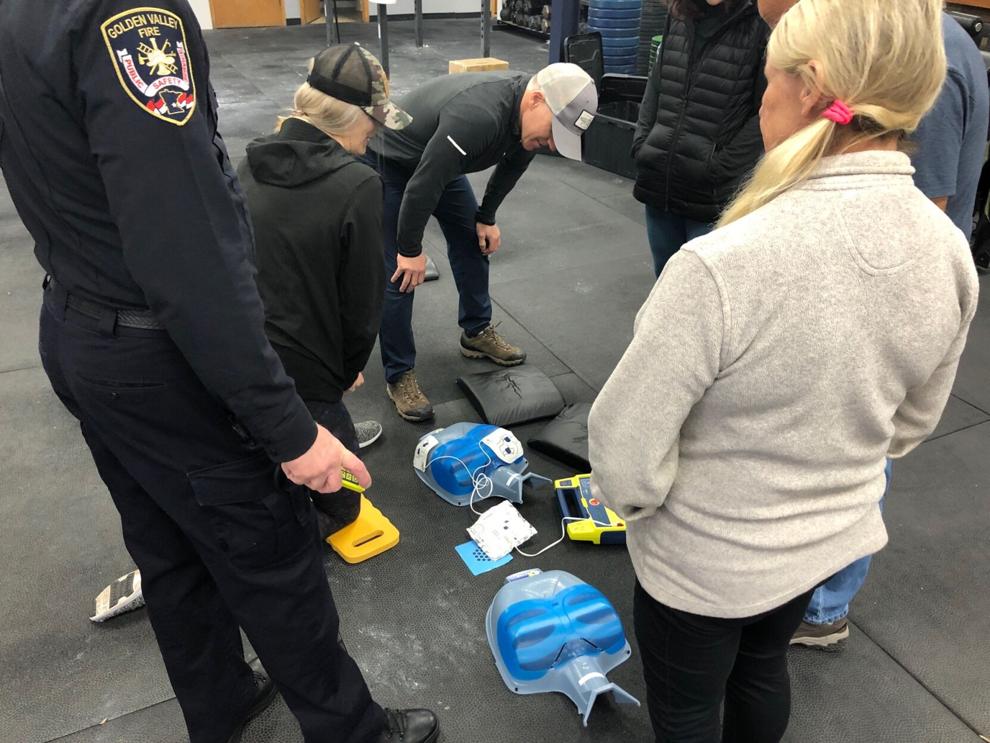 An investment with dividends
Last week, the gym commemorated that day last spring by doing what it does best: making its members sweat. The first annual City of Lakes Ruck for Cardiac Health Awareness included a tough rucking workout, in which participants hiked in a weighted backpack for several miles. The next day, participants learned AED and CPR basics from Brunsell on behalf of Golden Valley Fire.
Lindstrom was one of them.
In recognition of his previous service in the Army, he was asked to carry a flag throughout the event. Next year, he will delegate another to do so.
Registration for the event was used to purchase and donate an AED to another CrossFit gym, and bring in an instructor to teach members lifesaving skills like performing CPR and using an AED.
Johnson said he hopes the event can become a tradition.
"As a business owner, I'm always looking for ways to do community outreach, but it's not so often that you can pick a cause that you can directly connect to an individual in your own community," Johnson said.
He also hoped his gym's story would convince others to invest in an AED if they had the finances available.
"There's no law that says gyms need to have it, and most small gym owners are just trying to pay rent or make payroll," Johnson said. He said he had similarly debated the purchase a few years ago, ultimately deciding to purchase one. Clearly, it had been the right choice.
"It has paid dividends a hundred times over," Johnson said. "Kyle is someone's father, someone's husband someone's son, and he was in the best shape of his life. "
The beneficiary of the AED was a CrossFit gym in Key Largo, Florida. Johnson said he had connected with the owner, Hal Quanbeck, who bought the gym as it struggled to stay open during the pandemic. Johnson said Quanbeck had been a part of the CrossFit community and knew the Lindstrom family personally, and had made the move south upon his retirement.
Johnson said the AED could greatly benefit the Key Largo location, which is situated in the heart of a retirement community. In future years, he hopes to partner with other gyms to raise even more money for AEDs.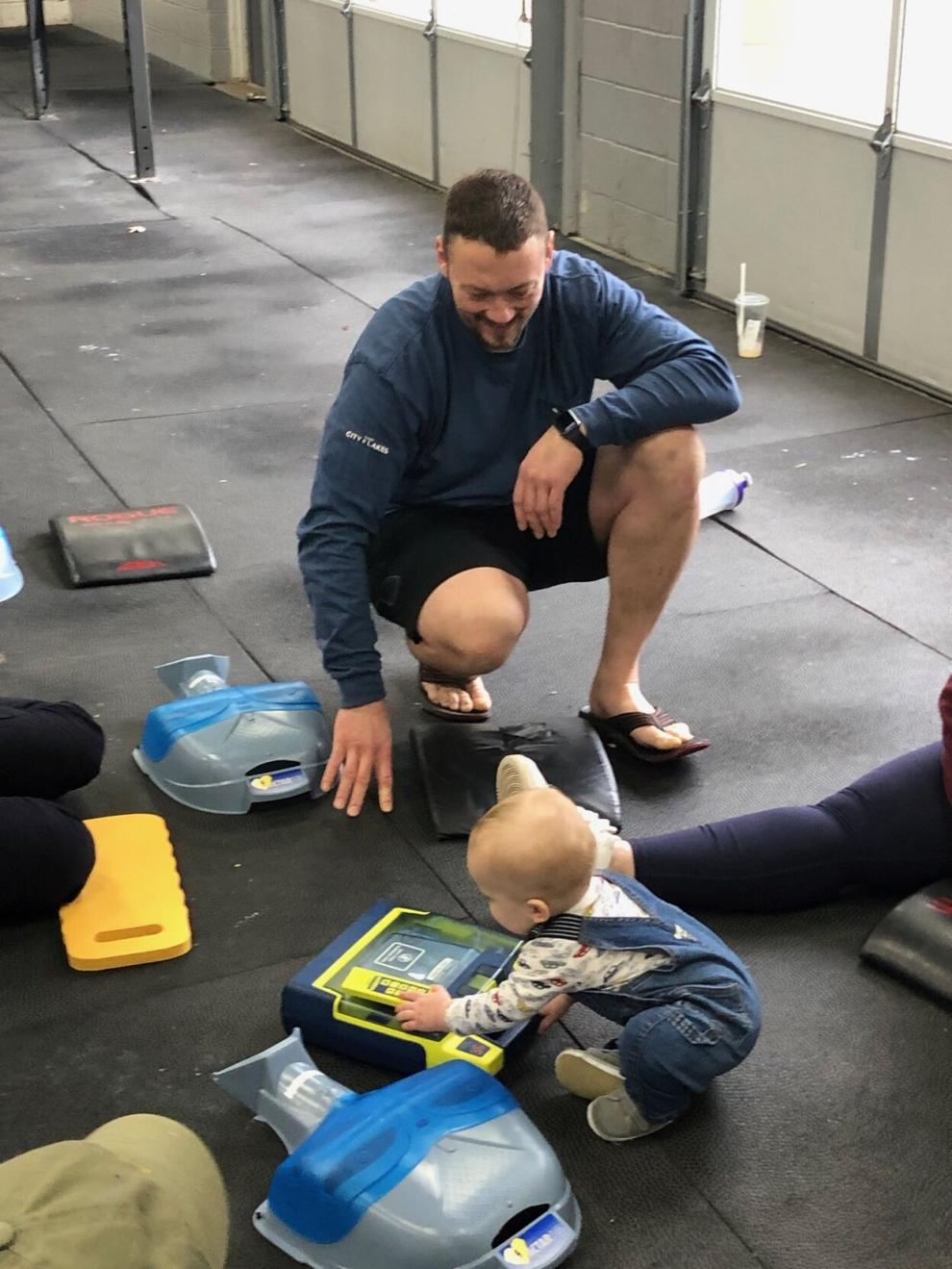 Physical and emotional strength
The fundraiser drew participation from 100 athletes, who began the race in hail, carrying up to 60 pounds in their rucksacks. Every few miles, teams would take a break from the race to complete a few hundred burpees, squats and pull-ups.
Johnson said it was a testament, once again, to the strength of his membership community to keep a positive attitude through the challenging workout.
"So much of CrossFit – and fitness, really – is developing mental and emotional strength," Johnson said. "(Ruck racing) is such a physical and mental test, and facing that adversity with a supportive community really helps."
It certainly helped the Lindstrom family last year. Members offered to watch the couple's dog and brought over food to help them through the difficult time.
"We've got a really powerful community that really stood behind their family, and we're lucky that we have great people that are here to help others," Johnson said.