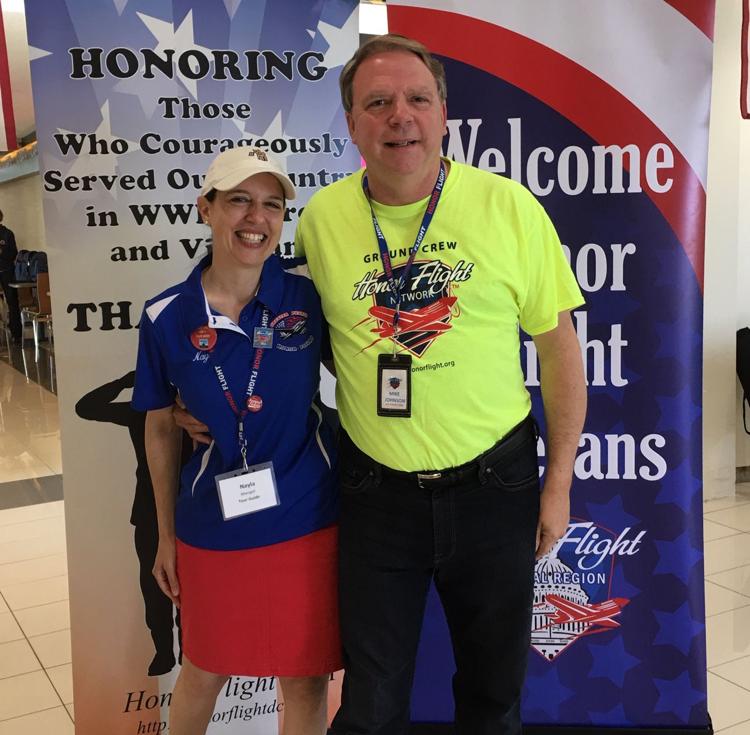 The World War II Memorial was completed at the National Mall in Washington, D.C. in 2004, more than 60 years after the U.S. began deploying troops to fight in the war. Today, the average U.S. WWII drafted soldier, if still alive, is approaching 90 years of age.
The Honor Flight Network doesn't shy from its grave edict that "time is of the essence" for these veterans to see the memorials built in their honor. Current estimates on WWII veteran mortality find that about 640 die every day. The network, a nonprofit, is trying to get as many aging veterans as possible to those memorials, free of charge. The organization privately funds and arranges tours out of 140 airports across the country.
Nayla Mengel is a tour guide with the organization and former resident of Golden Valley. She attended Breck School and found herself in northern Virginia with her husband after he retired from the Marine Corps. She said drives about a half hour to Reagan International Airport, then jumps on a bus for a packed day of sightseeing with veterans and a chosen family members who can care for them. The tours can be up to 12 hours.
She was floored last year when she met Mike Johnson, who was splitting time between a full-time job that served the northwest Twin Cities suburbs, including Golden Valley, and volunteering with honor flights in D.C.
"It was the weirdest conversation, realizing this guy worked just up the street from where my parents live," she remembered.
Johnson lives in Medina and is the executive director for Northwest Community Television and CCX Media. He said he's flown into D.C. about 20 times now. He packs four to five tours into each trip, sleeping at hotels in his downtime. Mengel called Johnson's commitment to veterans "amazing," but she has never asked him why he does it.
"I see how happy he is, I see how connected he is," she said. "Those of us that do this know why he does it."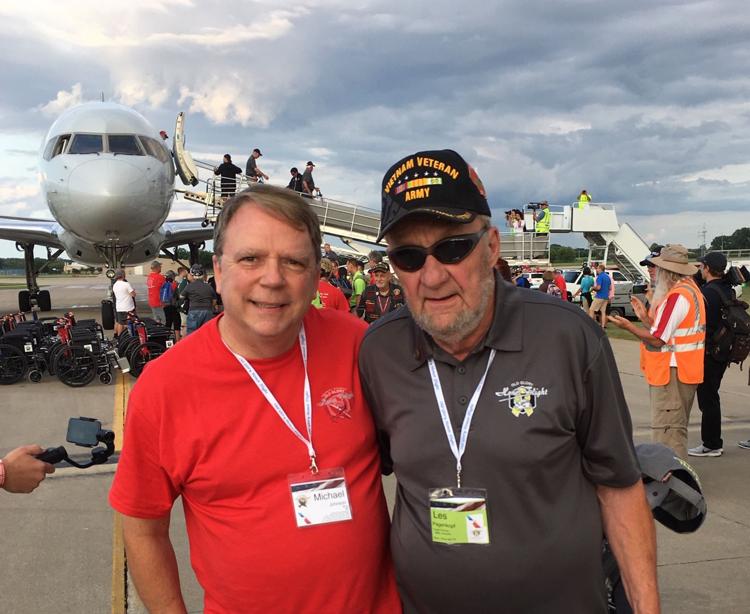 VIPs in D.C.
From the beginning of the tour, veterans are welcomed to D.C. to great fanfare. Airport gates are opened to cheers from volunteers and other interested airport-goers. Mengel said sometimes the greeting team can end up being anywhere from 10 to 100 people holding signs, shaking hands and "just going crazy." Sometimes the greeters manage to get a band into the gates, playing military big band tunes or popular music from the 1940s.
The welcome can be emotional, especially for veterans of less-popular wars like Vietnam.
"They didn't come home to any warm welcome, there was a lot of protest," Johnson said. "But a lot of them got drafted and they had to do what they had to do."
Mengel remembered a veteran in tears who wished aloud that his fellow servicemen were still alive to see it, and another who said he was more moved by the early morning greeting than the memorials.
"It's amazing that you can take a guy around the city with a police escort and at the end of the day what he remembers best is getting out of the plane at 8:30 in the morning," she said.
Veterans are loaded onto buses and escorted by United States Park Police down Pennsylvania Avenue to their first stops, an honor often reserved for top political officials. Mengel said she has been in an honor flight motorcade that bypassed 29 red lights.
"They truly are VIPs for the day, and they get to their stop very quickly," she said. "It's absolutely insane."
The buses make stops to the WWII Memorial, Korean War Memorial, Lincoln Memorial, Vietnam War Memorial and witness the changing of the guard at Arlington National Cemetery's Tomb of the Unknown Soldier. Guides tell the history of each place, answer questions and get to know the veterans.
At the end of the day, a group of exhausted veterans, guardians and guides return to the airport so the veterans can fly home.
Since 2005, more than 225,000 veterans have been flown to Washington D.C. to see their memorials at no cost. There are 38,000 veterans on a waiting list.
Military connection
Johnson said conversations he has with veterans make the trips worth it time and again. He has met the detective and veteran who was escorting Lee Harvey Oswald into jail when Oswald was shot, and gave a tour to Jack Sinise, uncle to actor and ardent veteran supporter Gary Sinise.
Another particularly important trip was his first when he accompanied his father Norman, a WWII veteran who served in the U.S. Navy, in 2010. He surprised this father at the airport just before their flight took off, and the two experienced the monuments together.
Mengel said the trips tend to bring out more candid accounts of war from veterans, often in ways their loved ones had never heard before.
"There's a lot of tears, a lot of laughter, a lot of good things," she said. "Sometimes, it's the first time a family member has heard anything. They all get something different out of it, but they all get something."
Johnson's first experience with his father was so moving, it inspired him to stay in touch with the honor flight organization, first as an airport greeter, then a guide. He said it's his way of serving an institution that he deeply respects, but has never been a part of.
"This is what I want to do in retirement," he said. "I want to give back, I don't want to sit and do nothing when there's a lot of help needed out there."