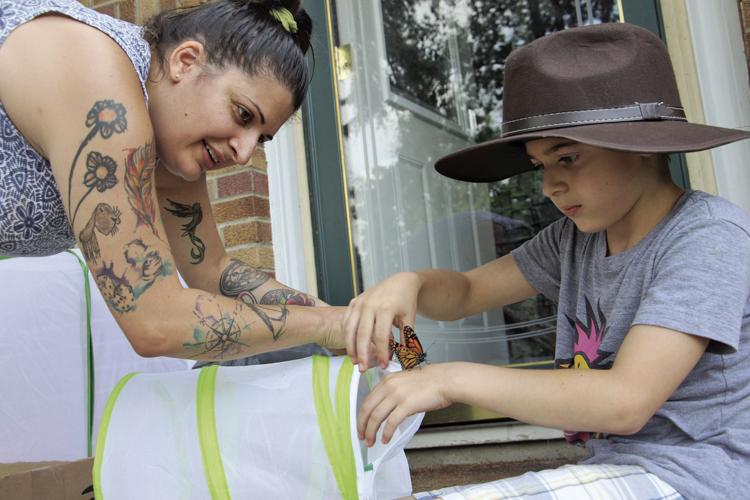 A Robbinsdale household is all aflutter this month as they house and feed an army of squirmy, chubby grubs. Eight-year-old Levi Jamar and his mom, Jen Roventine, have adopted 60-some monarchs in various stages of life.
Roventine said what started as a visit to a neighbor's pollinator garden quickly became an obsession.
"The first time [we looked], we didn't even find an egg," she said. The two widened their search. When a milkweed plant was spotted in a park or nearby yard, permission would be acquired and the leaves would be upturned in search of pearly white dots or tiny banded caterpillars.
"And then we decided, hey, every morning, let's go out and look– just for right now," Roventine said.
Right now became a few weeks, and Jamar and Roventine scoured the plants in Hollingsworth, Sanborn and Spanjers parks.
Soon, they were finding more eggs and caterpillars than they knew what to do with.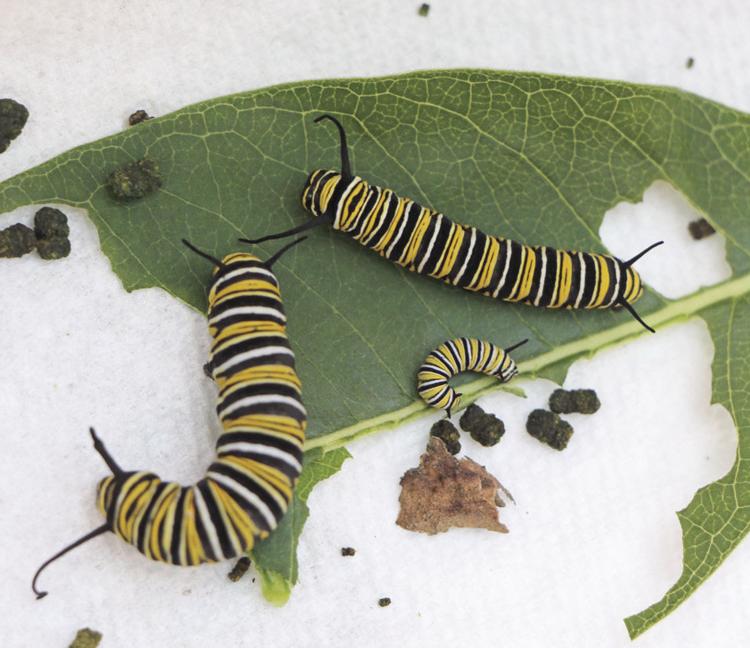 "It was like a treasure hunt," Roventine said. "And it's hard because if you leave them out there they might not make it. They might not make it at home either, but they have a better chance."
Jamar, a SEA School student, has always liked catching bugs in the yard and watching nature documentaries. He rattled off his favorite facts about monarchs, energized from having just released one of the pair's first successfully raised butterflies.
"I saw a show once where a monarch got caught on a spider web, and the spider just cut it loose," he said. "He was like, 'I know that you're poisonous, I'm going to let you go.'"
Roventine said the bugs Jamar captures in the yard are often in their final adult stage and have no agenda but to eat and die. Raising monarchs is a little different; while the generation of butterflies they are raising now will only live a few weeks, likely within Minnesota, the generation they will, in turn, produce in the late summer will migrate south to Mexico and live through the winter. This generation is perhaps the most fascinating bunch, living over eight months to preserve the species through the winter.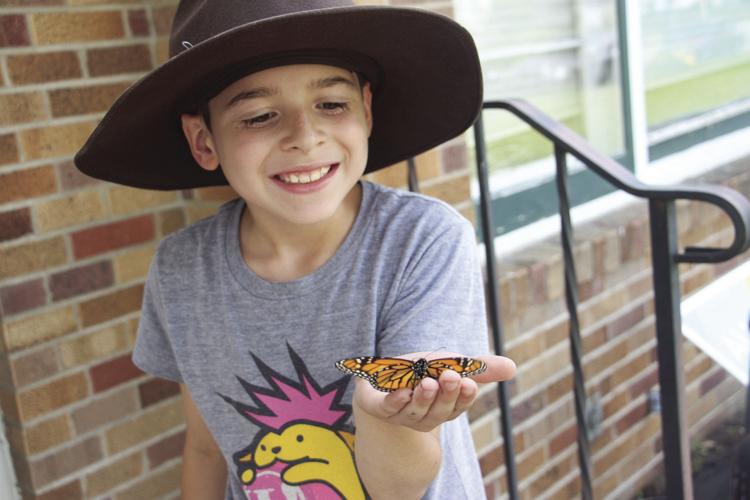 Pending 'endangered' status
The monarch population has dropped significantly in the last decade, for reasons that include habitat degradation, disease and unfavorable weather conditions. According to the government entity, a single winter storm event in 2002 in Mexico killed an estimated 450 million to 500 million monarchs.
Since the U.S. Fish and Wildlife Service began reviewing the monarch butterfly as a candidate for the Endangered Species Act in 2014, many people across the country have opted to monitor and aid the species to ensure survival. A decision on the inclusion was expected in May but has been postponed to December 2020.
Secondary factors of die-off include the actions of those trying to help or celebrate the monarch population. Nonnative species of milkweed in pollinator gardens capable of year-round growth can confuse the butterfly and inhibit its southern migration in the fall. The use of the species outside of the wild, like in the classroom, lab, or even for a grand release at a special event can lead to more issues.
Roventine has tried to be as informed a hobbyist as possible. She brings eggs and milkweed through a significantly-diluted bleach solution that can stave off spores of ophryocystis elektroscirrha (OE), a disease that has threatened the population. After the butterflies hatch, she takes a sample of its scales to look for OE.
Along the way, the two have learned things they couldn't glean from a book or computer. For example, the two knew the caterpillars would be constantly hungry, but not to the point of aggression. Peering into a small container where three or so caterpillars are grazing, the largest makes a quick jerking motion, jumping and tapping the rear of a smaller caterpillar in agitation. Roventine quickly separates them, saying that if worst came to worst, the instigator would probably try to eat his foe.
Foraging for hungry caterpillars
Asked what his role is in the matter, Roventine's husband, Mykl, said he's more of a "peripheral" player.
"He'll say 'Oh, you brought home more bugs,'" Roventine said with a laugh. "And Levi gets really upset and says "They're not bugs, they're caterpillars!'"
Turns out, there are many more words for monarchs depending on its stage of life. A monarch is first an egg, then an instar, caterpillar, or larva. In its two weeks as a caterpillar, it will change its appearance five times by shedding its skin and gains 2,000 to 3,000 times its initial weight.
Many of Jamar and Roventine's captured monarchs are currently in the egg stage, with a handful of instars. Roventine is trying to learn and troubleshoot as much as she can before she is hit with a boom of "butterfly teenagers."
"They're going to get really, really hungry," she said. An oft-proffered rule of thumb is a single caterpillar will eat an entire milkweed plant in its lifetime, so Roventine expects she will soon be busy harvesting leaves. She has purchased floral tubes to preserve the greens as long as possible.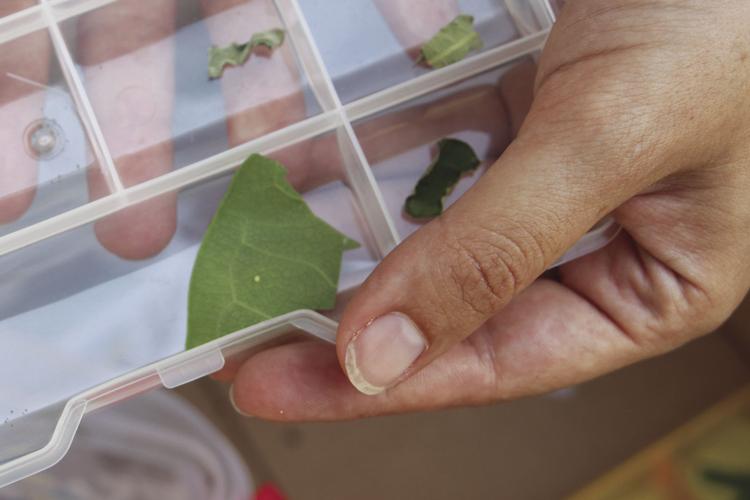 When the caterpillars have had their fill of milkweed, it's on to the chrysalis stage, also known as a pupa. In between is what's referred to casually as the "J" stage, where the caterpillar spins a silk button, attaches itself precariously to the underside of some surface, and hangs upside down, its body posed in the shape of the letter.
The duo has shifted their focus to milkweed hunting only, except for "a few hitchhikers." Roventine is crossing her fingers the last butterfly will be released before the family moves out of the state at the end of August.
The two agree that their favorite part has been watching their little subjects grow, and their least favorite will be saying goodbye. After that question, Jamar became contemplative, slumping his head a little. Roventine cuts in.
"To me, it's kind of like your kid goes to college, which is still a little sad," she said. "But, we know they've got their life somewhere else, right?"
Jamar looked up, nodding. "Yeah."