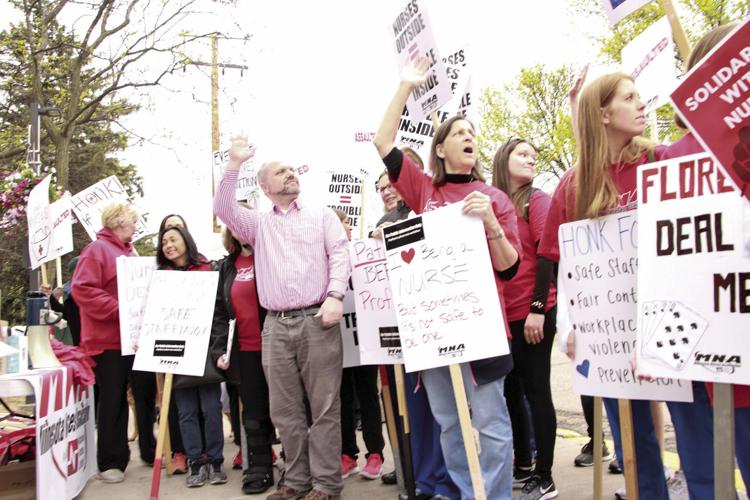 Nurses clocked out of their shifts at North Memorial Hospital in Robbinsdale, donned a red T-shirt in solidarity with the Minnesota Nurses Association, and picketed the entrance of their workplace May 23. Several demonstrations were organized at hospitals around the metro, as nursing contracts from the 13 area hospitals are all up for negotiation.
"We're in the bargaining process right now," explained MNA president Mary Turner. "This is not a strike, this is to try and get some leverage at the table."
Turner is also a registered intensive care nurse at the Robbinsdale hospital. She has been in the nursing field for 24 years, and first became involved at the negotiating table in 2010.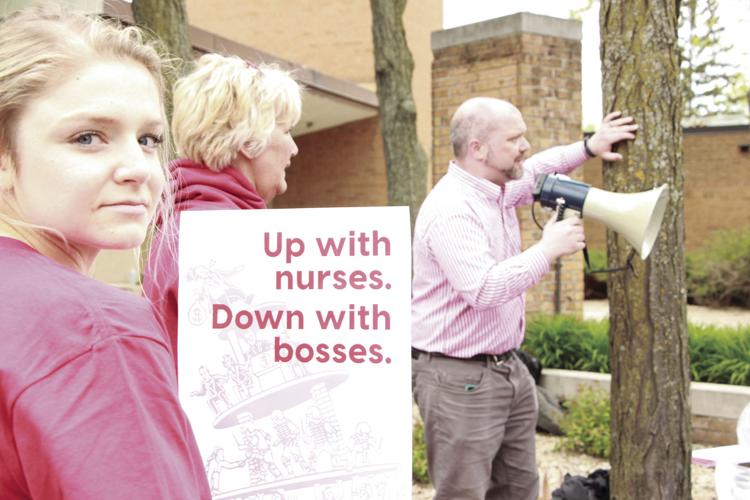 "It is very unique to have 13 hospitals in a two-city area that all have contracts up at the same time. It's huge," she added.
One of Turner's biggest messages to nurses is to stay involved in the process. She anticipates the union's eighth day of bargaining on Friday, May 31, will be a big one. She was hoping to keep up the enthusiasm felt on the sidewalk picket line May 23.
"Some of the hospitals are choosing mediators at this point, and we're saying no," she said. "With a mediator, an employer stays in one room and the nurses stay in another. That's where you lose all your power."
An issue of concern to the union is the handling of workplace violence. According to Turner, physical or mental abuse in the workplace is 12 times more likely to happen to a nurse than any other profession. The association feels that hospitals don't adequately handle situations when nurses are abused to the point that they need to take time off of work. In negotiations, she said hospitals have agreed to greater monitoring and education, but not agreements on what type of leave nurses take.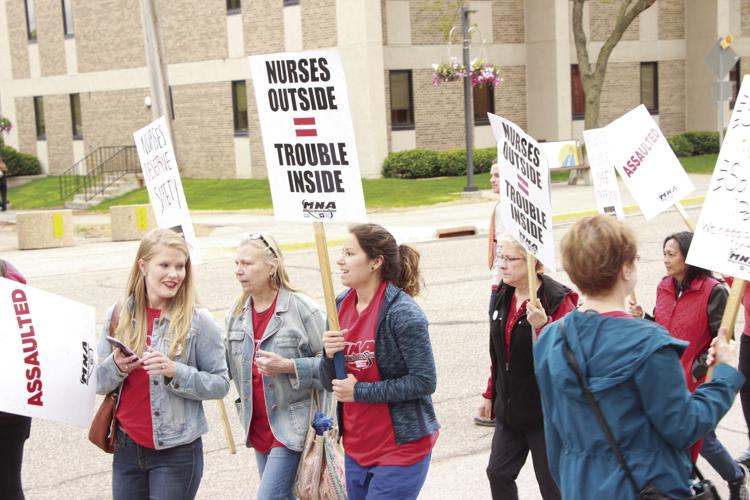 In early May, a nurse working at Anoka Metro Treatment Regional Center was seriously injured by a patient, which became a bit of a rallying cry for the union. Turner said the union has shifted 10 years of wage-based focus to issues like this, and there are many young nurses that are just now learning to be a part of a union.
"They are stepping up and making me proud," Turner said.
In Minnesota, 85% of nurses are unionized.
A statement was issued through spokesperson Andrea Mokros for Twin Cities Hospitals:
"Since March, Twin Cities Hospitals have been bargaining with the Minnesota Nurses Association to reach a new collective bargaining agreement that recognizes the registered nurses' important role in patient care, supports a culture of safety in our workplaces, and allows health systems to invest in delivering exceptional care to our communities.
"We remain hopeful and optimistic that we can reach agreement on a new contract soon. We are committed to ensuring our patients and community have the continuity and quality of care they deserve and depend on from our hospitals."