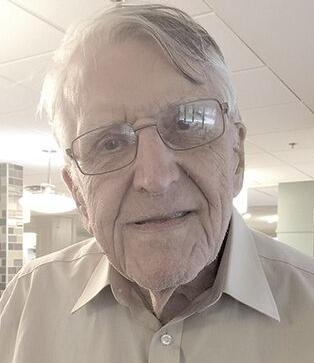 Golden Valley resident dies at 96
Lincoln "Linc" Hudson, 96, a Golden Valley resident whose long career included engineering work that helped land Americans on the moon, died Oct. 15.
He was a resident of Covenant Living.
Featured in an edition of the Sun Post published on the eve of the 50th anniversary of the moon landing, Hudson talked about his work, his family and the deep pride he had in lending his knowledge and skills to the greater good of the nation, and the world.
Hudson was hired into the Mercury space program in the early 1960s, working with McDonald Douglas. That was followed by involvement in engineering design for the Gemini program. But it was his work with the Apollo program that was his greatest joy.
"The big one was Apollo," Hudson said during the interview. "There was a big competition between McDonald and Douglas, Boeing, Lockheed, Grumman – it was big money. Up until that time, the Russians had beat us at everything. They had the first satellite (Sputnik), The first man in space (Yuri Gagarin), the first woman in space, the first extra-vehicular activity.
John Kennedy was the president and he wrote a memo to his vice president, who was LBJ - he said, 'can't we come up with something to beat the Russians at?'"
As a subcontractor, Honeywell engineers, including Hudson, worked with North American Aviation to design flight controls and displays for the astronauts.
"That was our job," he said.
When the day of the moon landing, July 26, 1969, came around, Hudson said he was home in the Twin Cities and watched the momentous day. It was the day when all his work culminated in the success of the landing. But he was still unsure.
"I was worried that something was going to go wrong," he said.
"You know you're as sure as you can be, but still there could be something that could go wrong, something you hadn't thought of or weren't suspecting."
Hudson remembered cheering when Armstrong stepped onto the surface of the moon.
"It was the first time a man had left the planet and went to another heavenly body. That's a big event. I'm sure there will be others in the future, but there has to be a first," Hudson said.
Born in Detroit, Hudson grew up in South Bend, Indiana.
His career took him as far away as Scotland and South Africa before he eventually retired to the Twin Cities.
He was predeceased by two wives and is survived by one son, two daughters, a stepson and stepdaughter, 12 grandchildren and two great-grandchildren.
He lived 15 years at Covenant Living, where he was an active resident. He was involved in various groups, book clubs, composed lyrics and music for musical performances, as well as provided educational lectures.
A celebration of life was held.