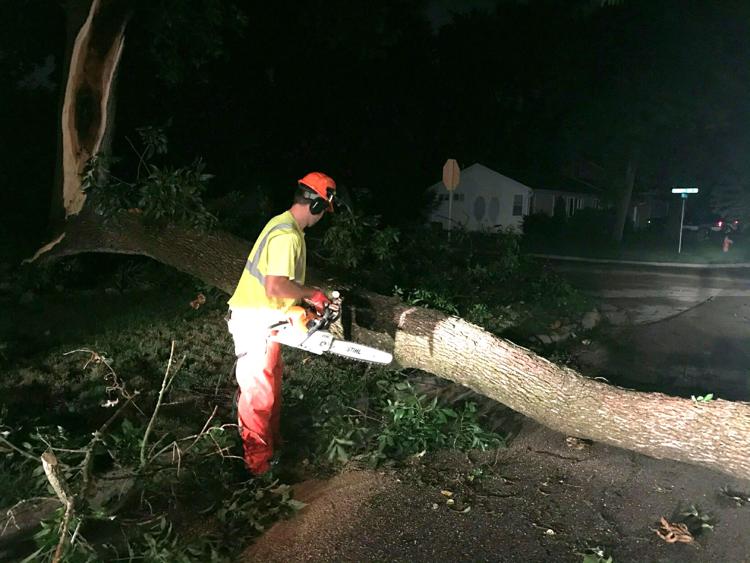 One city crew spent a week on the cleanup
When a tornado touched down Aug. 14 in Crystal, many feared the worst.
In the end, the damage wasn't any more significant than other non-tornado storms. The National Weather Service rated the tornado at an EF-0, with estimated peak winds of 75 mph.
"While it was the first tornado to ever strike Crystal (looking at available NWS records back to 1950), we have had regular storms do more damage," Public Works Director Mark Ray said.
City crews were out in the community helping with the cleanup that night and dedicated a crew the week after the storm to remove downed trees and limbs from city-owned property.
The city was clear in its communications with the community that only damaged trees and branches that were on city property would be removed by crews, but they were also assisting private landowners with the removal of the larger debris that had fallen from private property onto city right of way.
It took a few days, but the work was done by the end of the week, Ray said.
"From a cost standpoint, we did not specifically track it as it was pretty minor," Ray said. "Staff only worked overtime the night of the tornado to re-open roads for emergency crews and power restoration companies. The debris pickup was done during normal hours the following week. Only one team, using various pieces of equipment, was assigned to the cleanup project."
The work focused only on the neighborhoods most significantly impacted, the area from 47th Avenue to the north to 34th Avenue to the south and from Maryland Avenue to the west to the Robbinsdale boundary to the east. There are a few outlying locations that were also cleaned up.
Ray said the storm did test the efforts of the city's emergency personnel.
"From a communication and coordination standpoint, police, fire and public works were in direct communication about an hour before the tornado hit as we were monitoring the storm coming in," Ray said. "Within minutes after the tornado struck we already had public works staff driving in to start clearance.
Crews were done by around 11:45 p.m. on that Friday night with only trees that had wires in them being left blocking roads, but had cones put up around them. We also provided Xcel Energy a list of all the down wire locations that the West Metro Fire Department had responded to to try and help them with restoration planning."