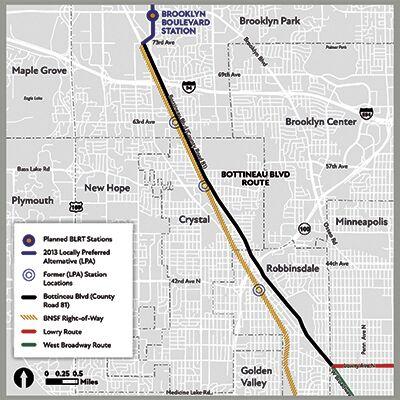 More information needed before consideration of support
While the Metropolitan Council and Hennepin County recently released preliminary plans for revisions to the METRO Blue Line Extension, Crystal's city staff and leaders greeted the news with a shrug and a need for more information.
"So far, the 'plan' is just a line on a map," Crystal Community Development Director John Sutter said.
That new plan was developed "based on community input, technical considerations, and past project work," stated a release on the extension's website. "We believe these routes present the best opportunities to deliver a light rail project that maximizes community benefits and connects even more people to jobs, education, healthcare and other key destinations."
Mayor Jim Adams added, "It is too early to tell if the new alignment is good or bad for Crystal."
The extension would connect communities from Brooklyn park to Downtown Minneapolis.
However, city officials are not about to get too excited about the project as is.
There isn't enough information available to determine how it affects Crystal.
"Project staff have said that north of Highway 100, Bottineau would likely need to be reduced from six lanes to four lanes to create space in the right of way for the light rail tracks," Sutter said. "However, we haven't yet seen any cross-sections or layouts showing what this would look like."
He added that there have yet to be simulations of traffic to determine how lane reduction would impact mobility on Bottineau Boulevard and cross streets, such as Bass Lake Road.
Until the work to determine how the reduction in lanes would impact Bottineau, Sutter said he wouldn't have much more to add to the picture.
The route through Crystal would be highlighted by a station located at the intersection of Bottineau Boulevard and Bass Lake Road. A pedestrian bridge near Bottineau in Crystal would also be needed.
The mayor said he is weighing the potential positive and negative aspects of the new plan.
"The positive is that the pedestrian bridge at Bass Lake is being supported like it was originally. The negative is the possible effects on traffic and other environmental impacts," Adams said.
"A pedestrian bridge over Bottineau in the vicinity of the Bass Lake Road station is essential for this station to be successful," Sutter added.
According to the extension's website, "These routes are intended to advance a conversation many years in the making with the goal of identifying a single community-supported route by the end of this year to advance through official design and review processes."
"I believe, for Crystal, this is an opportunity for a safer station location than the old station design," Adams said.
However, until they throw any support toward the new plan, city officials will continue to study the findings of future studies.