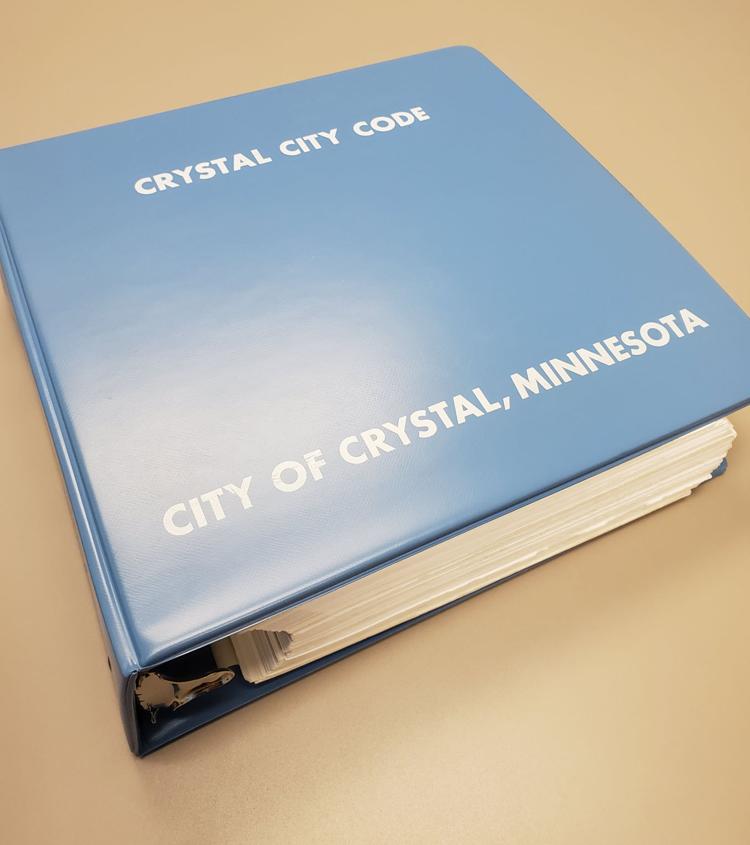 More than 34,000 words later, task force and council finish update work
A revised Crystal city code was adopted by the city council at its Nov. 18 meeting after years of work by a task force charged with updating the document.
City attorney Troy Gilchrist said the arduous task took longer than anticipated. He presented the finished version to the council saying, "Finally, we get here."
In asking the council for approval, Gilchrist said, "What you have before you is a simple ordinance that adopts the entire updated code."
Before the council unanimously approved the first reading of the ordinance on the new code, Gilchrist talked the members through some history of the text.
"We're several years into this, where the council undertook this rather ambitious undertaking to first develop a committee ... as a city code task force to sit down and review the entire code. They worked very diligently over two years and that's a review of 660 pages of code that the task force went through."
He said the task force, as well as council members, completed the work.
"They made several recommendations, asked a lot of questions, gave direction and then, as you recall, I worked with the council in many work sessions to have you review each chapter as the changes were proposed, asking policy questions for direction and then ... [the task force] worked on drafting the changes to the code and bringing those back, sometimes going back to the drawing board a few different times before the council was ultimately comfortable with a particular chapter."
Gilchrist said significant changes were made to the formatting, the language was updated and an index was added at the end of each chapter to make the document much more user-friendly.
He explained that the removal of older provisions, and utilizing new language that "took out the legalese," the task force produced a document that will be of value to the city for years.
The city attorney said that the number of pages and word count have been significantly reduced.
The old code contained 247,634 words, according to Gilchrist. The current code has 213,477 words. The page count was subsequently reduced from 660 to 565. That's a reduction of 95 pages and 34,157 words.
"It's much easier to read ... and there was a ton of work done by a ton of people who read the entire code and the drafts of the changes made," he said.
Though expressing relief that this work is complete, Gilchrist also added a dose of reality.
"A code is never done," he said. "But now we have a fresh base with which to work."
Adopting the code will come back to the council in December for final approval and will most likely be presented as an item on the consent agenda.
The previous version of the Crystal city code contained 247,634 words. The newly-minted revision has 34,157 fewer words and 95 fewer pages.