Site will also host plant sale
It was supposed to be held last year, but COVID-19 had something to do with the cancellation of the Becker Park reopening celebration last May.
Instead, city officials are sending an open invitation to a "one year anniversary" Becker Park celebration, to be held Saturday, May 22, 10 a.m. to 1 p.m.
The park is located at 5530 Douglas Drive North, Crystal.
In addition to the park reopening celebration, The Crystal Fund will host its annual plant sale at Becker Park to help raise funds to help the city improve parks and open spaces.
"Covid put a wrench into everything and the event was canceled last year," Crystal Recreation Director John Elholm said. "But it's such a popular park we thought that we should be doing it again."
Not only did the city spend several million dollars on improvements at the park, but there were "many donors who helped make the playground happen," Elholm said. "So we really want to recognize the great community members who helped support the project."
City officials will be watching the state guidelines as they pertain to potential restrictions such as social distancing and mask wearing.
"We'll be following whatever the guidelines are at that time," Elholm said.
"Things seem to be changing quickly, so if it were today, things would be different and we would have a lot of requirements. We're working through a lot of those things, but we'll be watching the state guidelines closely."
Elholm said that if there are to be any "substantive changes" the city will abide by those changes.
But he added, "I don't see anything changing that would require us to cancel anything at this point. However, if things take a turn for the worse, you just don't know."
The main festivities of the day, which are scheduled to begin at 10 a.m., are to be held around the playground area.
At this point, it doesn't appear there will be a formal ribbon-cutting, Elholm said, but there will be speakers who will talk about the park project and provide recognition for those who helped support the completion of the project.
Highlighting the other festivities being planned for the day is music provided by a DJ from Kidsdance.
In addition, food trucks will be on site and the Kalpulli Ketzalcoatlicue Aztec Dance will also be performing.
"The park has been very well received by the community and we're excited to be able to celebrate that," Elholm said.
"We had this beautiful new park here that people used and enjoyed, but we weren't really able to encourage more people to come together for a celebration. So we're very, very excited about this opportunity."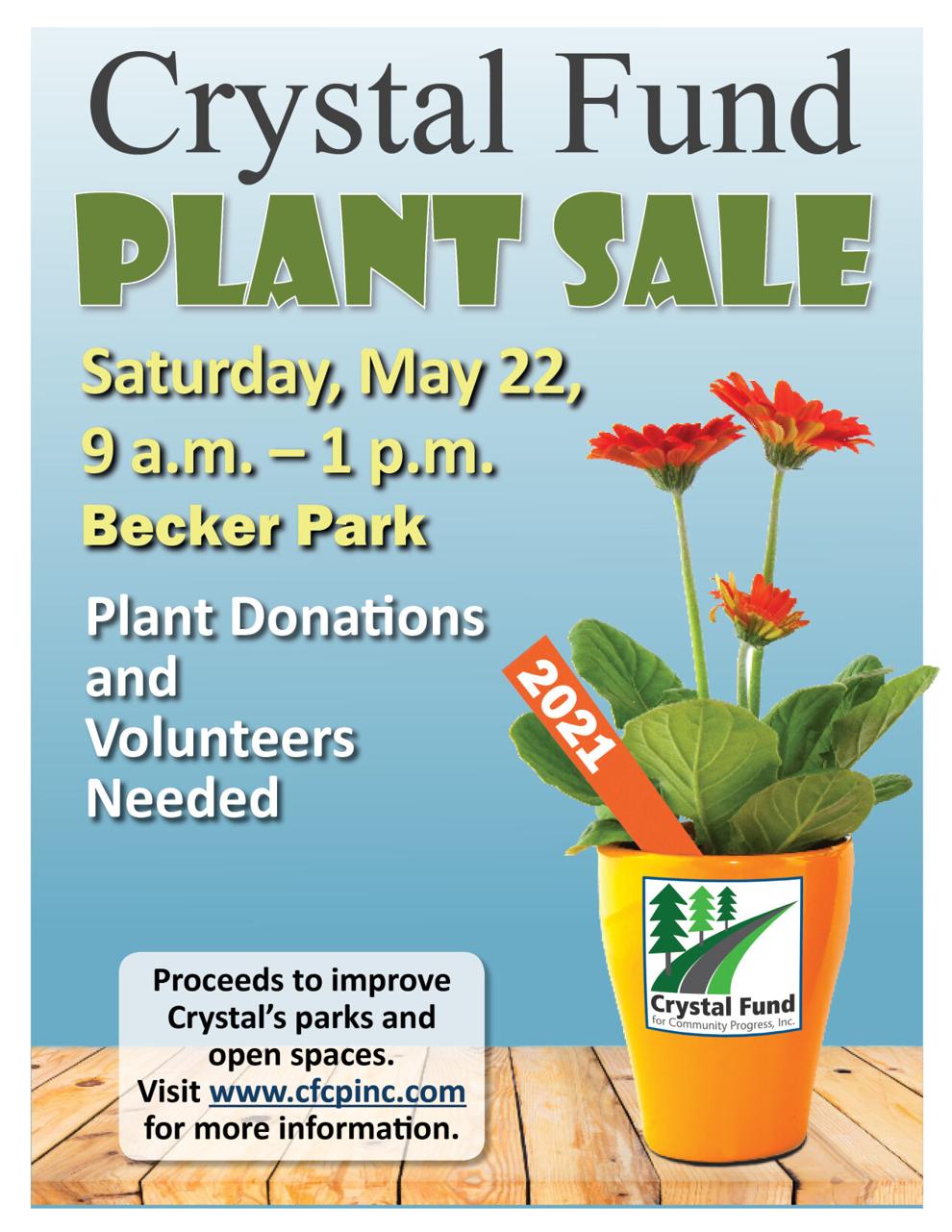 The Crystal Fund, an organization that helps raise funds to improve city parks and open spaces, will be hosting its annual plant sale at the Becker Park opening Saturday, May 22.
The plant sale will begin at 9 a.m. and continue to 1 p.m.
The event has traditionally been held at the community center, but with the Becker Park reopening celebration, Elholm said the decision was made to offer the plant sale at the park. Amanda Dagenhardt, representing The Crystal Fund, said plant donations and volunteers are needed to help on May 22.
Among the opportunities for volunteers are helping neighbors dig out and split plants and place them in individual pots, collecting plants from neighbors, transporting plants to Becker Park, setting up, transporting plants to vehicles during the day and cleaning up.
Plant donation requests include perennials, Dagenhardt said. "We often have an over-supply of ferns, bee balm, and some hostas – fewer common perennials would be great," she added.
Other donations needed are bush plants like raspberries and lilacs, annual plants started from seed, vegetables, marigolds, impatiens, cosmos, coleus, and basil, parsley and dill.
For those interested in donating plants, now is the time to plan, Dagenhardt said.
She suggests placing plants in lightweight containers (the Crystal Fund can provide these as needed), dividing and potting perennials by May 12 so that they have time to acclimate to the pot and perk up, watering the plants leading up to donation drop-off, labeling the container including flower color and bloom time, and coordinating with Crystal Fund Plant Sale team for drop off times.
"All of these things are outside, so that's very helpful," Elholm said. "If they were indoors I doubt we would be having them."
Looking forward to other summer activities, such as Crystal Frolics, Elholm said, "We're hoping to have a normal summer. It won't be 100% normal because of the conditions in place, but it should definitely be better than last year."