On Wednesdays, Moira Knutson sets out two big plastic storage totes on the concrete walkway of her home. One is empty, for donations of 100% cotton shirts, and the second is full of patterned masks. Anyone who happens to be walking by is welcome to take a mask from the bin, free of charge.
Like many people, Knutson was first motivated to sew masks for health care workers when the pandemic began but is perhaps unique in that she never stopped. By her "guesstimate," she's made about 2,000 masks since March.
Nine months later, she sometimes catches herself wondering how she's managed to make masks for so long.
"A girlfriend of mine also makes masks, and sometimes we'll FaceTime and sew together. She and I were talking a while ago and she said, 'Soon we're going to be making Christmas masks,' and I was like 'yep, I know,'" said Knutson. Now, with Christmas just weeks away, Knutson wonders if she should hang on to her Easter-themed fabric a little while longer, just in case.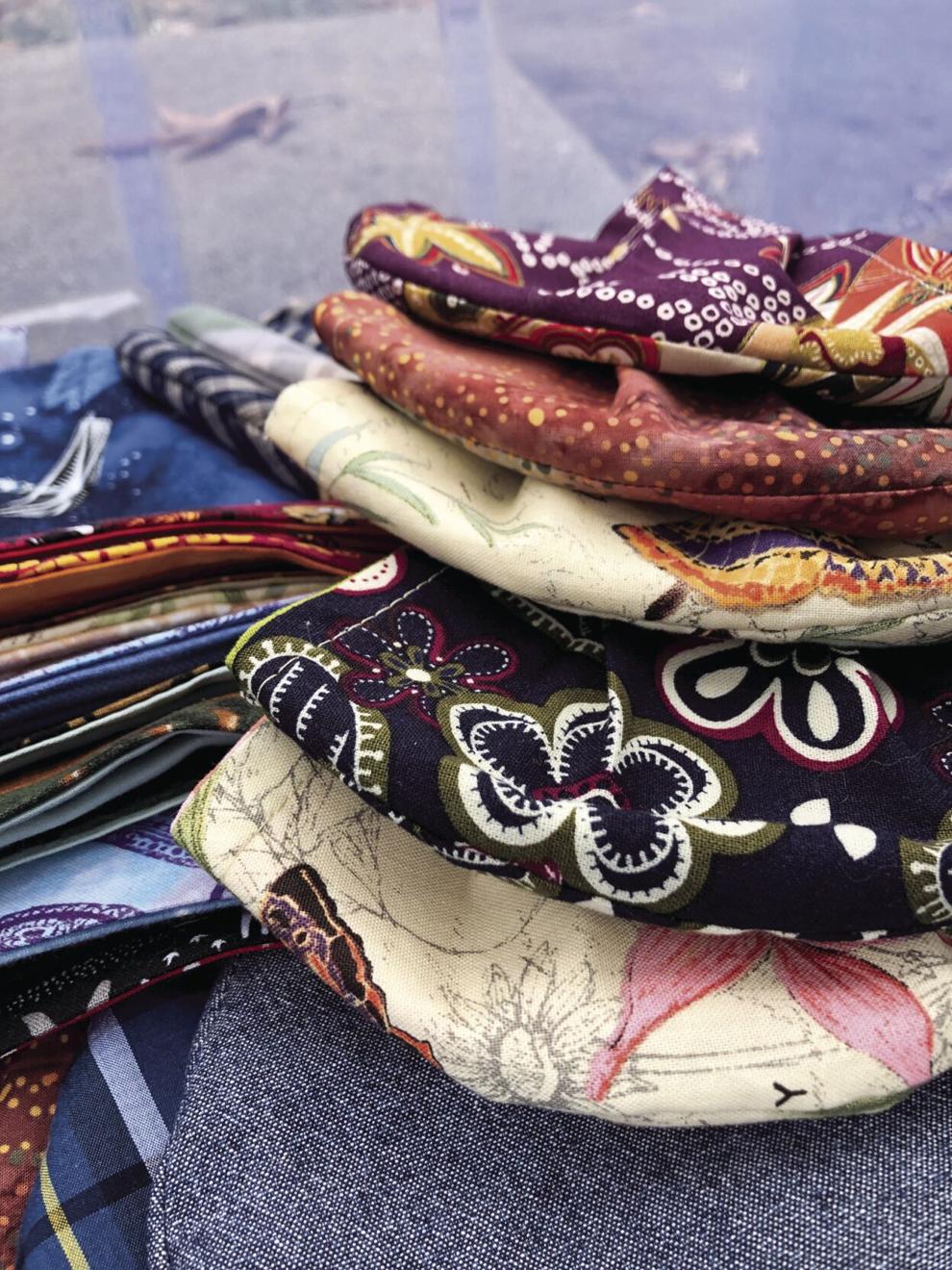 Welcome to the neighborhood
Her masks have been quite a hit in her neighborhood a few blocks from the Minneapolis-Robbinsdale border. In return, her mask-takers have given her gifts of fabric, ponytail holders, thread, even fresh eggs and an offer to trim her trees. People have stopped to thank her or strike up a conversation when they see her in her yard.
It's meant a lot for Knutson and her husband, whose prospects of getting to know their neighbors were slim after moving just as the pandemic was taking hold.
"I've met more people in the last year than I ever did living in Plymouth for 35 years," she said.
Knutson has been on medical leave from her post as a receptionist and education assistant for the Robbinsdale School District's Adult Academic Program in Crystal. She misses the work and is sick of the loneliness that isolation brings, but doesn't have much choice as she and her husband are both considered high-risk for catching a more severe case of the coronavirus.
"So, I'm at home sewing," she said with a laugh.
After nine months of sewing, Knutson can churn out product fairly quickly, she estimates 10 minutes per mask. However, she was hesitant to say she could create one with her eyes closed, though: A specific accident involving her fingers and the sewing machine while preoccupied with one of her video chats came to mind.
Knutson swears by four patterns that she found online and tweaked for her assembly-line style: to have a tote full of masks by Wednesday, she breaks the process into separate days for measuring, cutting and sewing. Sometimes she breaks from her structure and makes them start to finish (her record with this method, if readers are wondering, is 75 masks in one day).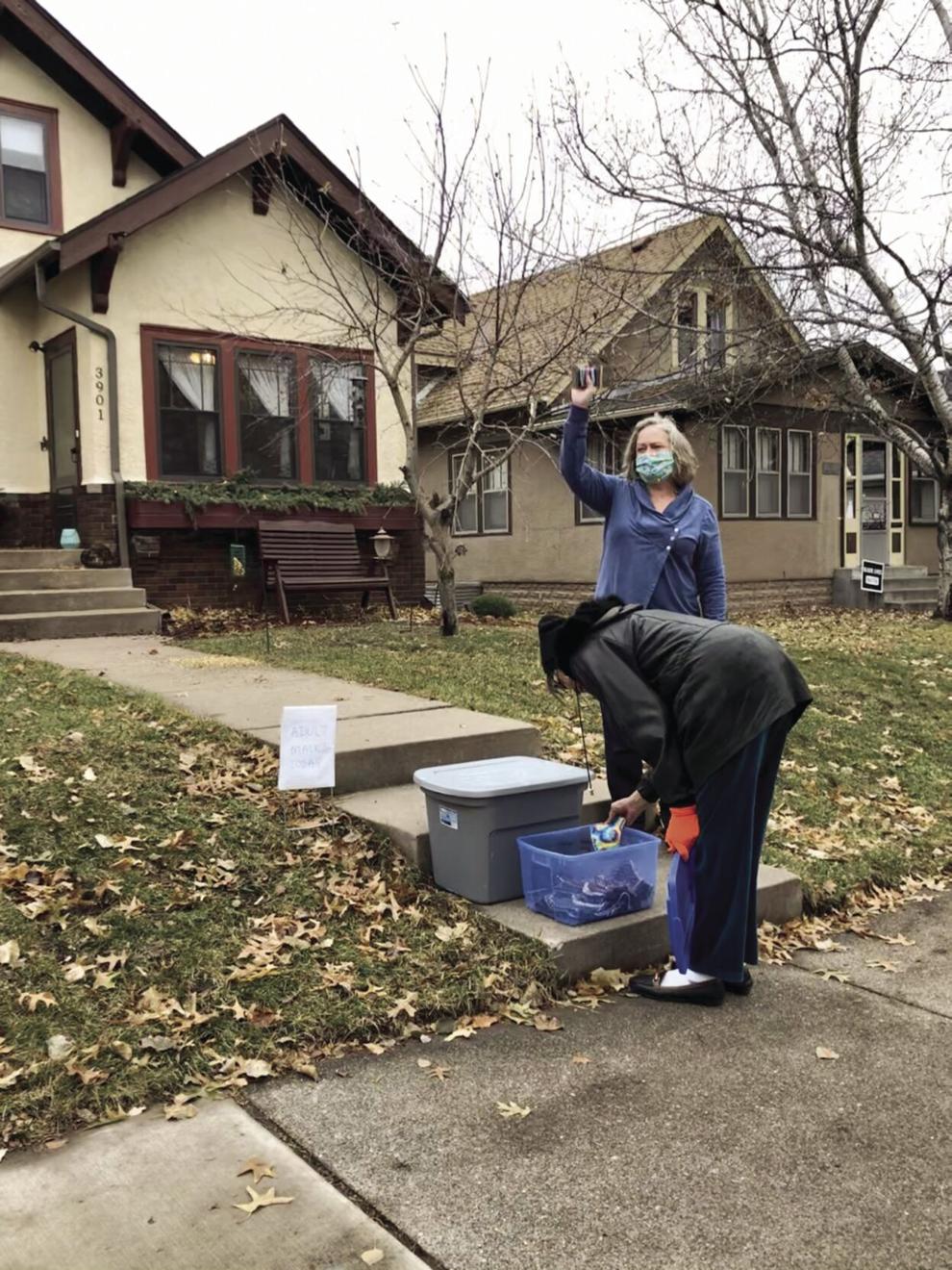 Spotting work in the wild
Though she expects nothing in return, those who pick up masks are welcome to leave a donation of mask material, especially if they have 100% cotton men's dress shirts lying around.
"They're just the perfect material," she said. "When we moved, I only kept the fabric that I'd use for my grandkids, and I knew my husband wouldn't want a sparkly kitty mask. I happened to have one of his old dress shirts protecting a picture frame, and it worked great ... soft, not stiff."
Knutson regularly supplies bulk masks to a woman in the nearby Webber-Camden neighborhood, a host of personal care assistants, a teacher for the Minneapolis School District and that teacher's friend in a North Dakota district. Others have seen her posts advertising the masks on social media and have requested donations. A mix of motivation and an inability to say "no" has kept Knutson from declining a single request.
"They [the masks] go everywhere, I love it," she said. "In August, I was out for lunch on the patio of the Birdhouse and these guys walk in and I go 'Carol! One of my masks just walked into the patio!'"
To anyone wanting to try out mask-making themselves, Knutson said all that is needed is a sewing machine, and a good pair of scissors if they'll be making a lot of masks. Otherwise, they can check out her weekly offerings at 3901 Russell Ave. N. Don't forget to bring a cotton shirt to donate in return.
"I just really enjoy doing this, it's such a hard time right now, in our city and our country. Being able to do something nice for somebody helps," she said.