Two years ago, the audio-visual company AV For You moved from St. Louis Park to a much larger space in Crystal's Winnetka industrial center. Owner Josh Reitan said the thinking was that the business would "be here for a while," so they agreed to rent more space than they needed.
Now, Reitan is eternally grateful for that "lucky accident."
The pandemic has warped the company's business model, which had been growing steadily as an equipment rental service. The company worked with organizers of in-person events like fundraisers, weddings, corporate presentations and galas to provide lights, build stages and manage microphone and speaker systems, displays and live video recording.
After the first year in their new space, employees threw an extravagant roller-skating party to celebrate the company's growth since its humble beginnings in Reitan's Uptown apartment in 2001.
A few weeks later, it was March 2020.
"Literally everything canceled, we had zero money coming in," Reitan said. "It was especially scary because we went from paying $6,000 a month in rent to $12,000. We were like 'What have we done?!'"
As local and national leaders attempted to make sense of what to do about the novel coronavirus, Reitan made the decision to furlough all of his 17 employees. As uncertainty over a return to normal began to stretch into the summer, AV For You's competitors began to announce closures and liquidate equipment.
"We started scrambling," said Reitan. "What are we going to do?"
Reitan realized that demand hadn't disappeared, it had shifted. Organizations that relied on large, annual fundraisers became desperate to host their events.
And then the founder thought of the company's 10,000 square feet of warehouse space, only a fraction of which was being used for storage.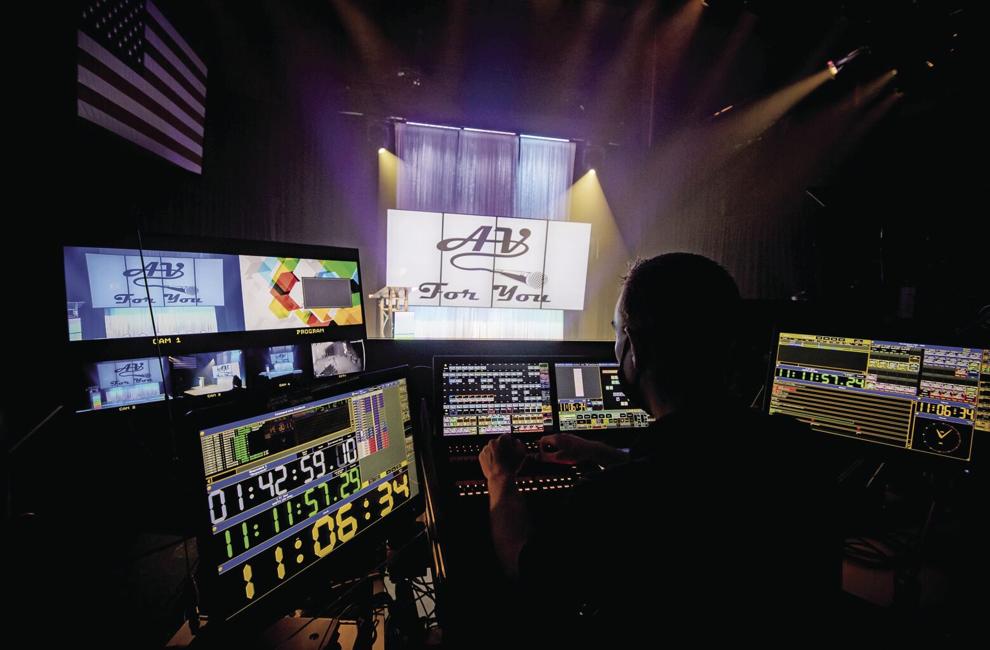 Survivors and casualties
Since the business shifted to virtual events, two studios have been set up in the warehouse. A partnership with Brave New Workshop in Minneapolis gives them access to a third stage, and a permanent studio is being built in Golden Valley. The studios have been used for fundraisers and banquets, panels and DJ sets.
Recently, the company handled the Seven Dreams Education Foundation's annual Bird Bash fundraiser for Robbinsdale Area Schools.
"We've even got a big piece of carpet that we roll out and put in couches and it can look like a talk show," said Reitan. "Really, we can make it look like whatever it is they're looking for."
The sharp pivot in the company's business model brought back 14 employees at its peak in the fall. There has been some inconsistency in demand from season to season, but that's expected in the industry.
"People normally don't plan big events in Minnesota in the middle of winter because it's risky," Reitan said. "So now we're cycling back out of that and getting ready for the busy spring season."
The 4,000 square feet of office space, which Reitan said is "comically large" compared to the 800 square feet AV For You was housed in two years ago, has filled with the tech they need to run virtual events, like a control room to run events occurring in a remote location. A conference room has been flipped into a mini studio for video captures that only feature a single speaker, a stool and a backdrop. That one's been popular with politicians doing reaction videos or addresses to their constituents, said Reitan.
In every other available space are industrial canvas carts full of gear, purchased from now-closed AV companies.
"We're really banking on things coming back to normal," said Reitan.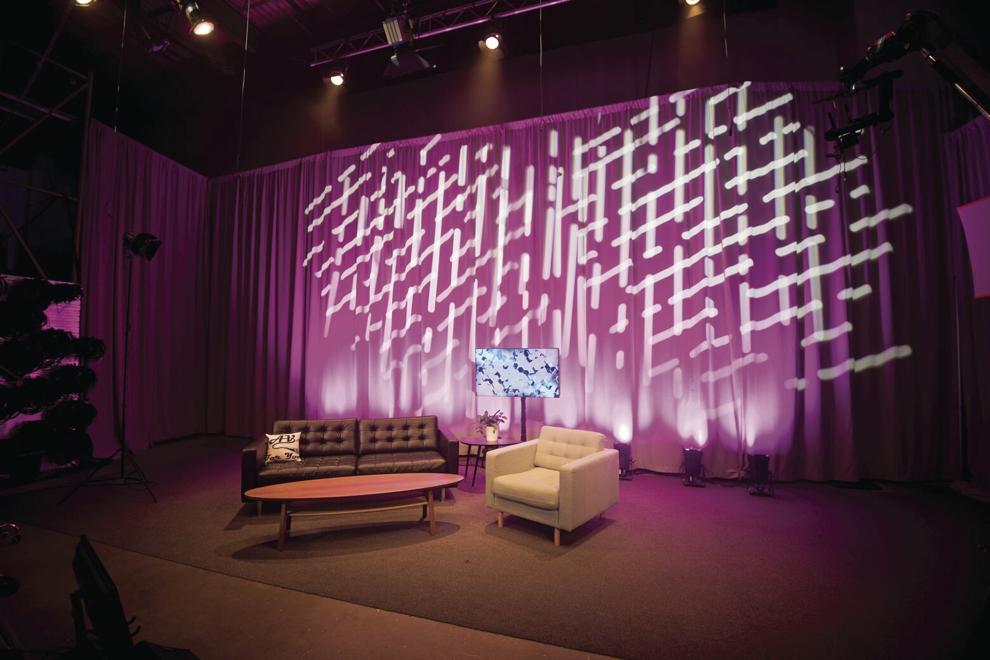 Another pivot in the future?
Surviving AV businesses are now grappling with the long-term effects of a rapid business change and attempting to demystify what virtual and in-person services will be in demand in the future. That's not to mention how work will be reshuffled as a result of so many pandemic casualties, their remains locked away in storage units and scattered around AV For You's hallways.
"The events industry has been turned on its head, it's been completely disrupted," said Reitan. "Once events come back, it's going to be very 'wild west' out there in terms of the playing field."
The company is committing to a future with more virtual events by building the studio in Golden Valley. Reitan thinks that virtual will stay, as it can be cheaper and allows people to participate regardless of where they are.
The company will tear down its warehouse studios when in-person events return, because as Reitan explains, "we can't be recording with the sound of backing trucks in the background."
AV For You has completed hundreds of virtual projects this year, and attracted a solid set of new business that could turn into long-term clientele.
Next month marks AV For You's 20th anniversary. The trials of the last year are definitely cause for celebration, and Reitan anticipates the day when it is again safe to do so.
"When we get our feet under us again, we'll have a party," he affirmed.