This is the time of year for graduation parties and summer celebrations, and the local HERO Coalition wants to make sure those celebrations are safe ones. So, this spring, the coalition has been conducting a campaign among parents and students to encourage safe, substance-free celebrations.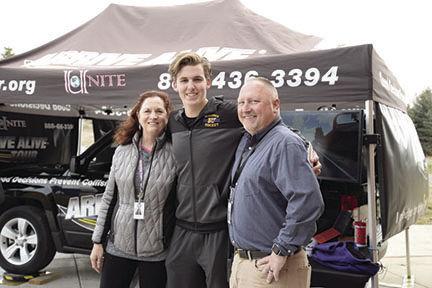 Grad parties and the more unstructured days of summer can be a temptation for under-age drinking, notes Maureen Farrell, Drug-Free Communities project coordinator for School District 110. To ensure these days are joyful and filled with good memories – not accidents, injuries or a possible fatality from a driving under the influence incident – the coalition helped distribute a letter to parents of graduating seniors reminding them of laws around alcohol consumption and encouraging them to monitor parties for possible under-age drinking.
The letter was issued through the Carver County Sheriff's Office and signed by law enforcement officials, Waconia High School Principal Mark Fredericksen and Mark Sullivan, chair of the HERO Coalition.
The letter also highlights Waconia's new Social Host Ordinance, which took effect October 2017, that makes it unlawful for any person to knowingly host an event where underage persons are consuming alcohol.
Western Carver County has had somewhat of a reputation for DUIs and under-age drinking, but increased patrols, local social host ordinances and awareness campaigns are having an impact in diminishing that reputation, notes Ben Karnes, retired Carver County deputy and former school resources officer, original HERO Coalition member and new incoming HERO chair.
At the student level, the HERO Coalition staged an event earlier this spring that brought an "Arrive Alive Tour" to Waconia High School. The educational program was developed by a health and wellness organization called UNITE to heighten awareness to the dangers and consequences of drunk driving, distracted driving and texting while driving.
The program features a package of fact sheets, posters, videos and a popular driving simulator with virtual reality goggles that enables instructors to tamper with student drivers' sobriety on the computer.
"The event was a way to have fun, but also a way to help students realize how physical impairments and distractions can severely affect their driving," said Dustin Johnson, student HERO Coalition coordinator. Not just driving under the influence, but also texting while driving – which is just like driving drunk, he notes.
"It was sobering to learn what can happen in the time you look down to read or send a text," said Joe Huskey, HERO Coalition student leader and one of the event organizers.
Keeping students sober and living healthy, substance-abuse free lives is the primary mission of the HERO group. And throughout the year the coalition of educational, law enforcement, mental health, business and faith-based partners conducts other activities to create a community of valued, stable, healthy young people.
"It is easier to build strong children than to repair broken adults," Farrell said.
Some HERO Coalition accomplishments this past year included training and education opportunities, like the ACES community conference in March that focused on the impacts of stress and adverse childhood experiences, such as abuse, violence and divisive family conditions, on young brain development. Strong positive adult influences are important in overcoming those effects, Farrell explains.
At the school level some HERO Coalition student leaders participated in a Community Anti-Drug Coalitions of America (CADCA) training summer trip to Atlanta. There was also a street art fair coordinated through Martha Kurtz of Creature Works Labs and after-school game events. Get ahead in the game of life—steer yourself and others in a good direction, was the theme of the gaming events.
The activities are a way to get more students involved in the HERO coalition and become role models for students not using alcohol or other substances, Johnson said.
And the bottom line is despite the attention that users get, most young people aren't using drugs or alcohol, Karnes notes.
"The HERO Coalition continues to work to discover new ways to help youth learn to treat others with respect and make healthy and positive choices," Karnes said. "And to help them believe that 'Hey, I'm a cool kid and I'm having a good time without alcohol or drugs.'"
Follow The Patriot on Twitter @waconiapatriot