The Waconia Patriot sent community editor Al Lohman to the Carver County Fair last week. Here are a few highlights and musings.
For 4-Hers and general exhibitors, the fair actually began on Tuesday, Aug. 7.
That is judgement day – a day when fair entrants submit their art, crafts, projects, canned and baked goods, produce, floral arrangements and other creations for judging. That evening, under cover, judges review all the entries and award ribbons for items that will be displayed throughout the five days of the fair.
According to fair organizers, entries were down slightly this year even though attendance was up.
The 4-H building doesn't officially open until Wednesday but it's not uncommon for an inquisitive 4-Her to slip in to see how she/he did on their project before the official results are made public. Top ribbon winning 4-Hers get to show their projects at the Minnesota State Fair later this month.
Tuesday is also a day when the livestock starts to arrive, carnies assemble midway rides and vendors at this year's fair start to pull together their booths and exhibits. The fair hasn't even started, but already it has been an active day.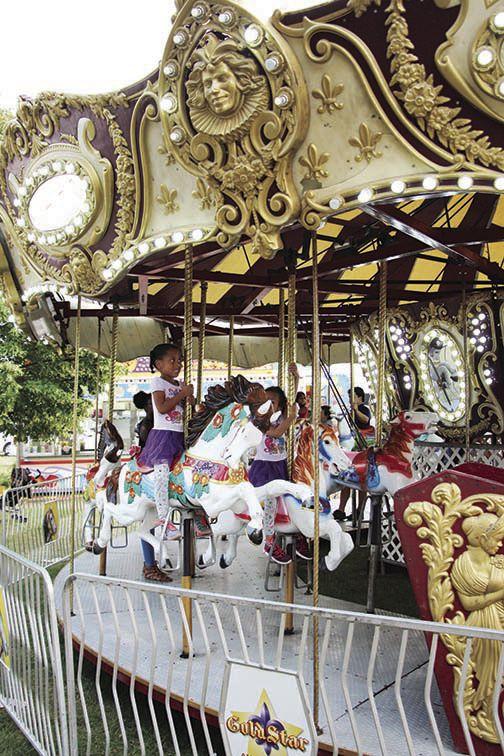 The first day of the fair is fresh with anticipation, manicured grounds and opening day visitors hoping to avoid the crowds, experience cooler weather, and check out what they might come back to later in the day or week.
It's 7:30 a.m., but already there is a poultry show going on and more animals are being unloaded. Some owners have slept in the barns with their animals all night to make sure they are okay in their new surroundings.
At the south gate, members of the Cologne Lions club are there to take tickets and greet visitors as they have been since 1976. Lions volunteers took over that duty more than 30 years ago to save the fair board money and raise funds for their own community projects, according to Roger Storms and Tanya Golka, who have got the morning shift. It was a warm day last Wednesday, but Storms remembers one year when it was so cold and damp that volunteers were bringing duck calls "because it seemed like duck hunting season."
One of their first visitors is an elderly fair-goer who has been coming to the county fair for years and now ambles over from her residence at Westview Acres.
The fair has been around for 107 years. Humankind has been in this area for 2,000 years based on the dating of relics uncovered at Coney Island as part of a Carver County park development project. At a reconstructed historic granary on the fairgrounds the Carver County Historical Society (CCHS) displayed some of those artifacts.
The historical society is the official keeper of those relics, so if you missed them at the fair, they will be on display at the CCHS museum later this fall, according to Wendy Petersen Biorn, executive director.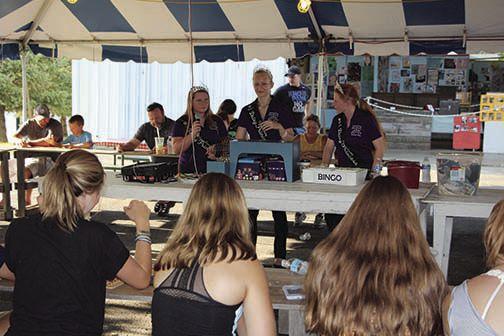 Thursday's visitors run the spectrum in age. Groups of young children in colorful T-shirts from local day care facilities are led around the fairgrounds, looking bright-eyed at the animals, rides and other attractions.
It's also senior day – a day when senior citizens get in the fairgrounds at half price. So, groups of individuals from area senior living communities—many in wheelchairs – are there too, perhaps rekindling memories from their childhood fair days.
At 11:15 p.m., one of oldest and last seniors on the fairgrounds – the author's 90-year-old mother – slowly departs after watching her teenage grandchildren show llamas.
Llamas have become one of the main attractions at the fair and Carver County has one of the largest 4-H llama programs in the nation with more than 80 kids participating. So, two full evenings of the fair are devoted to showing llamas, running them through an obstacle course and dressing them in creative costumes.
If llamas aren't your thing, there are plenty of other shows too: beef and dairy cows, horses, goats, poultry, rabbits, sheep and hogs – even pets.
More than 100 vendors are at the fair this year, selling food, services, products and providing information. They spend five long, oftentimes hot days at the fair. It is worth it? Is the fair really a good venue for showing your wares?
Definitely, says Josh Payton of Garage Experts. His business is close, in Chaska, and the county fair presents an opportunity to attract local area clients, which saves him time and travel in providing estimates and service.
It's not like at the Minneapolis Home & Garden Show where customers come from all areas, he said. And it costs far less to set up a display at the county fair – around $200 versus $2,500 or more at the Home & Garden Show.
Jacci Haley, local consultant for Usborne Books has a similar view. She's not sure how many books she will sell, but the fair is a way to make connections to stage other book fairs.
Several other vendors we spoke with agree: It's all about creating visibility and awareness, whether you are a political candidate, a service provider, or sell a product.
Ironically, the Dish, Direct TV and Broadband Corporation entertainment services exhibits all are almost next to each other. Fortunately, no fights break out among service providers.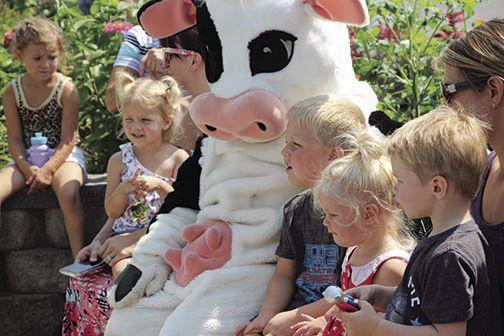 The midway remains a place to seek a thrill on a ride and impress your date on a carnival game – or totally embarrass yourself. And both were on display each evening at this year's fair.
The fair has everything, even a Sunday morning church service in the Entertainment Center – maybe to atone for indiscretions from earlier days at the fair? Actually, the service was started 10 years ago to give fair exhibitors and visitors a place for Sunday worship, according to Chuck Thiel. He and his four generations of Jolly Ramblers provide music for the service and have been performing fairly regularly at the fair since the 1970s. While mainstream church attendance has dropped over the years, fair church attendance has grown, Thiel said.
Okay, you can show a cow, but what about a rabbit? You're a grand champ llama showman, but can you show a chicken? Round robin is the culminating animal show on Sunday, the last day of the fair.
It's an event where the show champs from each animal class show all other animals. Demonstrating all-around animal knowledge and showmanship versatility, Audrey Steinhagen was this year's round robin champ.
Here's the fair food fare tally for the week. Among the consumed items: cheese curds, fresh kettle corn, Waconia Lions brats with kraut, an Octoberfest German sandwich offering from Hopper's, milk and ice cream treats from the Dairy Association building, a bucket of fresh French fries, mini doughnuts and several offerings from the 4-H food stand. The food stand is a big 4-H fundraiser and 4-Hers and parents are expected to work at least one shift selling hamburgers and other delicious treats daily at the Carver County Fair.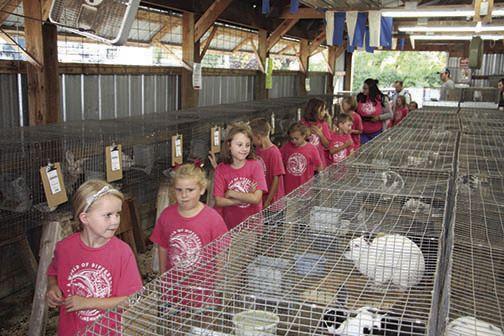 By Sunday evening, as the crashes and roaring of the demolition derby in the grandstand wind down and the Waconia High School jazz band wraps up its last set on the Patio stage, the mood starts to mellow. Trucks show up to carry livestock back to their home barns and beds. At 8 o'clock, kids and adults begin to scoop up their creations that have been on display for the past five days in the 4-H, education and agriculture buildings. The walls are now stark and the buildings feel very empty.
At 10 o'clock, as the Ferris wheel lights click off for the last time, the 107th Carver County Fair is essentially over except for all the cleanup. And this refrain from an old Patti Page song sifts through the author's mind as he departs the fairgrounds:
The music has stopped and the children must go now,
Have I stayed to long at the fair?