Valley View fourth-grade teacher Peg Nelson has been named the 2019 Columbia Heights Public Schools Local 710 Teacher of the Year. A total of 20 nominations were received; eight advanced as finalists. Nelson is the 19th recipient of the award, representing all Columbia Heights Public Schools teachers.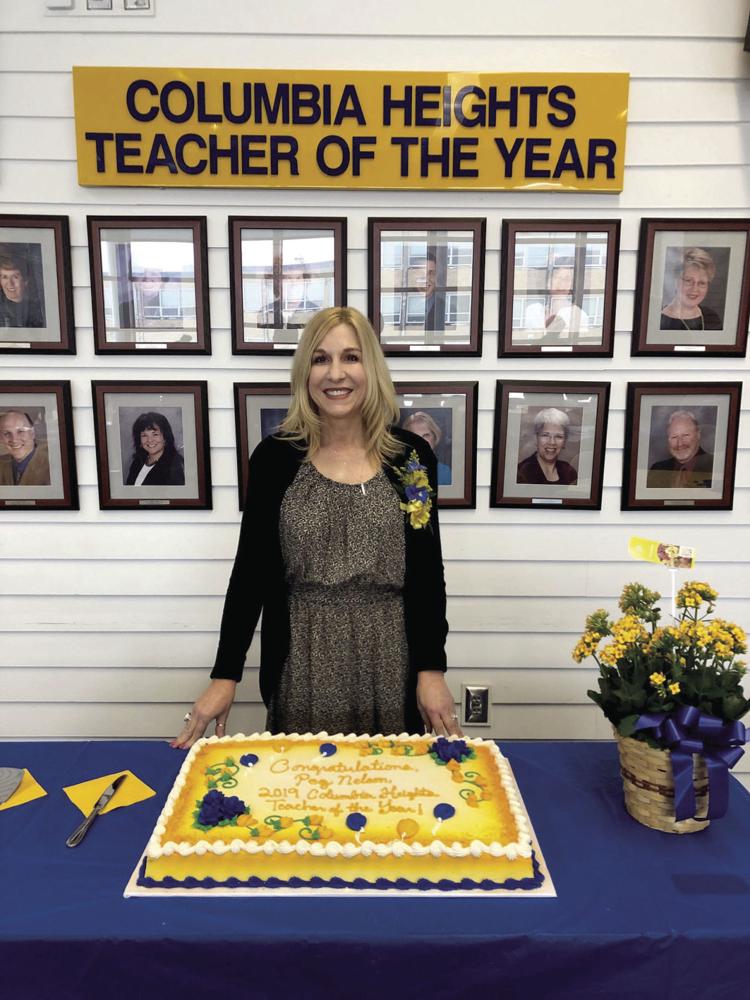 "I was completely in shock, it was surreal moment for me," said Nelson. "Afterward, I was super excited! My students and coworkers were hugging me, jumping up and down with me, and congratulating me – it was awesome! There were, of course, some tears of joy."
Nelson began her career in the District in 1993 as a teacher at Columbia Academy (then Central Middle School). In 2005, she moved over to Valley View and has taught both grades three and four during her tenure. Throughout her years of service, Nelson has also been involved in the district's after school ENCORE programming, has served on various leadership teams, mentored new teachers, taught summer school and been a student council adviser.
"Peg is fantastic," said President of the Local 710 Teacher's Union Daniel Honigs – who serves alongside five previous Teacher of the Year award recipients to make up the selection committee. "Everything she does, she does for her students."
Honigs noted that the selection committee received many stand-out nominations – all for educators who have done incredible things for the district and community at large.
Part of the selection process includes an essay from each nominee. One section of Nelson's essay immediately grabbed the committee's attention: "Education is key, but school is only part of the equation," she wrote. "Children are lacking basic support, food, shelter and safety, not to mention physical and mental health resources. We need to support families that are living in poverty."
Nelson embodies all aspects of the district mission – "Creating worlds of opportunity for each and every learning. All belong, all succeed." Regardless of a student's background or experiences, Nelson goes above and beyond to ensure she's doing as much as she can to support every student.
Nelson says her teaching philosophy is based on three important beliefs: building a sense of community within the classroom; offering opportunities for all students; and preparing each of her students to be lifelong learners.
"Teaching gives me the opportunity to build relationships with my students and families," said Nelson. "As a teacher, I have the ability to shape and mold a child's life so they can learn valuable life lessons to help them become successful in life."
"Everything Peg does has an emphasis on improving her skills as an educator – even after years of experience," said Honigs. "She has put immense time into her own ongoing training – with excitement – and has continuously brought new skills and philosophies back to the District to share with colleagues, ultimately making an impact on the entire District."
Nelson's favorite part of working at Columbia Heights Public Schools is the community. "I love the students and families, and the staff and teachers. I have been [with the district] for 26 years, so I've been able to teach siblings of former students and even children of former students," she said. "I have met so many amazing students over the years. I love that CHPS allows me to grow as an educator and sends me to valuable trainings, like AVID or Responsive Classroom. CHPS also allows me to facilitate programs like ENCORE and deliver professional development to staff."
Superintendent Kathy Kelly noted how fortunate the district is to have such an effective and dedicated leader.
"Ms. Peg Nelson exemplifies all that is the very best about teaching and learning in Columbia Heights Public Schools," she said. "As a classroom teacher, Nelson is child-centered, caring and gifted at differentiating the learning for each and every learner. As an education professional, Nelson is a curious and continuous learner both for herself and supports other by bringing specific educational and professional improvement programs to others a coach and mentor."
Nelson received her bachelor of science in elementary education from St. Cloud State University and a master's degree in teaching and learning from St. Mary's University.
The award is sponsored by the Columbia Heights Federation of Teachers Local 710. With her selection, Nelson will represent the district for next year's Minnesota Teacher of the Year award.
(Photo provided by Columbia Heights Public Schools)
Valley View fourth-grade teacher Peg Nelson has been named the 2019 Columbia Heights Public Schools Local 710 Teacher of the Year.