Columbia Heights has joined the growing list of cities in the metro to house a CBD-based business.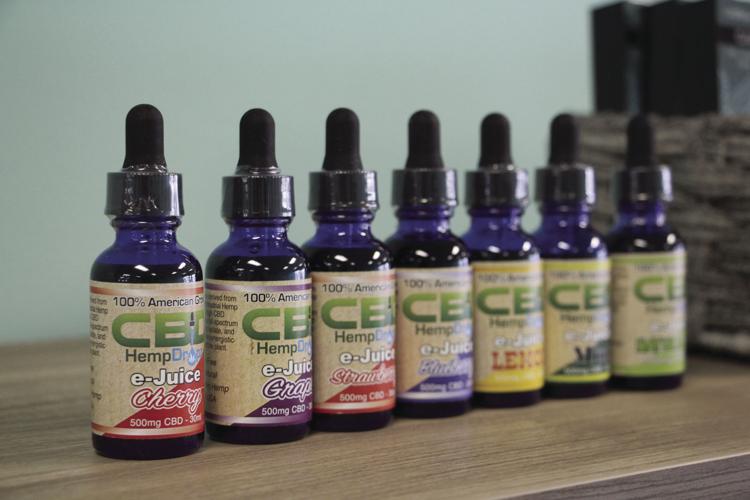 In February, Doug Herkenhoff and Abbie Schneider opened Minnesota Hempdropz, a CBD retailer, on Central Avenue.
Short for cannabidiol, CBD oil is extracted from the hemp plant using alcohol or carbon dioxide and is believed to help with everything from insomnia to epilepsy. Unlike its cousin THC or tetrahydrocannabinol, the active ingredient in marijuana, CBD does not get users high.
"It has about 80 percent of the healing benefits of marijuana," said Herkenhoff.  
Benefits Herkenhoff has witnessed himself.
"My wife's older sister had a lot of digestive issues and there were days that she couldn't even get out of bed," he said. "She started taking CBD and it really helped her. We wanted to help other people so we opened our own store."  
Although benefits of CBD products do vary from person to person, Herkenhoff says most people find relief from inflammation, which may relieve pain.
According the Hempdropz website, CBD can also help treat glaucoma, anxiety, depression, nausea, epilepsy, arthritis, PTSD and more.
Additionally, Herkenhoff said CBD can be potentially effective in fighting the states opioid crisis but clinical studies have yielded mixed results.
Products sold by Hempdropz include gummy-style candy, pills, lotions, bath bombs, teas and vape products but Herkenhoff says their number one seller is a water-soluble solution.   
"Most companies don't carry it but it is processed in a way that you are going to absorb as much of the CBD that you can," he said. "It stays in your system for a pretty long time so it works a little bit better but whatever way you want to take it, we can find something for you."
Although CBD products are not currently regulated by the FDA, with the exception of one CBD-containing drug that treats certain pediatric seizures, Herkenhoff says each product is produced from 100 percent USA grown organic hemp under strict guidelines in Colorado.
"We can show you exactly what is in that bottle that you are buying," said Herkenhoff. "There are a lot of companies that don't do that. It is really something that you should be careful abut."
Herkenhoff also encourages customers to educate themselves before using any of their products.
"I think the most important thing is for people to do their research," he said. "I want to make sure that you have done your due diligence."
According to the Hemp Business Journal, the CBD industry reached $500 million in 2018 and is projected to reach $2.1 billion by 2022. CBD products are legal in all 50 states and more than 40 countries.
Customers must be over the age of 18 to purchase products from HempDropz.
Minnesota Hempdropz is located at 4110 Central Avennue NE #206 in Columbia Heights, MN 55421.
(Sun Focus photo by Sam Lenhart)
CBD retailer, Minnesota Hempdropz, has opened a second location on Central Avenue in Columbia Heights. Products offered include gummy-style candy, pills, lotions, bath bombs, teas and vape products