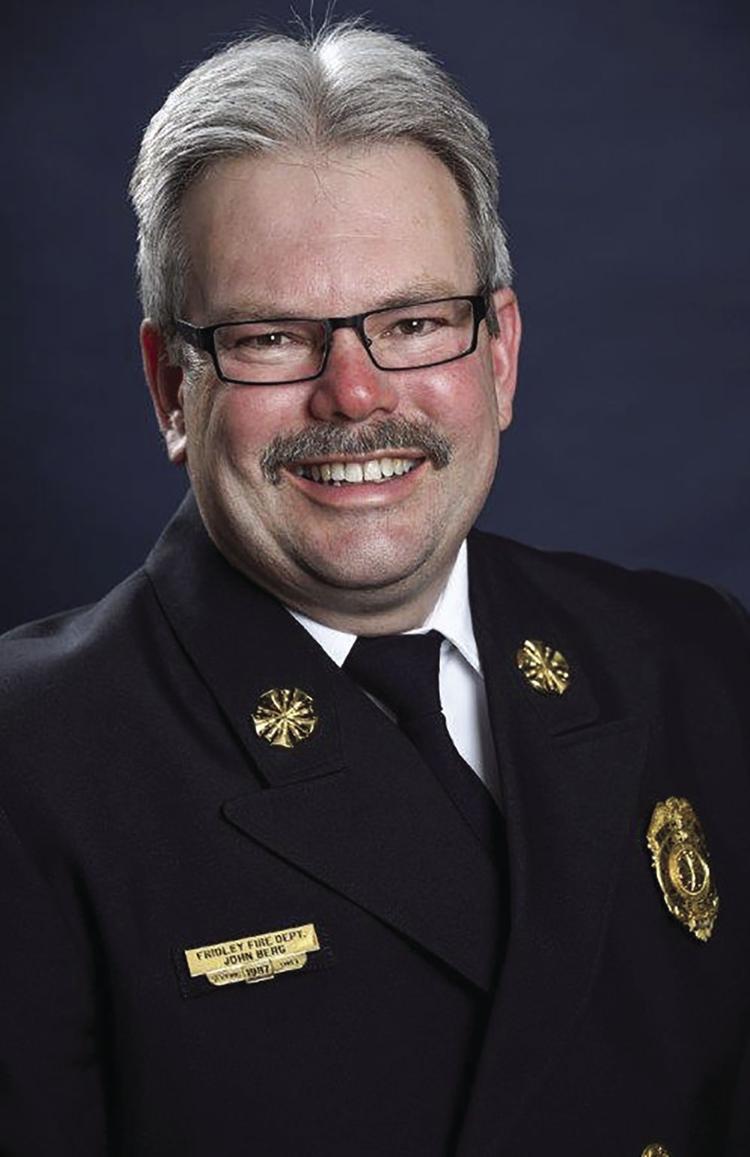 Fire Chief John Berg retiring after four decades of service
After three decades with the Fridley Fire department, nearly 40 years of firefighting, and a lifetime in the north metro, a familiar face retired at the end of June.
Chief John Berg spent most of his career as a firefighter for the Fridley area – or as he would simply call it, "home."
Berg's love for firefighting and public service stemmed from his childhood and has only grown through the years. Growing up in Columbia Heights, Berg's father worked closely with one of the city's paid, on-call captains who later started the first Fire Explorer program in Columbia Heights.
When the program launched in 1978, Berg became one of the first three Columbia Heights Fire Explorers. As explorers, they served as support staff for the firefighters during calls, received EMT training and had the opportunity to attend the Opportunities in Emergency Care medical program through Spring Lake Park schools.
All three of the original explorers would become fire chiefs for the metro area.
After graduating high school, Berg joined the Columbia Heights Fire Department as a paid-on-call firefighter and later transitioned into a full-time role. He also bought his first house in the neighboring city of Fridley.
One evening, Berg heard a call go out over his radio for a vehicle fire in Fridley near his new residence. He stopped by the scene as an onlooker and two Fridley chief officers later teased him for arriving so quickly, but not showing up in his firefighter gear.
They also challenged him to join the Fridley fire department. He gladly accepted a paid-on-call position with Fridley in 1987 and continued to serve the Columbia Heights community in a full-time role for the next two years.
Berg has always had a love for learning and developing new skills.
In 1989, he decided to go back to school to be an aviation mechanic and worked for Northwest Airlines, while still serving in a paid-on-call firefighter position for Fridley. He was then promoted to a captain position and began to gain command and supervisor experience while working for Fridley full-time.
The structure of the department changed in 2001 when Deputy Chief Larson announced his retirement. Two positions were implemented as a replacement – assistant fire chief and fire marshal. Berg was selected to fulfill the assistant fire chief position. He enjoyed the role because of its involvement in coordinating training, handling operations, executing performance reviews and working closely with staff.
Berg said he gained a lot of administrative experience through "trial by fire" – both literally and figuratively - that prepared him well for his transition to fire chief in 2003. He continued to serve as chief for the next 16 years.
Even after nearly four decades of firefighting, Berg still jumps up when a call comes in.
"I love my job and that every day is different. It sounds cliché – but it's true," Berg said. He also loves the camaraderie that comes from working so closely with his fellow firefighters and in difficult situations.
He enjoys the challenges of the job and figuring out ways to innovate. Over the years, he helped lead great advancements in how we provide fire service that makes the job safer and more efficient. A few of the notable achievements include:
• Implementing full-time captain roles to have leadership presence 24/7;
• Prompting a space study and providing direction on the new Fire Station 1 at the Fridley Civic Campus which was built to accommodate full-time staffing;
• Working with law enforcement and communications to implement a new public safety data system; and
• Making connections throughout the city to have public safety staff present during large city events.
While his responsibilities changed through the years, Berg has always been passionate about calls for service – and he has experienced quite a variety of them.
His most memorable calls were when he had command of fire response to two large storms – the straight line winds in 2005 and a tornado that occurred in 2011. Fridley firefighters responded to gas leaks, downed power lines, hazards, and rail cars that had turned over, as well as provided rescue and EMS services.
He also had the unique opportunity of being part of the Minnesota Type III All Hazards Incident Management Team deployed to the Florida Keys for Hurricane Irma. Berg helped coordinate food and water distribution for all of Monroe County. Through that experience he gained skills in large-scale incident management that easily transitioned to help Fridley better prepare for major events.
As Berg reflects on his years with the city, he is glad to have helped provide safer and more efficient fire service to the Fridley community and train great firefighters to execute these services.
"I'm really here to serve my team, who then protects our community," he said. "This is a fantastic group of firefighters. They do the job. They do the work."
He went on to explain how much he will miss his fire family, serving his community, and the adrenaline rush he still receives when going out on calls.
Berg looks forward to the opportunity to travel and is excited to start a new, part-time job doing something else he loves – teaching scuba diving and leading group dive trips.