A pool, gymnasiums, a hotel with a new golf clubhouse, a BMX track, more trails and better directional signs highlight the grand vision of the National Sports Center going into the future.
The 660-acre Sports Center campus opened in Blaine in 1990. Today, it includes 54 grass athletic fields, an eight-rink ice arena, a stadium, two different facilities to provide multiple options for expos, a 58,000-square-foot indoor facility with FieldTurf, an 18-hole golf course dedicated to teaching youth the game, a wooden Velodrome track and a 180-bed residence hall.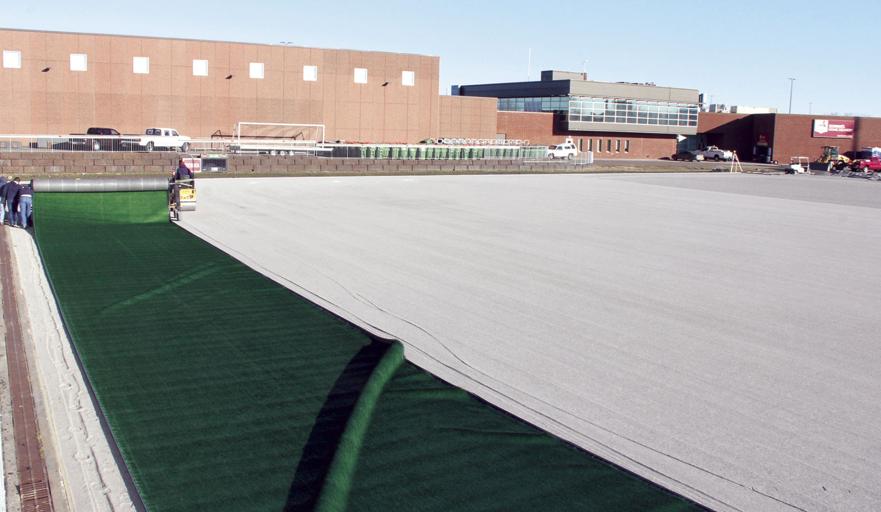 It is obvious to anybody driving by the National Sports Center campus that a lot of changes are going on.
The city of Blaine is reconstructing 105th Avenue and Spring Lake Park Schools is building a new elementary school.
The NSC hired LHB, an agency that provides engineering, architecture and planning services, to assist with the master plan update.
Barclay Kruse, NSC spokesperson, cautioned that the master plan will never be an inflexible document. He saw the process as a community outreach to see what others would like to see.
For example, Kruse said representatives for separate groups that are interested in constructing two separate or a combined facility for pools and gymnasiums approached the NSC after the community center and senior center question failed in the November 2016 election.
"That discussion may not have happened without the master plan process," Kruse said. "It opened up ways for the public to give opinions and interact with us."
A lot of ideas came in throughout 2017 when LHB was crafting the master plan. Absent from the plan are cost estimates for each project, but Kruse said the NSC has a very rough estimate of $250 million to complete all the projects.
It would be a guessing game to state when work will begin. Maintenance projects such as a new refrigeration system for the ice arena and replacing old roofs and signs damaged by the hail storm last summer will be among the highest priorities.
"We don't have a firm timeline," Kruse said.
Funding can come from user fees through rentals for practices and games and the large tournaments. Sponsorship funding will also be sought. Kruse said a financing idea for a pools and gymnasiums facility is partnering with a health care company for sponsorship.
The new artificial turf that started being installed in the NSC's stadium on Dec. 1 is being paid for by user fees and sponsorship revenue, according to Kruse.
A BMX track was a popular enough request that it got included in the master plan. Kruse said it would be inexpensive to build and only take one or two soccer fields away. Kruse said this would be another opportunity to ask sponsors to fund the facility.
If these projects come to fruition, the BMX track and pools-gyms building would be located on the north side of 105th Avenue and west of the Invictus Brewing business that is now under construction.
The Minnesota Amateur Sports Commission is the state agency that owns the 660-acre NSC campus. While some of the land cannot be leased by the MASC, it has the option to lease property where the mining pit has been. This was once going to be a sports-theme retail district called SportsTown USA, but the concept never materialized. But the ability for the NSC to lease this property never went away, according to Kruse.
Golfing legend Jack Nicklaus has a team still considering the NSC for a new hotel and clubhouse, but Kruse said they are still analyzing the financial feasibility.
Kruse said a hotel would be a great amenity to have for people traveling to the NSC. And the NSC has been interested for awhile in updating its clubhouse at Victory Links if it can find a partner to pay for it.
"We're not going to spend public money on a big fancy clubhouse," he said.
Kruse said the Victory Links Golf Course itself is doing well financially. The biggest change being suggested in the master plan is putting lights up on the driving range.
One item that came up over and over again was better signs to direct traffic and more trails to make it easier for pedestrians to get from Point A to Point B.
The new 105th Avenue will be completed next year and include sidewalks on both sides of the road and roundabouts for walkers to have a place to wait for traffic before they cross the road.
Kruse said more parking lots are planned for the north side of 105th Avenue.
The NSC also wants to put in 12 more grass fields on that side of the road. A frequent complaint that the NSC is aware of is people parking in the retail lots on the opposite side of Davenport Street during the larger events. Kruse maintains that the NSC has enough parking spaces and it uses signs to try to direct people to the different lots. But some people just do not want to park in the far corners of the NSC campus and walk a few extra minutes, Kruse said.
A continuing presence on the campus will be Minnesota United FC. Although the professional MLS team no longer plays its games at the NSC's stadium and will be moving into a new stadium in St. Paul next season, Blaine continues to be home to the training facility.
Minnesota United FC recently paid for new FieldTurf inside the Sports Hall and on Fields C-1 and C-2. The franchise also completed a locker room and players lounge renovation in early 2017.
Kruse said the typical MLS team's training facility is far away from the public's view for greater privacy. Having the team train on the NSC campus gives opportunities for young players to watch practices, attend camps and tour the locker room.
"Years from now I think it will be viewed as being visionary. Future ticket buyers are playing soccer here right now," Kruse said.