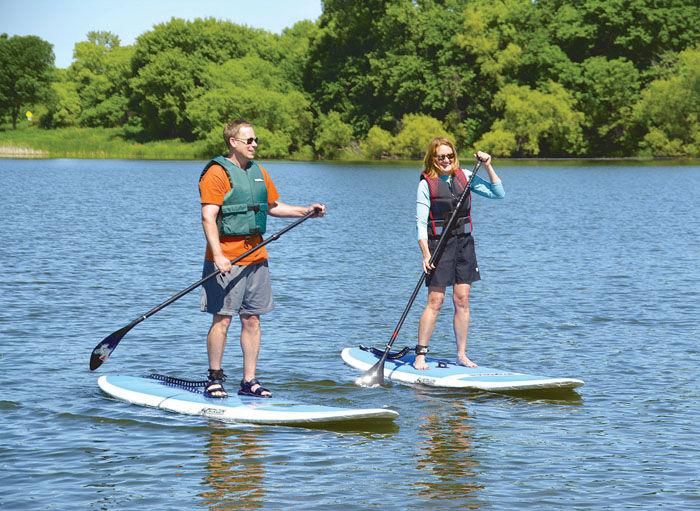 Former Eden Prairie Mayor Nancy Tyra-Lukens is a couple weeks out from her last city council meeting as mayor. Since then, she's had some time to breathe — and, already, time to miss those she left behind.
"It definitely feels a little bit like a lifting of a burden — not that the job is overwhelming, but because you're always thinking about what you need to do," said Tyra-Lukens. "But, I miss being with all the people I worked with before. It's such an interesting job, and I do miss that aspect of it."
It's a job she had for quite some time, in two separate stints — from 2002-2006, and again 2014-2019, when she declined to seek re-election and was succeeded by Ron Case.
In the intervening times since 1994, she's served on the council, racking up more than two decades of service on the Eden Prairie City Council dais.
That's resulted in innumerable contributions to the capital and social fabrics of the city, and by her account, a mountain of meeting records and other government paraphernalia.
"I've held on to a lot of that, because things come up — you might be asked a question about something that happened six years ago," said Tyra-Lukens. "So, there's a lot of cleanup."
But, past some pre-spring cleaning, Tyra-Lukens said that she was looking forward to having more time for the personal side of her life than she's had consistently for over 20 years.
"Hopefully, I'll travel more, because I really do enjoy traveling," said Tyra-Lukens. "We have a second grandchild on the way, and I want to spend more time with the grandkids, too."
A self-described avid tennis player, Tyra-Lukens said she also planned to pursue a related interest that was sparked by her work as mayor in the last decade: pickleball.
"I was introduced to pickleball, of course, through being mayor," said Tyra-Lukens, "I really enjoyed it, but it was hard to find time for tennis and pickleball and everything else, so now I have time to do that."
She does not plan, however, to step completely out of public service. Tyra-Lukens said that she will be serving on the board for the Center for Energy and the Environment, a policy advocacy organization that operates in a few energy markets throughout the country.
"It's been around for a while, and their goal is to help businesses and residents be more energy efficient," said Tyra-Lukens. "They work a lot with the utility companies and do a lot of research about energy efficiency. They try to advocate for policy regarding energy efficiency and alternative fuel."
Tyra-Lukens pointed to her work on sustainability in Eden Prairie as a council member and mayor as a springboard for that advocacy work, as well as a point of pride she has, looking back on her tenure. She recalled attending the very first Mayors Conference on Global Climate Change, and the city's subsequent drafting of the 20-40-15 plan, which sought to increase energy efficiency in city buildings by 20 percent and fuel efficiency in city vehicles by 40 percent, all by 2015.
"We steadfastly addressed that, and we did accomplish those goals," said Tyra-Lukens. "In fact, we exceeded those goals a little bit, which I'm very proud of."
Further, Tyra-Lukens recalled the city's work on re-naturalizing the city in both public and private spheres. Aiming at a number of environmental benefits, the city has converted some public spaces to native plantings and encouraged residents to do likewise.
"It's a different look, but I think it's really important to being environmentally friendly, so I'm really happy about all those things," said Tyra-Lukens. "I think this whole environmental commitment and energy efficiency commitment is shared by all the members on the city council now, and when we approach a new development or are planning a building for ourselves, we think about these things."
Tyra-Lukens also expressed pride in other work she and the council had done with city parks, as well.
"When we do city surveys to find out what people like about living in Eden Prairie, a really big part of the community, from our responses, is the park system, the trail system, the community center — and we've really made a lot of strides in the last 10 years making improvements to those," said Tyra-Lukens.
Even while tackling energy efficiency and revamping city parks and addressing a whole host of other issues over the past 20 years, the city has tread a fiscal path that has paid dividends in a number of ways — another point of pride for Tyra-Lukens.
"We really enhanced the financial policy, and we were able to get the city to the point where we received a AAA bond rating," said Tyra-Lukens. "There aren't many cities in Minnesota that have that. And, we've also kept taxes very low. We've worked hard to keep our city taxes low among peer-type cities in the metro area.
"And, we've done a lot to press our staff to be more efficient with dollars and be more innovative, so that we can take care of things in the most cost-effective way possible," added Tyra-Lukens.
All told, Tyra-Lukens noted that her approach to governing remained fairly static across her tenure, propelled and guided by the same drives that led her to seek office in the first place.
"I didn't run for city council because I wanted to govern, particularly," said Tyra-Lukens. "I didn't run for city council because I had higher aspirations, politically. I ran because I love this community, and I thought it would be interesting to use my time and
my talents to make this community as good as it could possibly be.
"My whole approach to governing has been that my role is not to create laws and policies that are cumbersome and might be perceived as something that we're doing just because we have the power to do it," continued Tyra-Lukens. "I've really been dedicated to getting the input of residents, and my only goal has been to make this a great place for people to live, to raise their families and to do business."
Though her hands, in particular, have left the steering wheel, Tyra-Lukens said that she felt the city was left in good care.
"I think we have an interesting council right now, and I think it's going to do a great job," said Tyra-Lukens. "There are people on it who come from quite different perspectives, and I think that's important because we are not a homogenous community."
Though recognizing that her long list of thank-yous would be impossible to relay exhaustively, Tyra-Lukens did call out the tremendous efforts of city staff members throughout her time on the council.
"They work so hard for our city, and they are so helpful for us as city council members, answering our questions and getting the information we want and doing it quickly," said Tyra-Lukens. "They're just fabulous. There's a great culture at city hall that I'm proud of."
Closer to home, Tyra-Lukens recognized her family's support over the course of her political career as well. She noted that her daughter, now grown, hadn't started school when she was first elected to city council.
"I would certainly like to call out my family for accommodating my desire to serve the city for 20 years," said Tyra-Lukens. "And, a big thank you to the residents for electing me over and over. I couldn't do it without them, and I really appreciate their votes of confidence in me."