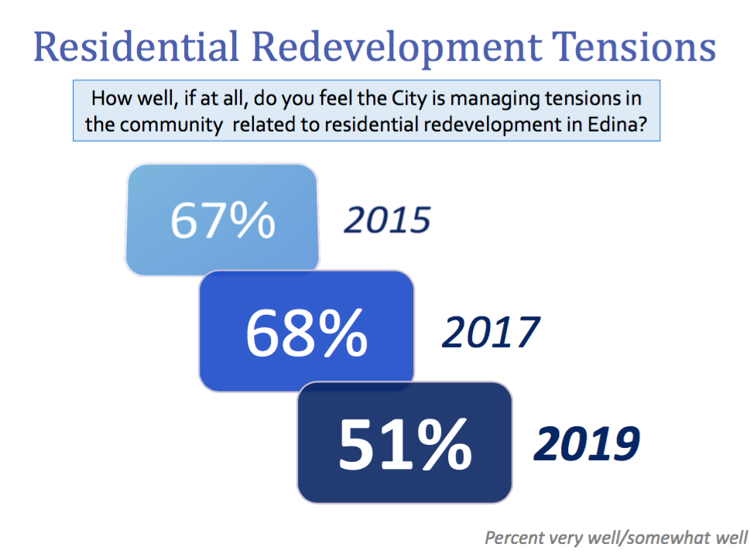 The vast majority of Edinans still think highly of their city, but there is increasing angst over its growth, according to results of the 2019 Quality of Life Survey released this month.
The Edina City Council on June 4 listened to a presentation from the National Research Center, which found that 98% of respondents rated the quality of life in Edina as "excellent" or "good," a figure in keeping with the past four iterations of the biennial survey.
The survey confirmed that residents see Edina as "a highly desirable place to live," said Jade Arocha, survey associate for the National Research Center, which the city commissioned to conduct the inquiry. Nine in 10 respondents said they would recommend the community as a place to reside and that they planned to remain in the city for the next five years.
But, changes in Edina are causing consternation for an increasing number of residents. About half of respondents said the city is doing "very well" or "somewhat well" in managing tensions over redevelopment. That figure is down from the 68% of residents who
approved of the city's performance in this area when the question was asked in 2017, the last year Edina commissioned a Quality of Life Survey.
Residential tear-downs and rebuilds, overdevelopment and affordability were the most frequently cited concerns, according to the survey report.
"You can see a downward trend in how people are feeling about redevelopment-related issues, which is understandable. It's a lot of change. It's the dynamic we deal with a lot in this room," said City Councilmember Mike Fischer, one of three council members present to hear the presentation – Mayor Jim Hovland and Councilmember Mary Brindle were absent.
"We still haven't quite figured out the silver bullet on residential redevelopment," Councilmember Kevin Staunton said. " … It's clear we have to redouble our efforts on that front."
Many of the survey's questions allowed the opinions of residents to be tracked over the course of several years, but the survey also featured new queries, such as those addressing diversity and inclusion. Fifty-seven percent of respondents called the city's efforts on this front "very important" or "essential," while the remainder called the focus "not at all important" or "somewhat important."
Seven in 10 positively rated the city's efforts to provide a safe and secure environment for residents of all backgrounds.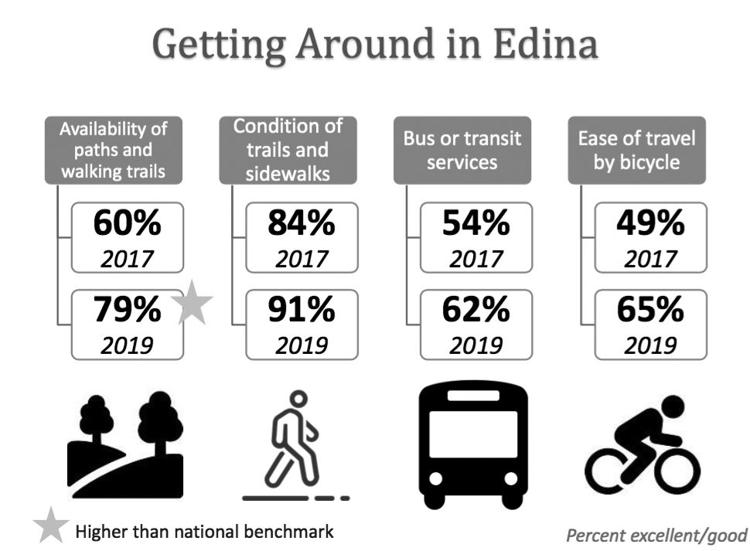 Elite grades for city services
Eighty-nine percent of those surveyed called the overall quality of Edina's services "excellent" or "good." The highlight of that response came in the category of snow removal, where Edina ranks no. 1 nationally in resident perception, out of the approximately 700 communities surveyed by the National Research Center.
The fact that the survey was conducted in February makes this "especially positive news," Arocha said.
Other city services received similarly lofty national rankings. In terms of community perception, Edina ranked fourth nationally in fire prevention and education, sixth in fire services, and eighth for ambulance service, crime prevention and sidewalk maintenance.
Three-quarters of Edina residents felt the city's services provided good value in relation to taxes levied. Meanwhile, nine in 10 respondents had a positive impression of city employees.
Other positive marks came in the realm of connectivity and travel. For instance, 79% of respondents said the availability of walking paths was "excellent" or "good," compared to 60% in 2017. Also seeing substantial improvement from 2017 were residents' perception of the condition of trails and sidewalks, bus or transit service, and the ease of bicycle travel.
In an open-ended question asking residents what they like most about Edina, 40% cited the community's convenience, accessibility and walkability.
The National Research Center mailed the six-page survey to 1,500 residents, hearing back from 427. That 30% response rate was about 10 percentage points higher than the average for similar surveys of other communities, according to Arocha. The Edina survey had a margin of error of plus or minus 5%.
The Quality of Life Survey is one of many tools used to gauge Edina residents' perception of their city. Additionally, residents regularly conduct their own surveys on various issues, using online venues such as Nextdoor or Facebook.
Those more informal surveys also have their place, Arocha said.
"As survey researchers, we do find that there is value in both of these types of data," she said.
However, since the Quality of Life Survey selects residents randomly, the city is able to hear from those who don't normally speak up. "That makes all the difference in terms of getting an accurate snapshot of what your constituency actually thinks," Arocha explained.
By contrast, the resident-led surveys tend to reach residents who are "more engaged, and therefore they are different from a random selection of your residents," she said.
"We need to be listening to all of this," Staunton said. "It's just that there's different ways to gather this information."
City staff will use the Quality of Life Survey as they establish budget priorities, he added.
However, the survey didn't answer every question facing city planners. "In the survey research industry, we like to say surveys can tell you what people think," Arocha said, "but not why they think it, necessarily."
– Follow Andrew Wig on Twitter @EdinaSunCurrent