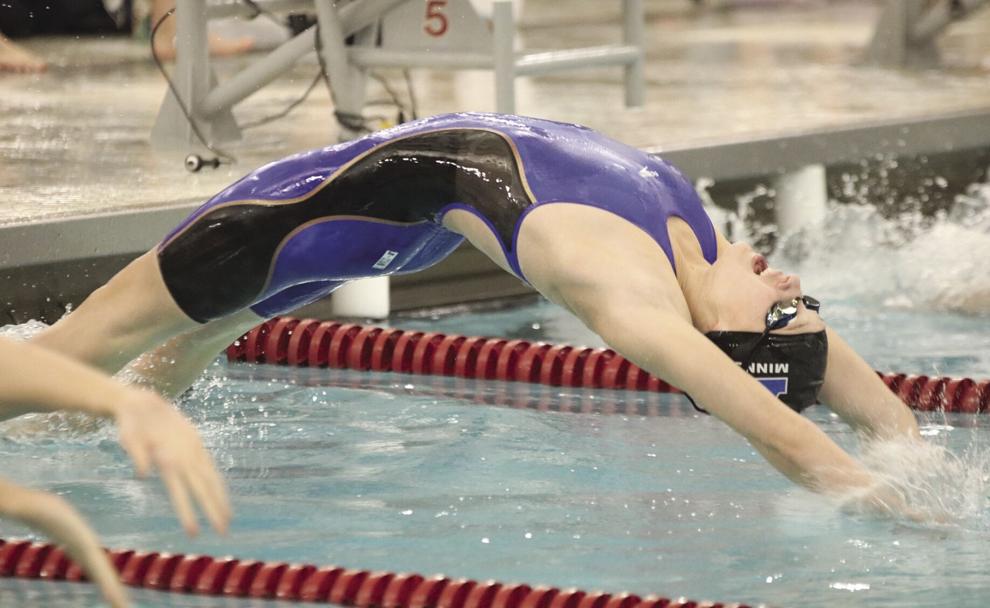 A remarkably balanced team effort carried the Minnetonka High girls aquatics team to the State True Team Meet title Oct. 20.
Twelve schools participated in the meet, and 10 of them scored more than 1,000 points. Tonka was tops with 2,618, compared to 2,314 for Lake Conference rival Wayzata, the second-place finisher. Stillwater took third place with 2,168.5 and the Lake's third entry, Edina was fourth with 1,959.
Minnetonka opened the meet with a win in the 200-yard medley relay. Paige Dillon, Quinci Wheeler, Emily Harstad and Annabelle Wentzel went 1:45.97. Stillwater took second and the Wayzata team of Linnea Kallebo, Nora Rabe, Claire Reinke and Aylah Smith placed third in 1:47.83.
The 200-yard freestyle was a great duel between the top two as Stillwater's Sydney Dettmann edged Edina star Katie McCarthy 1:51.60 to 1:51.72. Minnetonka took places 3-4-5 with Nadia Helm, Addie Diaz and Maija Kangas. Geneva Fackler of Wayzata finished sixth.
Tonka sophomore Dillon easily won the 200 individual medley in 2:04.70. Wheeler and Audrey Soetanto of Minnetonka finished third and fifth, while Wayzata's Kallebo placed fourth.
In the 50-yard freestyle, Minnetonka's all-time school record was broken by Regan Miller, who went 22.99 for first place. Wayzata's Reinke was third, Minnetonka's Rachel Shelstad swam fourth and Skyler Kieffer of Edina took fifth.
Edina junior Shanze Karimi stayed undefeated in diving this season, winning with a 399.35 total. Wayzata took third and fourth with seventh-grader Ashley Mouyenga and junior Kiera Reitz.
Wayzata's Reinke was super fast, breaking a school record in the 100 butterfly with a time of 54.62. Wentzel of Minnetonka took second. Kieffer from Edina placed third and Minnetonka finished 4-5 with Maggie Rhodes and Harstad.
Minnetonka's Miller won her second individual title of the evening by swimming 50.58 in the 100 freestyle. The Skippers added second and third places with Helm and Rylie Ulett. Libbi McCarthy of Edina was fourth and Shelstad of Minnetonka took fifth.
McCarthy gave Edina first place in the 500 freestyle with a time of 4:56.93. Minnetonka took second and fourth places with Kangas and Diaz, while Erika Schraber of Wayzata earned fifth place.
Miller, Helm, Diaz and Shelstad gave Minnetonka first place in the 200 freestyle relay with a time of 1:35.31. In a show of force, Tonka also grabbed second place with Kangas, Wheeler, Harstad and Soetanto. Edina took third with the McCarthy sisters, Ella Hall and Anna Schrag. Wayzata took fourth with Smith, Emily Alberts, Caitlyn Close and Fackler and Minnetonka placed fifth with Rae Vaughn, Rhodes, Lily Kowal and Aralyn Vogel.
Dillon of Minnetonka continued her winning ways by taking first in the 100 backstroke with 55.88. Minnetonka was third and fifth with Rhodes and Henley Hatzung. Wayzata's Kallebo placed fifth.
Minnetonka's Wheeler won on a touch out over Stillwater's Maddie Reed in the 100 breaststroke. The margin was 1:04.45 to 1:04.49. Wayzata's Rabe took third in 1:05.97. Minnetonka teammates Ulett and Georgia Jorgenson placed fourth and fifth.
Going into the final event, the 400 free relay, the meet outcome had already been decided. Minnetonka added to its lead with a 1-2 finish. Dillon led off the top Minnetonka relay for her fourth first-place of the day. Teammates Diaz, Soetanto and Miller joined her in swimming 3:29.86. Second with a time of 3:31.79 were Skippers Kangas, Helm, Shelstad and Wentzel. Stillwater took third place. Wayzata was fourth with Close, Fackler, Lucy Troyak and Reinke. Edina took fifth with Kieffer, Schrag and the McCarthy sisters.
Minnetonka 2,618, Wayzata 2,314, Stillwater 2,168.5, Edina 1,959, Woodbury 1,337.5, Sartell-St. Stephen 1,158, East Ridge 1,154, Mounds View 1,151, Blaine 1,098, Rochester Century 1,087.5, Northfield 860.5, Armstrong 676.