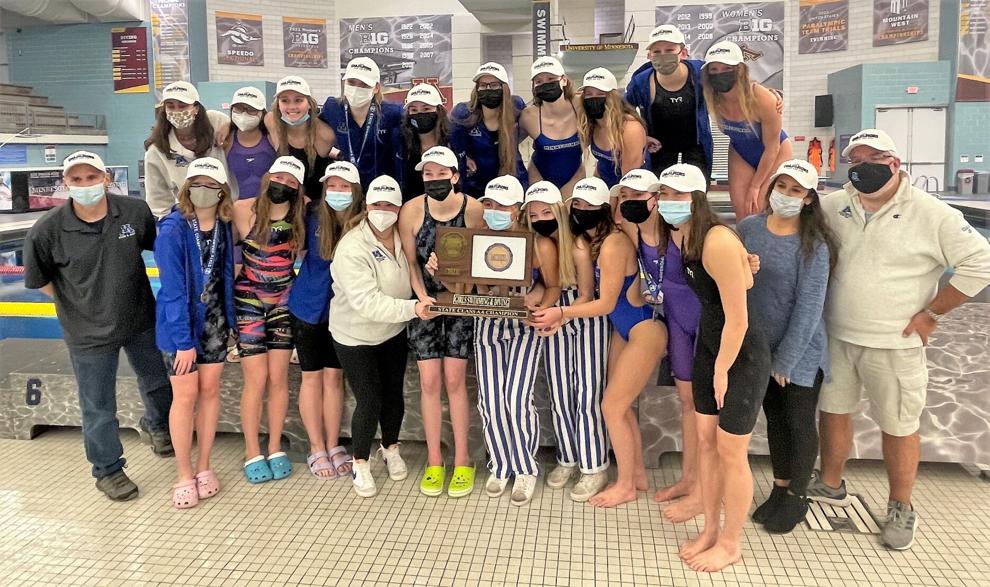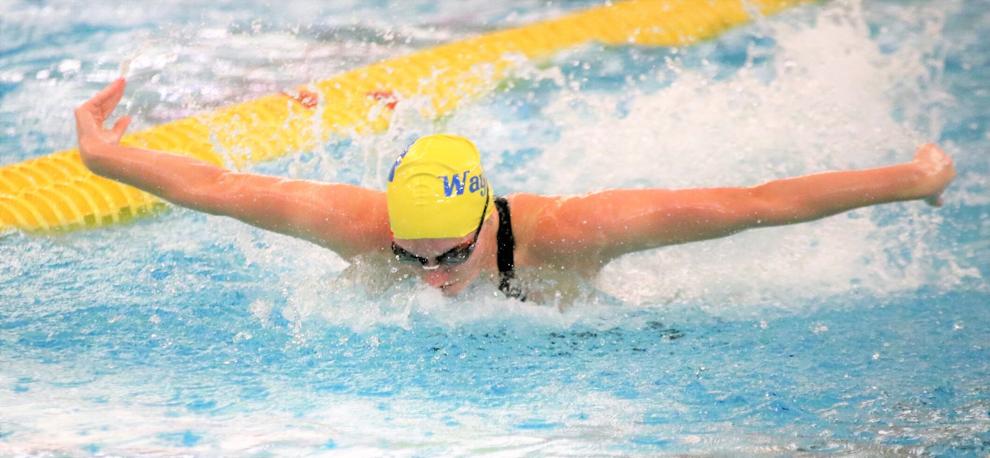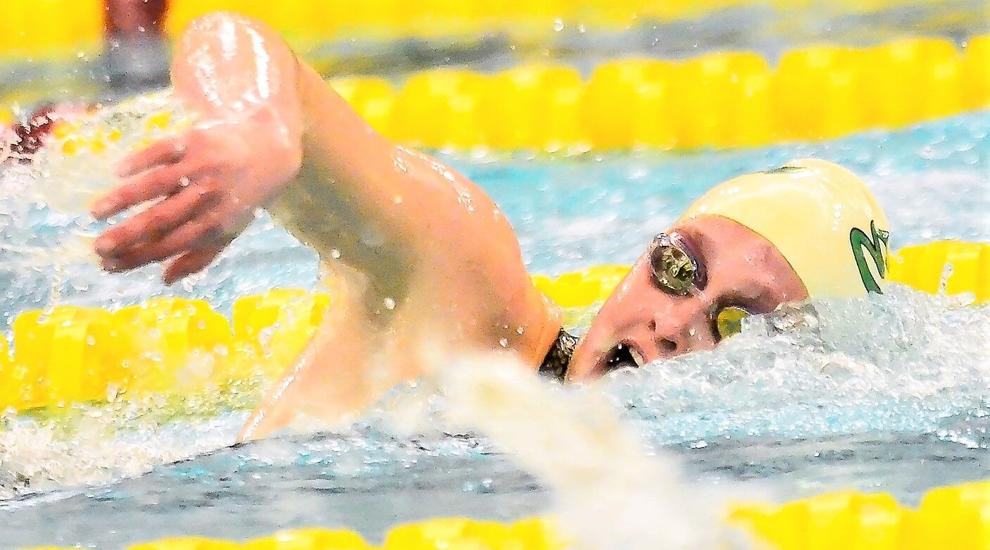 The State Class AA Girls Aquatics Meet Nov. 18-20 at the University of Minnesota looked a lot like the Lake Conference Invitational, with four Lake schools among the top six teams.
Minnetonka took the big prize with the state team title. Although Edina has a very competitive team, the Skippers scored 381 points to 223 for the second-place Hornets. Wayzata with 165 took fourth place and Eden Prairie with 122 placed sixth.
The top three teams receive trophies on the awards podium. Third-place Stillwater joined Minnetonka and Edina as trophy winners.
Saturday night's state finals began with a statement from Minnetonka in the 200-yard medley relay. Paige Dillon, Quinci Wheeler, Annabelle Wentzel and Regan Miller were first with an automatic All-American time of 1:42.97. Edina finished second in 1:43.75, which was an automatic All-American time for Katie McCarthy, Ella Hall, Skyler Kieffer and Libbi McCarthy. Eden Prairie was the third Lake school with an automatic All-American time in the opening event. Kessel Cripe, Caroline Larsen, Grace Logue and Greta Dunn swam 1:44.12.
Edina junior Katie McCarthy had little time to rest after swimming the 200 medley relay. She jumped right back in the water and won the 200-yard freestyle in 1:49.18. Minnetonka's Nadia Helm took second in 1:50.59. Minnetonka's Addie Diaz and Maija Kangas finished sixth and eighth.
Andover's ninth-grade prodigy, Grace Rabb, won the 200 individual medley in 2:01.79. Lake Conference teams sent three girls to the finals with Minnetonka's Dillon second, St. Michael-Albertville's Lily Van Heel third and Minnetonka's Wentzel eighth.
Eden Prairie sophomore Caroline Larsen was quick off the blocks and won the 50 freestyle with an automatic All-American time of 22.85. Minnetonka's Regan Miller was second in 23.34. Libbi McCarthy of Edina placed fourth. Edina's Hall took ninth.
In diving, the Lake had two top-12 finishers - Edina's Shanze Karimi third and Minnetonka's Rachel Patton 11th. The Wayzata threesome of Kiera Reitz, Ashley Mouyenga an Sasha Arne qualified to dive at state.
Wayzata's meet highlight came when junior Claire Reinke won the 100 butterfly title with an automatic All-American time of 54.36. Skyler Kieffer of Edina placed fourth and places 5-7 went to Minnetonka's Wentzel, Maggie Rhodes and Emily Harstad.
Haley Zelen of Shakopee won the 100 freestyle in 50.53. Second place went to Minnetonka's Regan Miller in 51.08. Nadia Helm in third, Edina's Libbi McCarthy in sixth and Buffalo's Kolby Schendel in eighth are the Lake's other place winners.
Katie McCarthy of Edina won her second gold medal of the meet by taking the 500 freestyle in 4:52.33. Other Lake place winners are Minnetonka's Diaz in third, Wayzata's Erika Schraber in fifth and Minnetonka's Kangas in seventh.
The 200-yard free relay yielded another gold medal for Edina's Katie McCarthy, who anchored an automatic All-American performance. Her relay teammates are Hall, Kieffer and sister Libbi McCarthy. Minnetonka was the runner-up with Mille, Wentzel, Rachel Shelstad and Helm. Eden Prairie swam third with Larsen, Eliana Auerbach, Dunn and Logue. Wayzata took fourth with Geneva Fackler, Kimberly Lan, Emily Alberts and Lucy Troyak.
Andover's Rabb became a double state champ with her victory in the 100 backstroke. Van Heel from St. Michael-Albertville won the bronze medal, while Dillon and Rhodes from Minnetonka were fifth and sixth and Wayzata's Linnea Kallebo took eighth.
Eden Prairie's Larsen joined an elite group of two-event champions with her win in the 100 breaststroke. Her automatic All-American time was 1:01.35. Minnetonka's Wheeler placed fifth and Buffalo's Brianna Shroyer took sixth. Also making the finals and placing seventh was Edina's Hall.
Lake teams had plenty left in the tank for the final event of the evening - the 400 free relay.
Minnetonka put an exclamation point on the state championship by winning in 3:27.88 with Helm, Kangas, Dillon and Audrey Soetanto. Wayzata was the other Lake team in the top 10 with the foursome of Fackler, Lan, Troyak and Reinke placing seventh.
Minnetonka 381, Edina 223, Stillwater 176, Wayzata 165, Shakopee 135, Eden Prairie 122, Blaine 109, Prior Lake 105, Chanhassen 103, Maple Grove 75, Farmington 72, Rochester Mayo 68,
Minneapolis Washburn 62, Moorhead 45, Hastings 43, Andover 42, Sartell-St. Stephen 42, Lakeville North 38, Buffalo 34, St. Michael-Albertville 32, Armstrong 32.