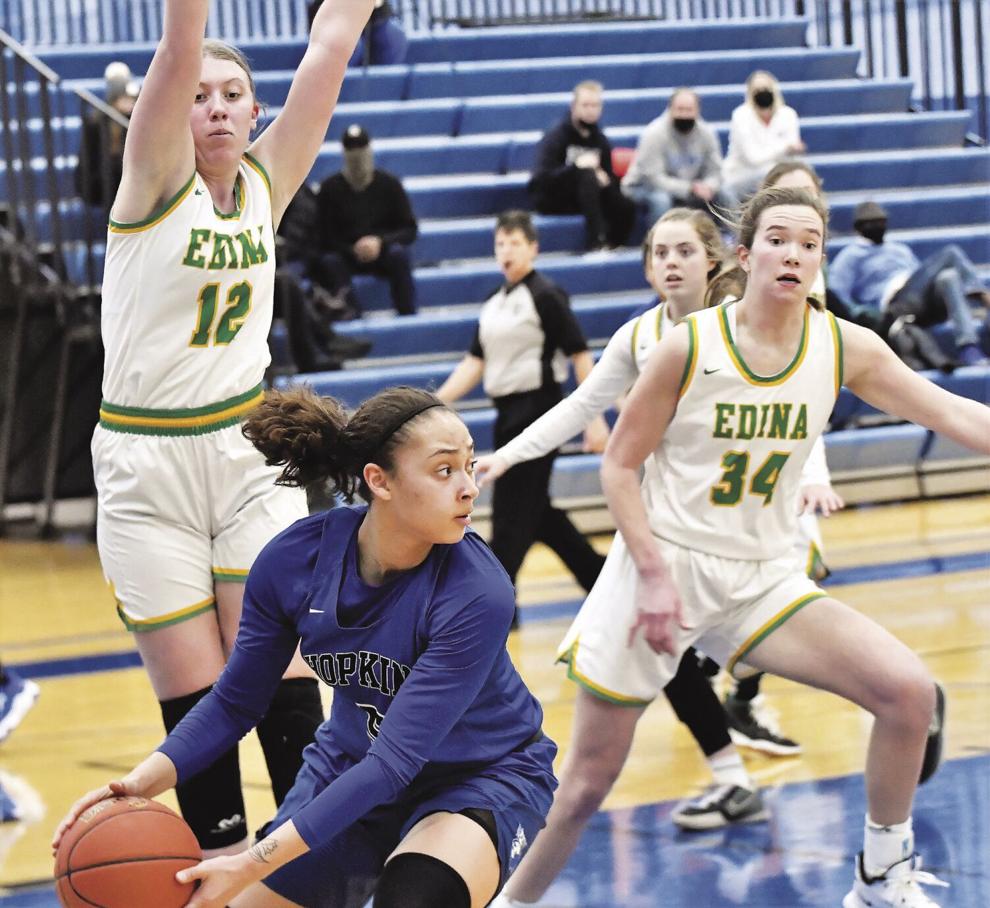 With COVID-19 and its variants affecting students in the Hopkins School District, varsity girls basketball coach Tara Starks put a pause on the season from Dec. 23 to Jan. 5.
This meant that a much anticipated meeting with Lake rival Minnetonka had to be postponed. The make-up date is tentatively Wednesday, Feb. 2.
After only one and a-half practices last week, the Royals took the floor against Edina in the Lake Conference opener Friday, Jan. 7, at Hopkins Lindbergh Center.
The Royals didn't look like a team coming off a pause. In fact, they were faster and fresher than ever in an 87-29 victory.
Hopkins led 44-14 at halftime before making a 10-0 run to open the second half.
"I can't imagine a team with a higher efficiency rate on offense," Edina head coach Jaime Gaard Chapman said. "They are able to take advantage of any opportunity."
Six-four All-State forward Maya Nnaji, the University of Arizona recruit, was missing from Hopkins' lineup for the Edina game. Coach Starks plugged guard Kelly Boyle into the lineup, and the Royals proceeded at full speed.
Boyle didn't score, but did a good job of passing out assists. The other four Hopkins starters finished with these double-figure point totals - Taylor Woodson 23, Nu Nu Agara 21, Amaya Battle 16 and Liv McGill 12. Tatum Woodson came off the bench and scored a career-high eight points.
Senior guard Dorothy Stotts was Edina's only double-figure scorer with 14 points. Abby Grussing played one of her best games of the season, scoring five points and playing aggressive defense. Ella Campbell, the Hornets' other senior guard, scored four points.
Coach Gaard Chapman said, "In the second half, we were able to punch some gaps [against the zone] and pass the ball outside for some open shots. During our postgame meeting, we pointed out the positives. We were more aggressive and assertive on offense in the second half."
Edina is preparing to play Eastview in a non-conference game at 3 p.m. Saturday, Jan. 15, at Edina High Activity Center. Eastview played Hopkins earlier this season and lost 83-29.